Steps to Make Reaction Videos
1
Record a Video
Set up your audio recording, connect your microphone and camera, and share your screen. Then watch the video of your reaction, with all the sound and everything you say being captured.
2
Customize Your Reaction Video
Recorded videos automatically generate zooming animations, and you can enhance mouse visibility with various styles, cursor adjustments, highlighting, and background beautification.
3
Export & Share
You can choose to export the video as a GIF, download it locally, or upload it to the cloud and share it with others via a link.
Why Use This Reaction Video Maker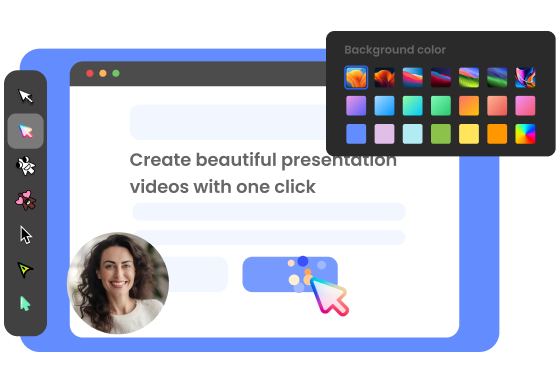 Effortless Reaction Video Making
Create reaction videos effortlessly by simultaneously recording your screen, audio, and webcam. The recorded video automatically generates zooming animations, and you can enhance your reactions with various mouse styles and highlighting. Choose from a variety of backgrounds to make your reaction video even more cool and eye-catching.
Make Reaction Video Now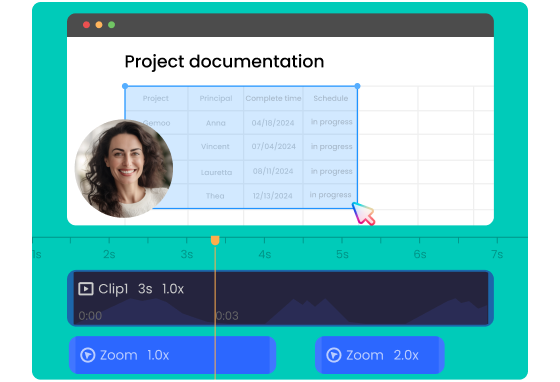 Auto-zoom Effect to Share Moments
The automatic zooming effect is incredibly useful when creating reaction videos. When you click on specific elements in the video, it automatically applies a smooth zooming effect, bringing them into focus. By zooming in and out on specific elements, you can effectively showcase the exciting moments of the video you are watching, making it easier for viewers to understand and engage with the content.
Make Reaction Video Now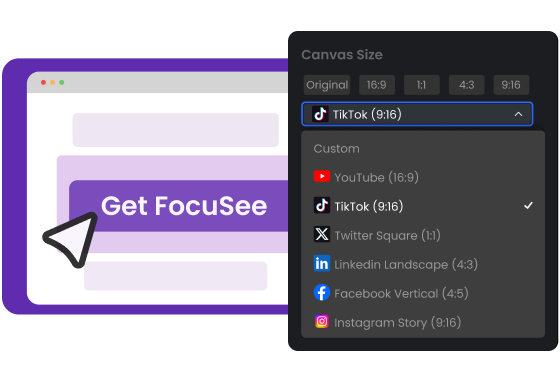 Create Reaction Video for Social Media
If you want to create reaction videos for different social media platforms, it is especially useful to crop the videos into different sizes and ratios. Additionally, exporting recorded reaction videos as GIFs provides a convenient way to share captivating reaction videos that can be easily viewed, shared, and enjoyed on multiple platforms. It is an ideal choice for capturing attention and conveying emotions.
Make Reaction Video Now
Try More Video Editing Tools
FAQs about Making Reaction Videos
What is the meaning of reaction video?
A reaction video captures the genuine or staged reactions of individuals or groups as they watch or experience something, like a movie trailer or online content. These videos aim to share emotional, humorous, or thought-provoking responses, often accompanied by commentary or analysis. Reaction videos are popular on online platforms, entertaining viewers and facilitating discussions while allowing them to experience others' reactions.
How do you make reaction videos?
There are several different methods for creating reaction videos. One common approach is to set up a camera in front of you and press the record button as you react to the content you are watching. Another method is to use screen capture software like FocuSee or OBS to record your reaction videos. If you want to add zoom effects to your videos, FocuSee is a good choice.
Can I use copyrighted material in my reaction videos?
Using copyrighted material without permission may infringe on the creator's rights. It's important to understand copyright laws and consider fair use guidelines when including copyrighted content in your reactions.
What software do I need for reaction videos?
To create reaction videos, you typically need screen recording software, video editing software, and camera software. However, with FocuSee, all these functionalities are bundled into one tool. With FocuSee, you can simultaneously record your screen and yourself, react to videos, provide commentary, and then edit and share your reaction videos.
How do I choose the right content to react to?
Choose content that aligns with your interests or expertise. It could be trending videos, movie trailers, music videos, so any other type of content that you can provide unique insights or reactions to. Sometimes, react YouTube channels, TikTok videos, Twitter Videos etc. are also good options.
How can I promote my reaction videos?
Promote your reaction videos by sharing them on social media platforms, engaging with your audience through comments and discussions, collaborating with other creators, and using relevant tags and keywords to improve discoverability.
FocuSee
Reaction Video Maker
Create attractive reaction videos effortlessly to engage your audience and amplify your content!
Make Reaction Video Now