Steps to Create Marketing Videos
1
Record a Video
Choose your recording mode, including Camera only, Screen only, Screen+Camera. Select the recording area you desire and initiate the recording of a reaction video.
2
Edit Video for Marketing
Zoom in and out with the mouse to follow your video presentation path, helping the audience capture key points. Additionally, enhance video backgrounds, trim and edit videos, and more.
3
Export & Share
You can choose to export the video as a GIF, download it locally, or upload it to the cloud and share it with others via a link.
Why Use This Marketing Video Maker?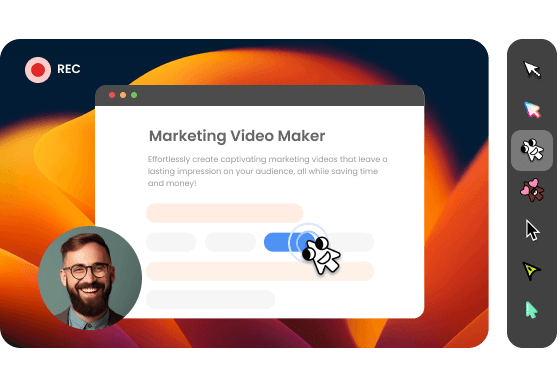 Create Amazing Marketing Videos Easily
Creating marketing videos becomes effortless by simultaneously or individually recording the screen, audio, and webcam. The recorded videos automatically have zooming animations, and you can enhance mouse visibility with different styles, cursor adjustments, and highlighting. Even without experience, you can quickly produce impressive marketing videos, saving time and money.
Make Marketing Video Now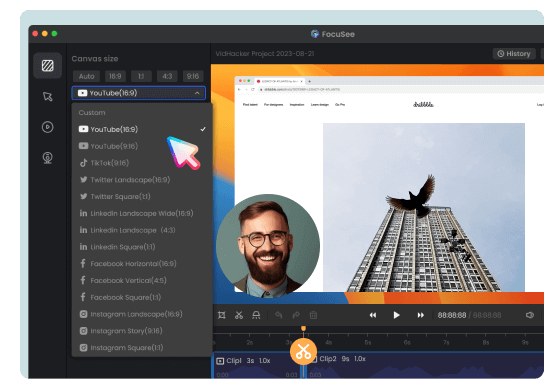 User-friendly Marketing Video Maker
By seamlessly splitting, trimming, and cropping videos, adjusting video speed, you can effortlessly mix and customize marketing videos to your liking for publishing on various social media platforms. Additionally, a wide range of video backgrounds to choose from not only helps establish the tone of your brand, but also facilitates your brand to stand out from the crowd.
Make Marketing Video Now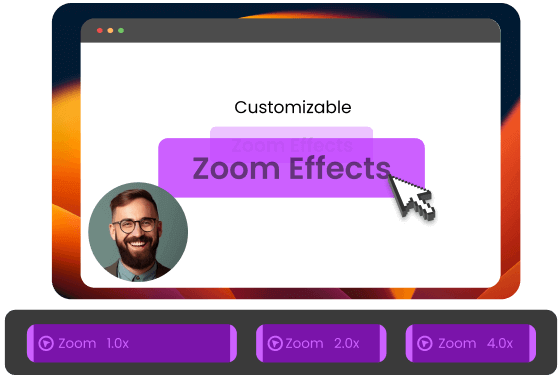 Engage Users with Focused Marketing Videos
FocuSee highlights on-screen actions by automatically zooming in, capturing the audience's attention. Seamless animated zooming makes your marketing videos more engaging and viewer-friendly, especially on smaller screens. This dynamic feature ensures that your content grabs attention and leaves a lasting impression.
Make Marketing Video Now
More Video Editing Tools
FAQs about Creating Marketing Videos
Why do you need to make a marketing video?
A marketing video is crucial in today's digital landscape. It effectively communicates your brand message, captivates your audience, and drives engagement. Videos visually convey information, making them memorable and shareable. With the growing popularity of video consumption, a well-crafted marketing video helps your business stand out, increase brand awareness, and drive conversions.
How long should a marketing video be?
The ideal length of a marketing video depends on the platform and the content you are sharing. In general, shorter videos tend to perform better, especially on social media platforms where attention spans are shorter. Aim to keep your marketing videos concise and engaging, typically under two minutes, while focusing on delivering your key message effectively.
What's the best marketing video maker?
While there are many video recording applications that allow the creation of marketing videos, FocuSee stands out for its intuitive timeline. You can create promotional videos and video ads within minutes, saving time and money on video production.
How do you make an amazing marketing video?
To create a captivating marketing video that resonates with your audience, begin by crafting a well-defined script that outlines the desired visual elements. Utilize footage captured by yourself or sourced from stock libraries. Enhance the overall production value by incorporating seamless transitions, compelling calls to action, and dynamic motion titles, giving your video a polished and professional appearance.
Can I make a marketing video without design skills?
Absolutely! You can create a marketing video even without extensive design skills. FocuSee offers an intuitive interface, allowing you to easily customize and create professional-looking marketing videos. With its automatic zooming feature, and easy-to-use editing capabilities, FocuSee makes it accessible for anyone to create engaging marketing videos without the need for advanced design skills.
What types of marketing videos can I create?
FocuSee helps you create various types of marketing videos, such as explainer videos, product demonstrations, customer testimonials, brand stories, behind-the-scenes footage, animated videos, social media ads, and more. The type of video you choose depends on your marketing objectives and the preferences of your target audience.
FocuSee
Marketing Video Maker
Effortlessly create captivating marketing videos that leave a lasting impression on your audience, all while saving time and money!
Make Marketing Video Now