Steps to Create Promo Video
1
Record a Video
Choose your recording mode, including Camera only, Screen only, Screen+Camera. Select the recording area you desire and initiate the recording of a reaction video.
2
Edit Video for Promotion
Zoom in and out with the mouse to follow your video presentation path, helping the audience capture key points. Additionally, enhance video backgrounds, trim and edit the promo videos, and more.
3
Export & Share
You can choose to export the promo video as a Mp4 or GIF, or upload it to the cloud and share it with others via a link.
Why Use This Promotional Video Maker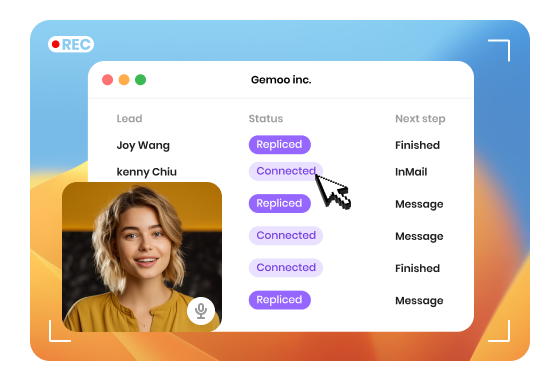 Record Promo Video with Ease
With multiple recording options available for your screen, camera, and microphone, you can effortlessly capture every aspect you need. Seamlessly integrating smooth mouse cursor movements into your promotional videos guarantees an enjoyable viewing experience for your audience. Moreover, the inclusion of various video background options enhances the overall quality and professionalism of your content.
Create a Video Presentation Now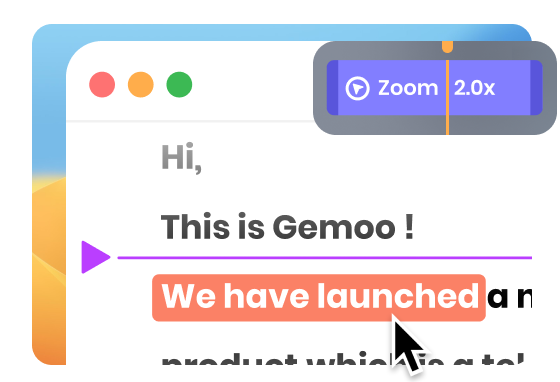 Highlight Key Points with Auto-zoom Effect
Enhance your promotional video demonstrations with the powerful automatic zoom-in effect, captivating your audience's attention and engagement by effortlessly magnifying on-screen actions. By skillfully highlighting key promotional points, viewers are more inclined to form a lasting impression of your product, allowing your brand to truly shine and stand out.
Create a Video Presentation Now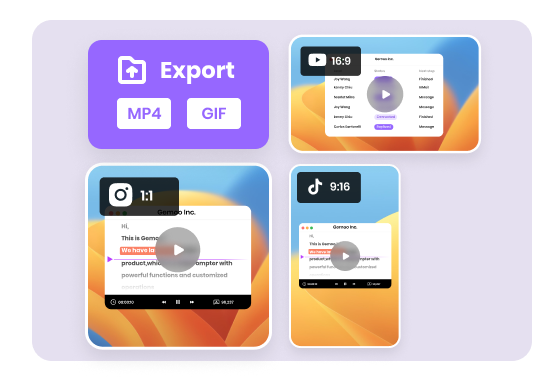 Promote Your Business on Social Media
Use the editing features to trim videos and adjust their size, optimizing them for different social media platforms. You can create captivating promotional videos to share on YouTube or TikTok, or export videos as GIF images to post on Instagram, aiming to attract and convert as many audience members as possible.
Create a Video Presentation Now
More Video Editing Tools
FAQs about Promo Video Creator
What is a promo video?
A promo video is a short video created to promote a product, service, event, or brand. It is typically used for marketing purposes to engage and attract the target audience, showcase key features or benefits, and generate interest or conversions.
What elements should be included in a promo video?
A video presentation can be used for a variety of purposes, such as:
• Hook: Grab attention with a compelling opening to captivate viewers from the start.
• Value Proposition: Clearly communicate the benefits and unique selling points of your product or service.
• Visuals: Use visually appealing footage or animations that align with your brand and message.
• Call-to-Action (CTA): Prompt viewers to take action, such as visiting a website or making a purchase.
• Messaging: Keep the message concise, easy to understand, and focused on the most important points.
• Audio: Use suitable background music or voiceover to enhance the emotional impact and message of the video.
How long should a promo video be?
The ideal length of a promo video can vary depending on the platform and target audience. In general, it is recommended to keep promo videos concise and under 1-2 minutes to maintain viewer engagement. However, for specific platforms like social media, shorter videos (around 30 seconds) tend to perform better.
What is the best promo video maker to create promotional videos?
FocuSee is a simple, user-friendly, and reasonably priced Promo Video Maker, making it your top choice. It provides all the necessary features to create captivating videos. Recorded videos automatically generate zooming animations, and you can enhance mouse visibility with various styles, cursor adjustments, and highlighting. You can also add backgrounds to enhance the visual appeal and professionalism of your promo video.
Do I need professional equipment or a large budget to make promo videos?
No, creating effective promotional videos doesn't necessarily require professional equipment or a large budget. FocuSee offers both recording and editing features, and with just a few clicks, it can help you create professional-looking videos without the need for significant financial investment.
How can I make my promo video stand out?
To make your promo video stand out, consider incorporating unique and creative elements that align with your brand and target audience. Use captivating visuals, compelling storytelling, and attention-grabbing effects. Tailor your video to evoke emotions, provide value, and differentiate yourself from competitors.
FocuSee
Promo Video Maker
Create stunning promotional videos in minutes with no experience required, saving both money and time.
Create Promo Video Now