Steps to Make Photo Slideshow Online
1
Upload Your Photos
Collect all the images and GIFs that you wish to merge into a slideshow. Next, upload the media files, which can include formats such as JPG, JPEG, PNG, GIF, and more.
2
Create a Photo Slideshow
Arrange all the photos in your preferred order, select a transition style to use between each photo, and incorporate additional elements such as music or text into the slideshow.
3
Export and Download
Export and preview the final result. Download your photo slideshow as a high-resolution MP4 video onto your computer, or swiftly return to editing if you're not satisfied.
Why Use This Photo slideshow Maker Online?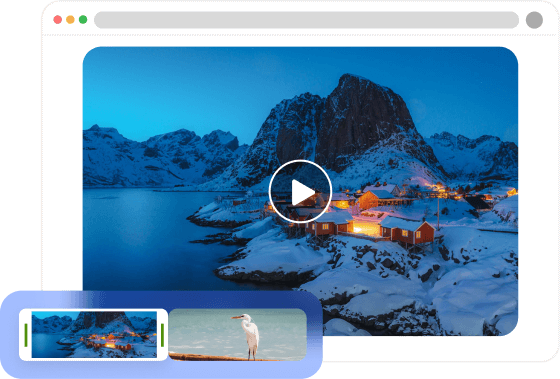 Photo Slideshow Maker Online
As a convenient and user-friendly tool, photo slideshow maker allows you to create captivating slideshows without the need to download any software to your PC, Mac, or other devices. With the online platform, you can access the slideshow maker directly through your web browser, eliminating the learning curve and making it incredibly easy to use.
Make a Slideshow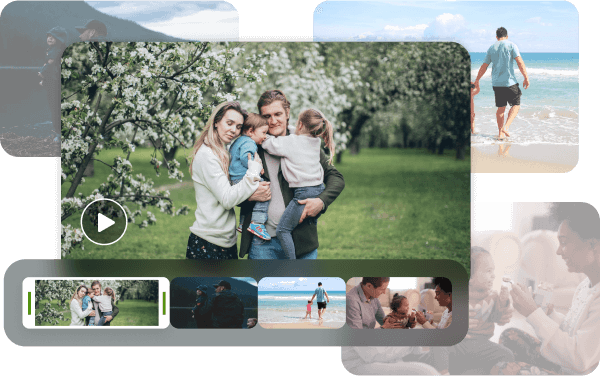 Preserve Precious Memories with a Slideshow
Combine countless cherished moments into a single clip and share it with loved ones on special occasions. Creating a slideshow transforms scattered photos and videos into a cohesive and meaningful presentation, saving you time and storage space. Relive precious memories conveniently and effortlessly share the slideshow with friends and family, spreading joy and nostalgia with ease.
Make a Slideshow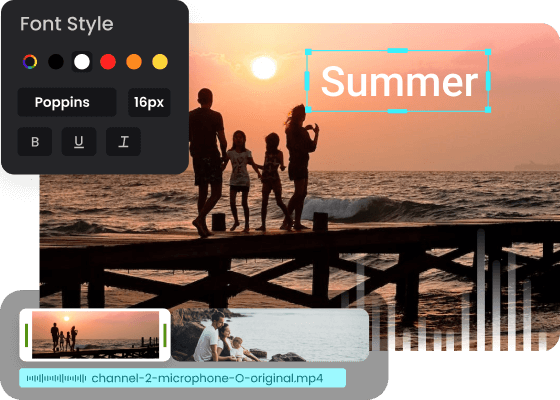 Photo Slideshow Maker with Music
Craft stunning photo and video slideshows accompanied by music, leaving a lasting impression on your followers, friends, or family. Elevate your slideshows by adding text, videos, filters, custom background colors, transition animations, and other captivating visual elements. With this powerful tool, you can create dynamic and personalized presentations that engage and enthrall your audience, making your memories truly unforgettable.
Make a Slideshow
More Video Editing Tools
FAQs on Photo Slideshow Generator
Upload and export options for Online Photo Slideshow Generator:
1. Supported upload formats:
· Video: MP4, MOV, WEBM
· Image: JPG, JPEG, PNG, GIF
· Audio: MP3, WAV, CAF
2. Free export resolutions: 480P / 720P / 1080P / 2K / 4K
3. Export formats: MP3 and MP4
What is a Photo Slideshow Generator?
A Photo slideshow Generator is a tool or software that allows users to create slideshows by combining photos, videos, and other visual elements into a dynamic presentation.
How does a Photo Slideshow Generator work?
A Photo slideshow Generator typically provides a user-friendly interface where users can upload their photos, arrange them in a desired order, add transitions, effects, text captions, and music to create an engaging slideshow. The generator then processes these inputs and generates the final slideshow.
What is the purpose and benefits of photo slideshow generator?
Photo slideshow Generators are commonly used for creating presentations, showcasing photo collections, preserving memories, and sharing experiences with friends, family, or clients. They are popular for various occasions such as weddings, birthdays, vacations, or business events.
Can I add music to my slideshow?
Absolutely! Photo slideshow Generators often provide options to add background music or audio tracks to your slideshow, enhancing the overall experience and setting the mood for your presentation.
Can I edit my slideshow after it's created?
Yes! The Photo slideshow Generators allow you to make edits to your slideshow even after it has been created. You can update the order of photos, change transitions, add or remove elements, or modify the slideshow as per your requirements.
Clippa
Photo Slideshow Generator
Create a slideshow using your personal photos and personalize it by incorporating music, text captions, transitions, and effects of your choice.
Make a Slideshow