Steps to Rotate a Video Online
1
Upload a Video
Upload or drag and drop a video from your computer that you want to rotate.
2
Rotate the Video
Click the rotate button, use plus or minus buttons, or manually drag the video to rotate the video.
3
Preview & Export
Preview your video and click the Export button to download the video to your computer.
Why Use This Video Rotator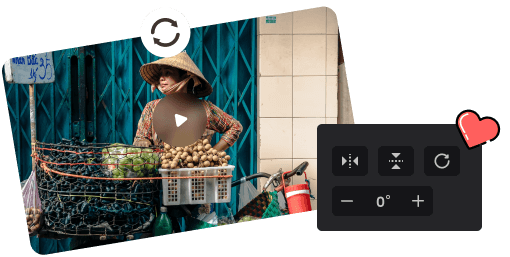 Rotate the Video in the Way You Like
Effortlessly and swiftly rotate your video to your desired orientation with this online video rotator. You have three convenient options: click the rotate button to rotate clockwise or counterclockwise, adjust the rotation by adding or subtracting degrees to achieve a custom angle, or simply drag the video to rotate it until it aligns with the correct orientation. With these versatile features, you have full control over how you rotate your video to achieve the perfect result.
Rotate a Video Now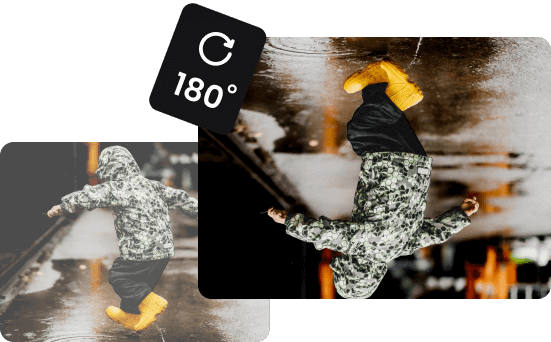 Rotate at Different Angles
You have the flexibility to rotate your videos at any desired angle. Whether you want to rotate your video slightly for a subtle effect or rotate it dramatically for a unique perspective, it empowers you to explore and experience with various angles to achieve the perfect visual outcome. You can take full control of your visual outcome as you explore a wide range of angles, ensuring that each video is perfectly tailored to your creative vision.
Rotate a Video Now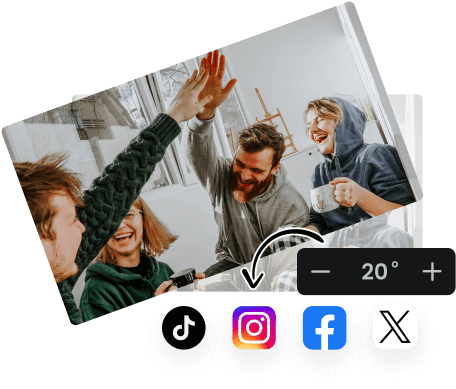 Rotate Video For Social Media
Many popular social media platforms, including YouTube, TikTok, and Instagram, have specific orientation requirements for videos. This tool provides a convenient solution for adapting your videos to meet these requirements, ensuring they are displayed correctly and professionally on each platform. Whether you need to rotate your videos to a horizontal or vertical orientation, this tool helps you rotate your content for seamless sharing on social media platforms.
Rotate a Video Now
More Video Editing Tools
FAQs About Rotating Video Online
Upload and export options for the YouTube Video Rotator:
1. Supported upload formats:
· Video: MP4, MOV, WEBM
· Image: JPG, JPEG, PNG, GIF
· Audio: MP3, WAV, CAF
2. Free export resolutions: 480P / 720P / 1080P / 2K / 4K
3. Export formats: MP3 and MP4
Why is my video sideways?
There could be several reasons why your video appears sideways:
• Device Orientation: If you recorded the video via a mobile device or camera in a sideways position, the video will be captured in that way.
• Incorrect Video Metadata: Video files contain metadata that specifies the intended orientation, causing the video to display sideway.
• Video Editing Issue: If you edited the video that did not preserve the right orientation, it can cause the video to appear sideways.
Is it better to video vertical or horizontal?
Whether it is better to shoot a video vertically or horizontally depends on the specific context and the platform on which the video will be shared.
• Vertical videos that have a taller aspect ratio, are suitable for viewing on mobile devices since people tend to hold their phones vertically.
• Horizontal videos that have a wider aspect ratio, are mainly used for traditional video content like YouTube videos, movies, and TV shows.
Does rotating video reduce quality?
Rotating a video itself won't inherently reduce its quality. However, the process of rotating a video can lead to a loss in quality depending on how it is done and the video rotators used. To minimize the potential quality loss when rotating a video, it's suggested to use an Online Video Rotator.
Do vertical videos get more views?
The choice of vertical or horizontal video format depends on the platform you are sharing the video on and the preferences of your target audience.
• On platforms that cater to mobile users or have a vertical-first design, such as Instagram Stories or TikTok, vertical videos may attract more views.
• On platforms like YouTube or traditional television, horizontal videos still tend to be the standard format.
Why do videos not rotate?
Videos may not rotate automatically because the orientation information embedded in the video file or metadata is not recognized or supported by the software or player being used.
Clippa
Online Video Rotator
Rotate your videos clockwise or counterclockwise by 90 or 180 degrees or rotate the video slightly at a custom angle of your choice.
Rotate a Video Now