Steps to Mute Video Online
1
Upload Your Video
Drag and drop or upload a video from your computer to the media library.
2
Mute the Video
Place the video to the video track and drag the thumb to 0 to mute the video.
3
Download the Video
Click the "Export" button to download the video to your computer.
Why Use This Video Sound Remover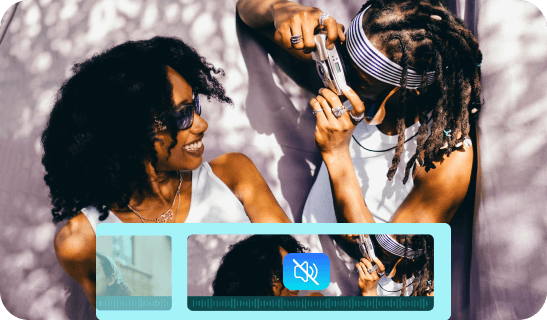 Mute Video Online in Seconds
Effortlessly remove audio from videos in your web browser. Mute unwanted sound, create a silent effect, or add your own audio tracks later. Customize your videos and create a unique viewing experience. Save time and enhance your video editing workflow with the Video Sound Remover. Achieve your desired video outcome and unlock new possibilities in editing.
Mute Video Online Now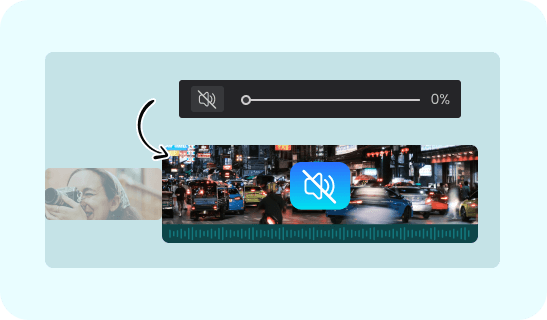 Mute a Portion or the Entire Video
With video splitting, you can mute specific sections or the entire video to suit your preferences. Whether it's removing background noise, sensitive audio content, or creating a silent effect for artistic purposes, this feature gives you precise control. Customize your videos by muting precisely what you need while maintaining original video quality for a captivating and professional result.
Mute Video Online Now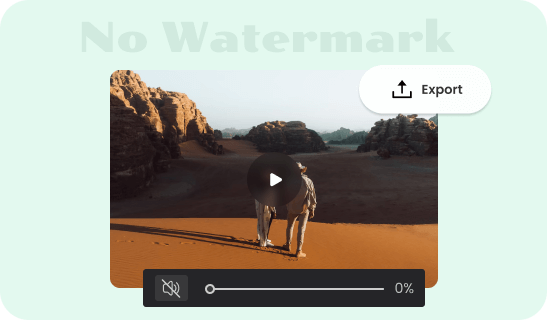 Export the Muted Video No Watermark
You can easily remove the audio from your videos online. With just a few clicks, you can get rid of unwanted noise, create a silent effect, and maintain video quality. No more watermarks, just seamless muting for personal or professional editing. The Video Sound Remover ensures a watermark-free experience, empowering you to craft perfect audiovisual content.
Mute Video Online Now
Try More Video Editing Tools
FAQs About Video Sound Remover
Upload and export options for the Video Sound Remover:
1. Supported upload formats:
· Video: MP4, MOV, WEBM
· Image: JPG, JPEG, PNG, GIF
· Audio: MP3, WAV, CAF
2. Free export resolutions: 480P / 720P / 1080P / 2K / 4K
3. Export formats: MP3 and MP4
Do people watch videos on mute?
Yes, people do watch videos on mute for various reasons. Here are common scenarios where people watch videos without sound:
• Silent Viewing: in certain situations, such as individuals are in a public place where playing audio would be disruptive or inappropriate.
• Personal Preference: some viewers simply prefer to consume video content without sound, due to personal preferences or to save bandwidth.
• Multitasking: when individuals are multitasking or have limited attention, they may watch videos on mute to focus on other tasks.
• Accessibility: people with hearing impairments or those who rely on captions may watch videos on mute while reading the text-based content.
How many people watch social media on mute?
It's important to note that videos on social media platforms often autoplay without sound. According to Facebook, a significant number of people, reportedly up to 85%, watch videos on their platform without sound. This trend of silent video consumption is expected to continue growing in the future.
Can you mute a part of a video?
Yes, you can mute a specific portion of a video using Clippa. By splitting the video, you can select a specific segment of the video and apply the mute effect to that portion only.
Can you change the audio on a YouTube video?
Changing the audio track of a video within the YouTube mobile app is not supported. However, you can access YouTube Studio on your computer to replace the audio track of your video. YouTube Studio's video editor provides the option to add music to your video using a library of licensed songs.
Clippa
Mute Video Online
Remove sound from video online quickly with this Video Sound Remover and create a unique viewing experience.
Mute Video Online Now