Steps to Add Image to Video
1
1. Upload Your Video
Upload video(s) and image(s) from your computer to the Media Library.
2
2. Add Photo to Video
Place video to the video track and add photos to your video. You can crop, rotate, and edit the images if you need.
3
3. Download & Share
Tap on the "Export" button to download the video or upload to the cloud to share your video with others.
Why Use This to Add Image to Video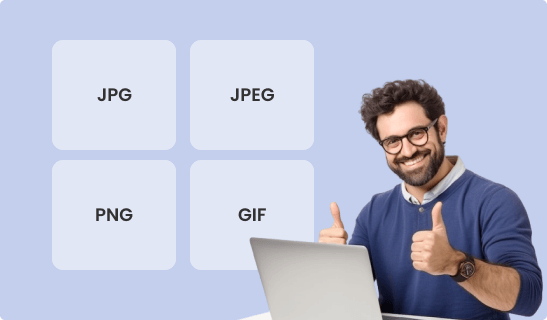 Support Most Image Formats
It supports a wide range of image formats to add, including popular formats such as jpg, jpeg, png, and GIF. Add high-quality photographs, engaging images, watermarks, or animated GIFs to enhance your videos with diverse visuals. Experiment with different formats and make your video content unique and eye-catching.
Add Image to Video Now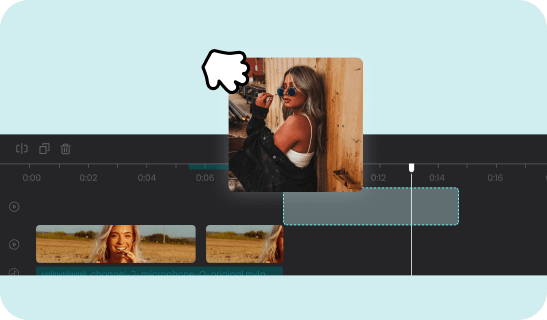 Add Image to Video Anywhere on Timeline
Easily place images anywhere on your video timeline for maximum flexibility. Add images or watermarks at specific moments to create a visually dynamic and engaging experience. Whether it's logos, photo montages, or visual storytelling elements, seamlessly integrate images exactly where you want them in your video. Enhance impact and create captivating content by effortlessly adding images on the timeline.
Add Image to Video Now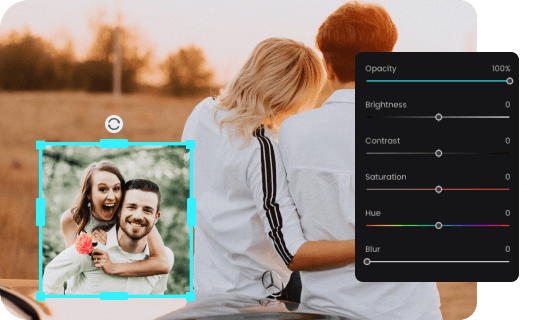 Adjust the Images You Add
Customize and optimize your visuals with ease using this tool. Rotate and crop images to achieve the desired orientation and focus on specific areas. Fine-tune appearance by adjusting brightness, contrast, saturation, and more. Take complete control over image placement and enhance overall visual quality and create stunning, professional-looking videos that captivate your audience.
Add Image to Video Now
More Video Editing Tools
FAQs About Adding Image to Video
Upload and export options for adding image to video:
1. Supported upload formats:
· Video: MP4, MOV, WEBM
· Image: JPG, JPEG, PNG, GIF
· Audio: MP3, WAV, CAF
2. Free export resolutions: 480P / 720P / 1080P / 2K / 4K
3. Export formats: MP3 and MP4
Can I add an image to a video?
Yes, you can add an image to a video using Clippa. It allows you to import an image and overlay it onto your video at a desired point in the timeline. By doing so, you can combine static images with moving video footage to create visually captivating content.
Can I remove watermark from video?
Removing a watermark from a video can be a complex process, and it's noted that removing watermarks without proper authorization may infringe upon copyright or intellectual property rights. In most cases, watermarks are intentionally added by the content creator to protect their work and prevent unauthorized use or distribution.
How to add thumbnail to youtube video?
You can use Gemoo Online Video Uploader to add a custom thumbnail to your YouTube video:
1. Go to Gemoo Online Video Uploader's landing page to import your YouTube video.
2. Hover over the video click the Thumbnail option on the right menu.
3. Click to upload a thumbnail from your computer.
What makes a video look better?
Several factors contribute to making a video look better:
• Lighting: Properly lit subjects and scenes can enhance clarity, contrast, and overall image quality.
• Composition: Pay attention to the placement of subjects, objects, and backgrounds within the frame is helpful to create visually engaging visuals.
• Camera Stability: Steady shots contribute to a more polished and visually pleasing video.
• Resolution and Quality: Recording videos in higher resolutions, such as 1080p or 4K, can enhance visual clarity and detail.
• Color Grading: Adjust the color balance, saturation, contrast, and tone can help create a specific mood or aesthetic.
• Editing: Skillful editing and post-production can greatly enhance the visual quality of a video.
• Audio Quality: Add proper audio recording, reduce background noise, and use background music can enhance the video's impact.
Clippa
Add Image to Video Online
Add images, photos, and watermark to your video online and make your video content to attractive a larger amount of audience!
Add Image to Video Now