Steps to Merge Songs Online
1
Upload Audio Files
Pick and upload the audio files that you want to combine from your computer.
2
Merge Audio Online
Drag audio files from the Library tab to the bottom timeline to arrange them as desired. Use the "Cut" button to remove unwanted parts.
3
Save and Download
Once you merge the audio files, click the "Export" button in the upper right corner of the screen and downloaded to your computer.
Why Use This MP3 Combiner Online?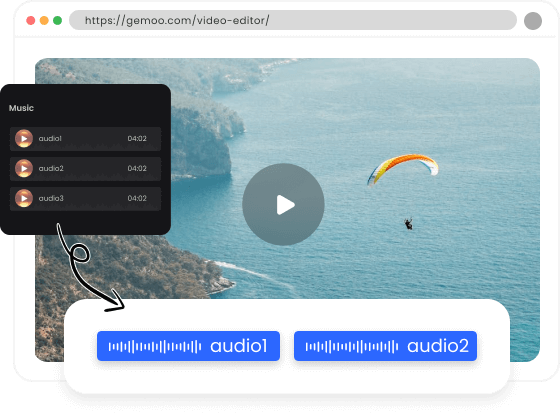 Quick Song Merging Online
It is an online audio editor, eliminating the need for downloading an app. Simply open your browser, connect to the internet, and effortlessly combine audio files. You can conveniently add multiple files to your library simultaneously, saving you valuable time as there's no need to select them one by one.
Merge Audio Online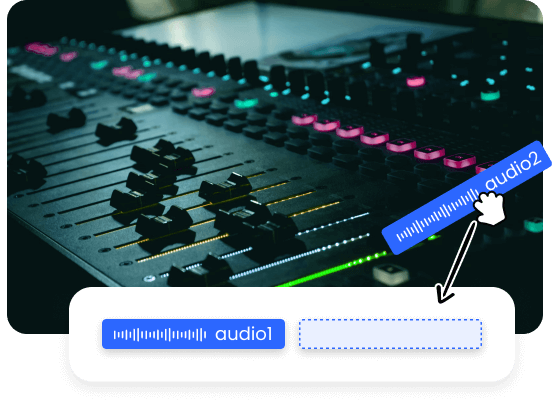 Easy-to-Use, No Expertise Required
Regardless of your prior experience in audio editing, our tool's fully intuitive interface and simple steps ensure that even beginners can effortlessly combine music. There's no need to worry about a steep learning curve. Even if you're not an expert, merging audio can be done seamlessly, resulting in a natural and cohesive blend.
Merge Audio Online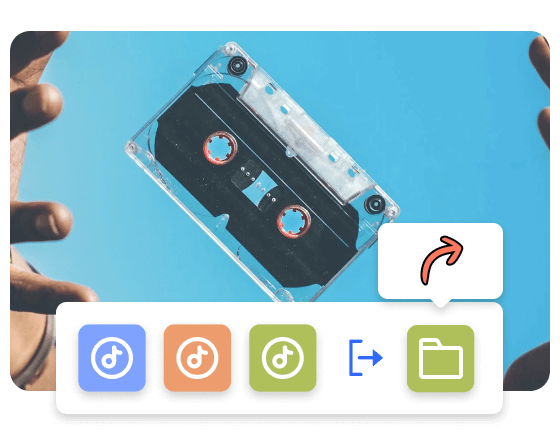 Export & Share the Merged Auido Online
Seamlessly blend songs, merge your favorite tracks or sound effects, and enhance your videos with fitting background music and captivating sound effects. Curate personalized music collections to captivate your audience. Easily download them to your computer and effortlessly share with others.
Merge Audio Online
More Video Editing Tools
FAQs on Merge Songs Online
Upload and export options for Audio Joiner:
1. Supported upload formats:
· Video: MP4, MOV, WEBM
· Image: JPG, JPEG, PNG, GIF
· Audio: MP3, WAV, CAF
2. Free export resolutions: 480P / 720P / 1080P / 2K / 4K
3. Export formats: MP3 and MP4
What is an online song merger?
An online song merger is a web-based tool that allows you to combine or merge multiple audio files, such as songs, into a single audio file.
How does an online song merger work?
When using an online song merger, you typically upload multiple audio files from your computer. The merger then processes the files, combines them according to your desired order, and generates a merged audio file.
Can I adjust the order of the songs before merging them?
Yes, most online song mergers allow you to arrange the order of the songs before merging. You can typically drag and drop the files in the desired sequence.
Is there a limit to the number of songs I can merge?
The limit for merging songs may vary depending on the specific online song merger. Some tools have a maximum file limit or duration limit, so it's best to check the limitations of the tool you are using.
Is there any loss in audio quality during the merging process?
The audio quality can be affected by the merging process, especially if the input files have different bitrates or formats. However, most online song mergers strive to maintain the best possible audio quality during the merging process.
Clippa
Audio Joiner Online
Combine MP3, WAV, CAFand other files into one soundtrack with the online audio joiner. Easy to use and no watermarks.
Merge Audio Online