Steps to Add Filter to Video Online
1
Upload your video
Please upload the video that needs to have filters added. You can add multiple media files, such as videos and images, to the library.
2
Add Filters on Video
Once the video is uploaded, you can choose a suitable filter effect and add it to the video. You can also manually adjust the video's brightness, saturation, hue, and other options to customize the video's appearance according to the desired effect.
3
Export and Share Video
You can directly export and download the video with the beautiful filter applied. Additionally, you can continue editing the video if needed.
Why Use This Video Filter Tool?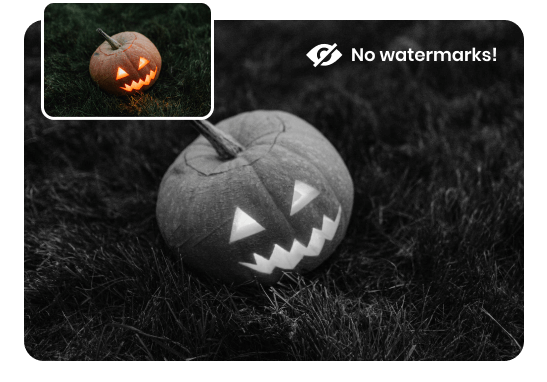 Filter a Video Without Watermark
Do you want the videos you edited so hard to avoid being troubled by watermarks? Then you've come to the right place. Our online video filter allows you to add beautiful filters to your videos, such as Retro and Grayscale styles, and exports videos without any watermark, keeping your videos original.
Add Filter to Video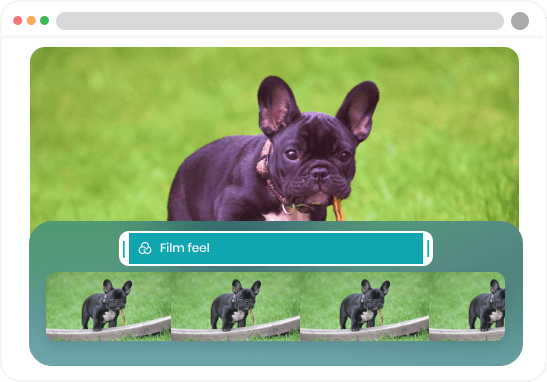 Filter Video Online
There are no software download requirements, and the entire process is done in the browser. This allows you to filter videos anytime. Even while on the go, you can add filters to videos online, giving them a completely new look.
Add Filter to Video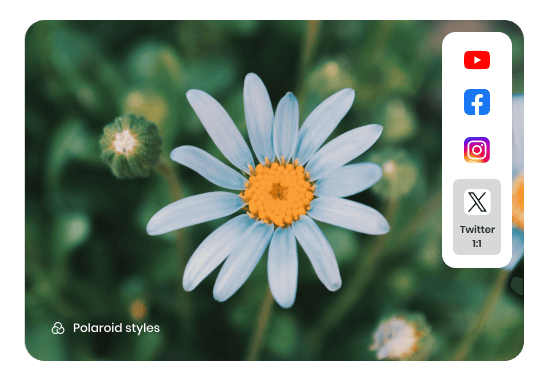 More Than a Video Filter
Our filters and effects will enhance your videos, making them look amazing! Resize your videos for popular social media platforms like Facebook, Twitter, Instagram, or YouTube using our preset canvas sizes. You can upload videos in any format and have them automatically re-encoded to MP4, ensuring compatibility across all major social media sites.
Add Filter to Video
More Video Editing Tools
FAQs on Filter on Video Online
Upload and export options for Video Filter Online:
1. Supported upload formats:
· Video: MP4, MOV, WEBM
· Image: JPG, JPEG, PNG, GIF
· Audio: MP3, WAV, CAF
2. Free export resolutions: 480P / 720P / 1080P / 2K / 4K
3. Export formats: MP3 and MP4
What is a filter video?
A filter video is a type of video that has been modified or processed using various filters or effects to alter its appearance. These filters can change the video's colors, textures, lighting, or overall visual style. Filter videos are often used in creative projects, such as short films, music videos, or social media content, to enhance the visual aesthetics or convey a specific mood or atmosphere.
What is an online video filter?
An online video filter is a digital effect or modification that can be applied to a video using an online platform or software. It alters the video's appearance by changing aspects such as colors, contrast, saturation, or adding special effects to enhance its visual quality or create a specific artistic style.
What are the benefits of using online video filters?
There are several benefits to using online video filters:
· Enhanced visual appeal: Transform the appearance of a video, making it more visually appealing, vibrant, or atmospheric.
· Creative expression: Allow you to experiment with different artistic styles and effects, adding a unique touch to your videos.
· Mood and tone: Convey specific moods or emotions by altering the color palette or adding effects that match the desired atmosphere.
· Time-saving: Online video filters provide a convenient and efficient way to apply effects without the need for complex software or extensive video editing knowledge.
What are some popular types of online video filters?
There are numerous types of video filters available online. Some popular ones include: Vintage, Black and white, Color grading, Cinematic filters, Artistic filters and etc.
Are there any free online tools to filter videos?
Yes! Gemoo's Video Filter totally free to use. It offers a range of filter templates that can enhance the appearance of your videos. Additionally, you have the flexibility to manually adjust settings such as brightness, color, contrast, and more, allowing you to achieve the desired effect for your videos.
Clippa
Video Filter Online Free
Add filters to your videos online and export the video without a watermark. Elevate your videos and make them truly exceptional on social media platforms with our free online filters and effects.
Add Filter to Video