Steps to Convert Podcast to Video
1
Upload a Podcast Audio
Effortlessly drag and drop or upload a podcast audio from your computer.
2
Edit the Podcast
Start creating your video. You can add music, sound effects, text, transitions, filters, and more, or trim and cut the podcast audio.
3
Convert Podcast to Video
You can export the edited podcast to MP4 or choose to continue editing it. Additionally, you have the option to share it via a link if necessary.
Why Use This Podcast to Video Converter?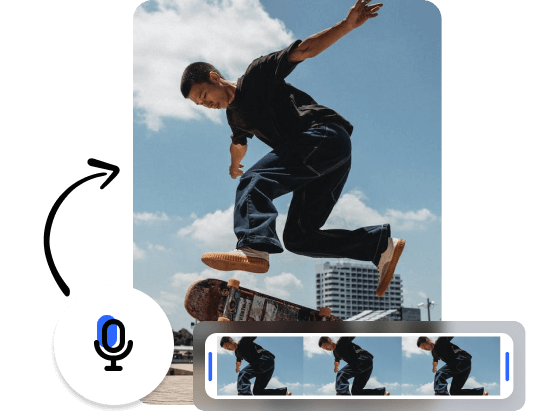 Generate Video from Audio Podcast
You can convert podcasts into videos online without downloading any software or needing to log in. Start your creative process instantly! The converted videos are not only more captivating but also contain more information. This is because compared to text or audio, the human brain can retain visual images for a longer duration.
Create Video Podcast Now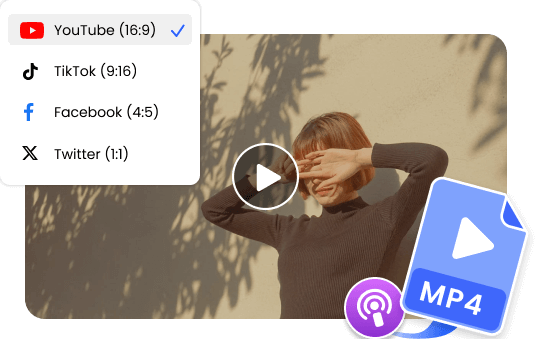 Share Podcast Videos on Social Media
Certain social media platforms (such as YouTube) do not support uploading podcast audio files alone. Therefore, you need to convert the podcast into a video format to share it. The Podcast Video Editor provides preset dimensions for various social media video ratios, allowing you to export your podcast audio as an MP4 video that is compatible with social media platforms with just a few clicks.
Create Video Podcast Now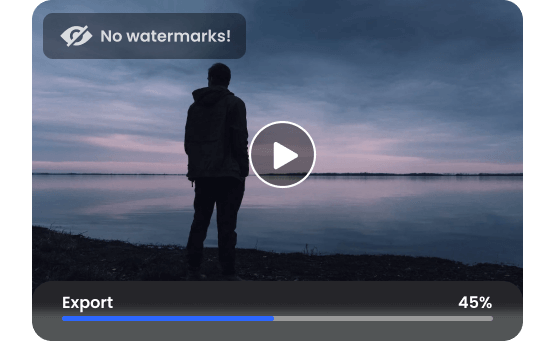 Watermark-free Podcast to Video Converter
Are you looking for a versatile tool that allows you to convert an audio podcast to a video? It enables you to seamlessly trim, enhance, and customize podcast episodes, ensuring a high-quality listening experience for your audience. Additionally, you can export the podcast audio as a watermark-free 720P video and easily share it on various social media platforms.
Create Video Podcast Now
More Video Editing Tools
FAQs about Converting Podcast to Video
Upload and export options for the Podcast to Video Converter
1. Supported upload formats:
· Video: MP4, MOV, WEBM
· Image: JPG, JPEG, PNG, GIF
· Audio: MP3, WAV, CAF
2. Free export resolutions: 480P / 720P / 1080P / 2K / 4K
3. Export formats: MP3 and MP4
What is a podcast video?
A podcast video combines audio content with visuals like images, text, or video footage to enhance the listening experience. It provides additional context and engagement and can be shared on video platforms or social media for a wider audience, offering a more immersive way to enjoy podcasts.
Why would I want to convert my podcast to video?
Converting your podcast to video allows you to reach a broader audience on social media platforms like YouTube and Facebook. Videos tend to attract more attention and engagement compared to audio-only content. Additionally, video content enables you to incorporate visuals, graphics, and subtitles, enhancing the overall viewer experience.
How do I turn a podcast into a video?
Turn a podcast into a video with 3 easy steps:
Step 1: Upload a podcast audio from your computer.
Step 2: Trim, cut, or split the podcast audio on the timeline, and add text, filters, transition effects, and more.
Step 3: Export the edited podcast video in MP4 format.
What do you need for a podcast video?
· Audio Content: Start with the audio file of your podcast episode.
· Visual Elements: Choose relevant visuals, such as images or video clips, to accompany the audio.
· Podcast Editor: Utilize podcast editor to combine the audio and visual elements and export it to MP4 format.
· Graphics and Text: Enhance the video with graphics or text overlays to provide additional information or highlight key points.
Will converting my podcast to video affect the audio quality?
Converting your podcast to video should not significantly impact the audio quality if the video conversion process is done correctly. It's crucial to ensure that your audio remains clear, well-balanced, and intelligible throughout the conversion process. Using appropriate software or tools like Clippa can help maintain the desired audio quality.
Clippa
Podcast to Video
Convert podcasts into eye-catching videos and share them on social media to increase engagement.
Create Video Podcast Now