Steps to Edit MP4 Video
1
Upload MP4 File
Effortlessly drag and drop or upload MP4 files from your computer.
2
Edit MP4 Video
Drag a video into the timeline to start editing. Apply filters, crop, and correct colors. Enhance with transitions, text.etc.
3
Export and Share
You can export the edited video to your computer. You also have the choice to return to edit it again.
Why Use This MP4 Video Editor?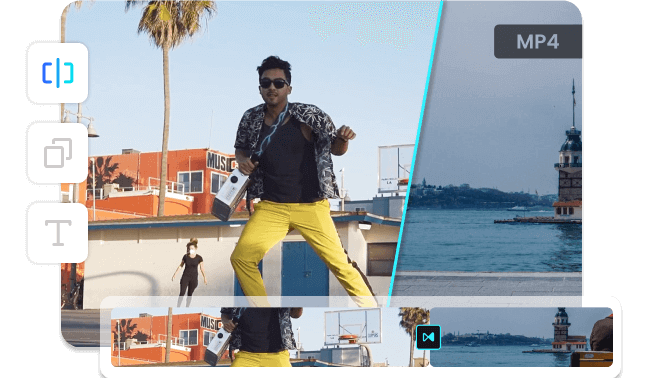 Simple MP4 Editor for Everyone
It is a user-friendly tool designed to edit MP4 videos. With its intuitive interface and powerful features, it allows users to trim, cut, merge, and customize their MP4 videos with ease. Whether you're a beginner or an experienced video editor, this tool provides a hassle-free editing experience.
Edit MP4 Video Now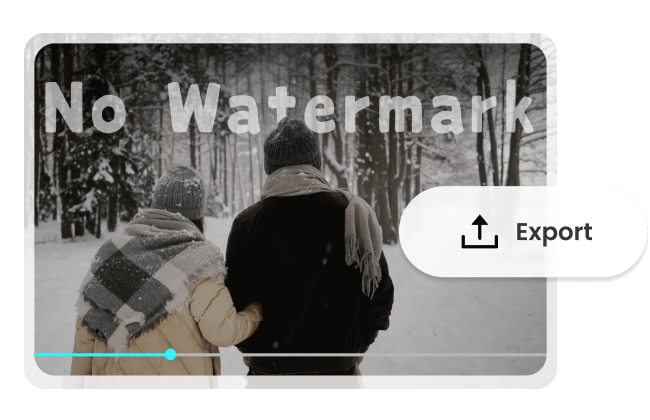 MP4 Editor Online No Watermark
Enhance your video exports effortlessly, free from watermarks. It empowers you to export your videos in pristine 720p resolutions without watermark. This is beneficial for providing viewers with a great visual experience, allowing them to fully immerse themselves in the content you've created.
Edit MP4 Video Now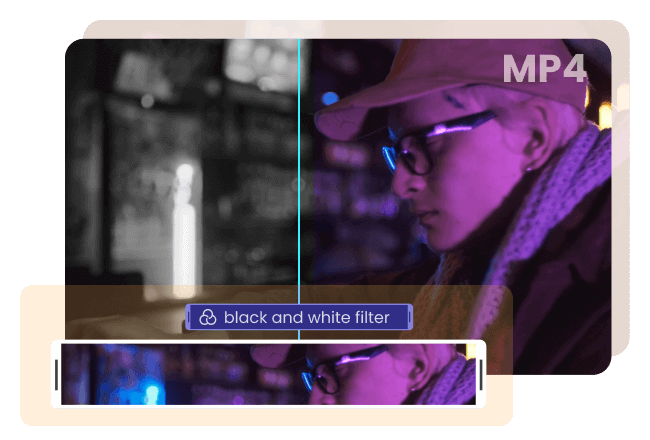 Enhance MP4 Videos with Transitions
Enhance your MP4 videos with captivating transitions and artistic filters. The Online MP4 editor effortlessly boosts your video effects, allowing you to create seamless scene changes and add creative highlights. With just a few clicks, it can beautify your MP4 video and make a lasting impression.
Edit MP4 Video Now
More Video Editing Tools
FAQs about Editing MP4 Video
Upload and export options for the MP4 Video Editor?
1. Supported upload formats:
· Video: MP4, MOV, WEBM
· Image: JPG, JPEG, PNG, GIF
· Audio: MP3, WAV, CAF
2. Free export resolutions: 480P / 720P / 1080P / 2K / 4K
3. Export formats: MP3 and MP4
What can I do with an MP4 Editor Online?
With an MP4 Editor Online, you can perform a variety of editing tasks such as trimming, cropping, adding text, applying filters or effects, adjusting audio levels, and more.
Can I edit MP4 videos for free online?
Editing MP4 videos with Gemoo is free. There are no charges for using Gemoo to edit or create videos. Simply upload, edit, and export your videos hassle-free!
Can I edit MP4 files on Windows 10?
Absolutely! If you're concerned about compatibility with your computer, we suggest utilizing an online MP4 editor to avoid the need for downloading or installing new software. Simply upload your video files, and effortlessly edit MP4 files on Windows 10.
How do I save or export my edited MP4 files?
After completing your editing, you can typically save or export your edited MP4 files directly from the MP4 Editor Online. You may have options to choose the output format, quality, and destination for saving or downloading your edited video.
Is it possible to share my edited MP4 files with others?
We provide options to share your edited videos. You can generate a unique URL for your project or directly share the video on social media platforms or video sharing websites.
Clippa
MP4 Editor Online
Effortlessly edit MP4 files for free with the hassle-free MP4 Editor. Easily, quickly and accurately modify MP4 videos, ensuring a seamless editing process from start to finish.
Edit MP4 Video Now