Steps to Edit YouTube Video Online
1
Upload Video(s)
Drag and drop to upload video(s) you need to edit for YouTube from your computer. The video formats include MP4, MOV, and WebM.
2
Edit YouTube Videos
Edit every frame of YouTube video, You can cut, crop, flip, merge, rotate and make other adjustments to your YouTube video.
3
Export and Share on YouTube
You can export your video as an MP4 format in 720P resolution in seconds. Once exported, you can easily share it to YouTube platform.
Why Use This YouTube Video Editor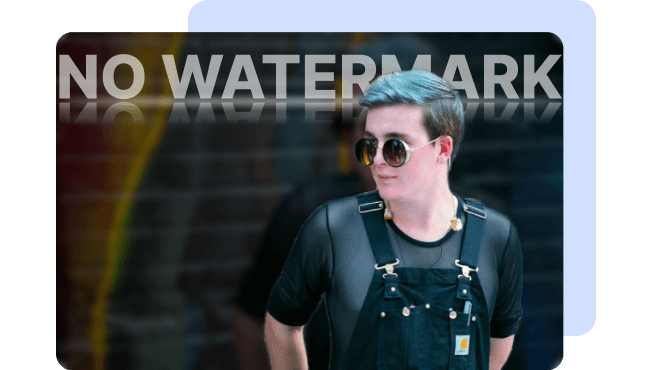 YouTube Video Maker No Watermark
Once you have finished editing your YouTube video, you can export it without any watermarks in 720P resolution. This enables you to maintain the professional appearance of your video and ensures a high-quality viewing experience for your audience.
Edit YouTube Video Now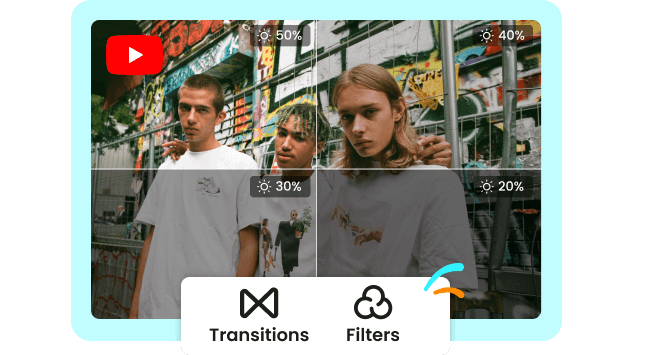 Add Multiple Effects to YouTube Video
Except for using basic tools to adjust brightness, contrast, saturation, and color balance of your YouTube video, you can also apply various filters and transition effects to enhance the visual appearance of your YouTube video. These enhancements will help your YouTube video stand out among the online videos.
Edit YouTube Video Now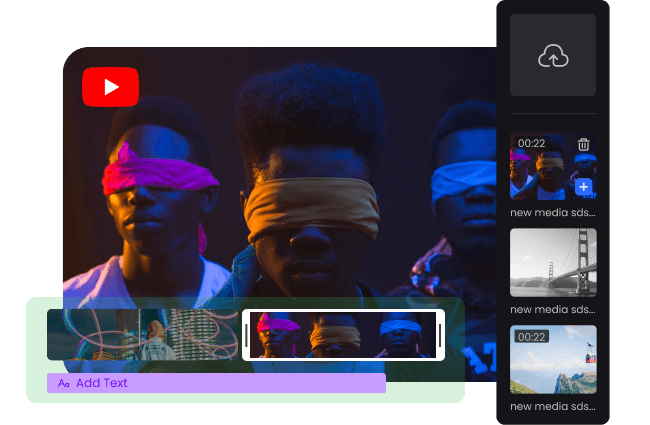 Multi-Track YouTube Video Editing
You can easily import media files such as videos, audio, and images to the Media Library to create or edit your YouTube videos. You can edit multiple video, audio, images,text, and filter tracks simultaneously or adjust each track separately in the timeline. This will make it easy to create and edit an captivating YouTube video.
Edit YouTube Video Now
Try More Video Editing Tools
FAQs About YouTube Video Maker
Upload and export options for the YouTube Video Maker:
1. Supported upload formats:
· Video: MP4, MOV, WEBM
· Image: JPG, JPEG, PNG, GIF
· Audio: MP3, WAV, CAF
2. Free export resolutions: 480P / 720P / 1080P / 2K / 4K
3. Export formats: MP3 and MP4
Is it hard to edit YouTube videos?
Editing YouTube videos can be easy with Gemoo YouTube Video Editor. The difficulty level also depends on the complexity of the video and the desired outcome. Basic editing tasks like trimming, cutting, and adding transitions can be relatively simple to learn.
How do beginners get better at YouTube editing?
• Invest in the Right Software: Gemoo YouTube Video Editor offers a wide range of editing features that will enable you to create professional-looking videos with ease.
• Learn the Basics: learn different types of cuts, transitions, and effects. Learn how to trim and arrange clips, adjust audio levels, and add text overlays.
• Utilize Keyboard Shortcuts: use shortcuts for tasks like cutting, copying, pasting, and navigating through the timeline can significantly speed up your editing process.
• Experiment with Different Styles: try incorporating various transitions, effects, and color grading to add a unique touch to your videos.
• Seek Feedback and Learn from Others: share your videos with friends, family, or online communities and ask for constructive feedback and suggestions.
Do longer videos do better on YouTube?
Contrary to popular belief, longer videos do not inherently perform better on YouTube. While watch time is a crucial factor, it is not the sole determinant of a video's success. YouTube video editors should focus on creating engaging, high-quality content that resonates with their target audience, regardless of video length.
How long does it take to edit a 10 minute YouTube video?
Editing a 10-minute YouTube video can take anywhere from 1 to 4 hours, which depends on various factors such as editing complexity, your skill level, footage quality, and content style.
Is it possible to edit an existing YouTube video?
Yes! It is possible to edit an existing YouTube video. YouTube Studio allows users to make changes to their uploaded videos including trimming, blurring, and adding music.
Can you cut part of a YouTube video after uploading?
Yes! Once you have uploaded a video on YouTube, you can find it in YouTube Studio and access the "Editor" option. From there, you can easily trim a specific part of the video to remove or adjust content as desired.
Clippa
YouTube Video Editor
Edit YouTube video online by applying various editing techniques such as clipping, cropping, merging, flipping, rotating, and making other adjustments.
Edit YouTube Video Now