Steps to Resize Image for Twitter Online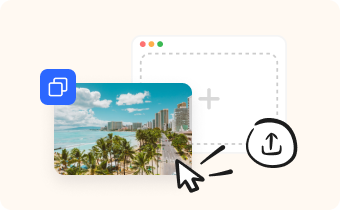 1. Upload an Image
Drag and drop, copy and paste, or upload an image from your computer.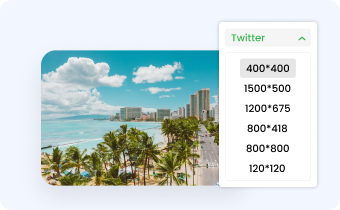 2. Resize Twitter Images
Select one of the preset Twitter Image dimensions to resize it.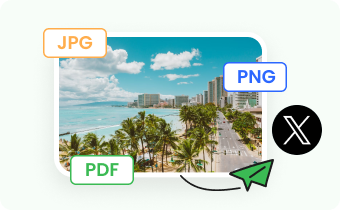 3. Download & Share
After resizing your Twitter image, save it in PNG, JPG, or PDF and share it on Twitter.
Why Use Gemoo's Twitter Image Cropper?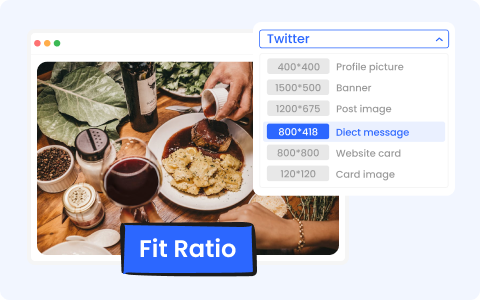 Resize Image for Twitter Free
You don't have to create an account or log in, and it's absolutely free to use. All you need to do is upload your image and select from the range of preset Twitter image posting sizes. With just a few clicks, you'll have a perfectly sized image that's ready to be posted on Twitter. It's that simple!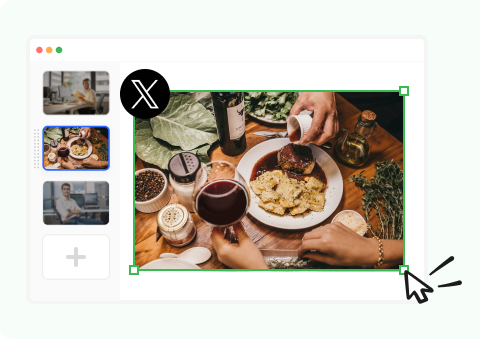 Resize Twitter Images in Batch
You can upload up to 10 images at once and resize them all one by one in different preset sizes for Twitter. Rather than uploading and cropping each image individually, resizing multiple images in a single batch can save you significant time and effort.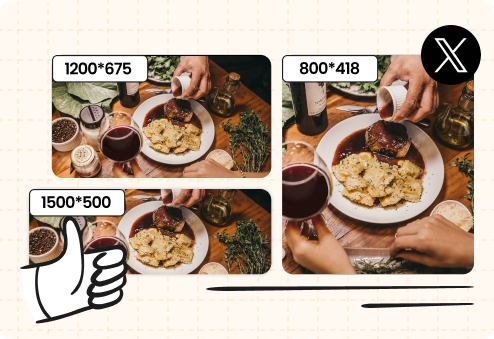 Resize Twitter Images for Various Sizes
We offer a wide range of preset image sizes for Twitter post. From profile pictures and banners, to post images, direct messages, card images, and website cards, we've got you covered. It's easy to get your images in the right size and format for any purpose on Twitter.
FAQs About Resizing Photo for Twitter
Gemoo's free Online Twitter Image Resizer's limitations
• Image Upload: You could import up to 10 images except for folders at a time.
• Batch Resize Images: When batch resizing a group of images, save your current editings before switching to the next image.
• Retention Time: After saving the images, they will be kept for 7 days on the cloud.
• Save & Share: After resizing your image for Twitter, you should tap on the 'Copy Link' button to share with others, instead of copying and pasting the browser URL.
Why is Twitter cropping my picture?
Twitter will usually crop image previews for one of these reasons: The image isn't in the proper aspect ratio (varies based on the number of images in the tweet). The image is portrait-oriented (height > width). The area of important visuals in the image is focused on a small area of the image.
What are the Twitter picture size?
Here, we list all 6 standard sizes for Twitter images:
•Twitter profile picture size: 400 x 400 pixels
•Twitter banner size: 1500 x 500 pixels
•Twitter post image size: 1200 x 675 pixels
•Twitter direct message size: 800 x 418 pixels
•Twitter website card size: 800 x 800 pixels
•Twitter card image size: 120 x 120 pixels
How can I make my whole picture fit on Twitter?
You can use our Twitter profile picture size converter, follow the easy steps:
•Drag and drop, copy and paste, or upload an image from your computer.
•Choose one of the preset dimensions for Twitter and click on it to start resizing.
•Save your resizing image in PNG, JPG, or PDF and share it on Twitter.
What format are Twitter photos?
Twitter-supported Photo formats: GIF, JPG, and PNG.
Is PNG or JPG better for Twitter?
After being uploaded, JPG is the most compressed, while PNG is the least. The maximum dimension for an uploaded PNG is 2048 x 2048. A 100% opacity PNG will be converted to JPG and undergo heavy compression. PNG with too large file size may be converted to JPG, or cause internal server error when uploaded.