Steps to Annotate Images Online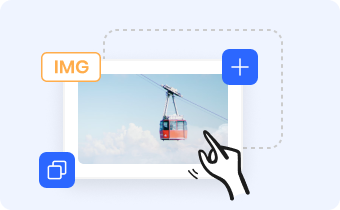 STEP 1
Upload, drag and drop, or copy and paste an image from your computer.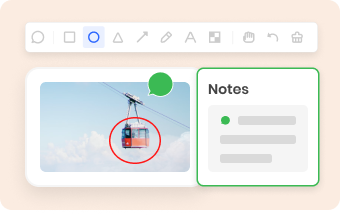 STEP 2
Annotate the image online with various marks on the toolbar. You can also add notes to your image easily.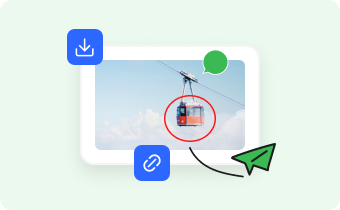 STEP 3
Export to your computer, copy to clipboard, or simply share the image link with others.
Why Use Gemoo's Online Image Annotation Tool?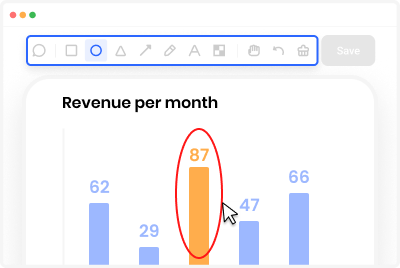 Annotate with Rich Tools
Annotate and highlight any image with a wide collection of tools like arrows, brushes, texts, lines, etc. In this way, you can easily annotate any image any way you like to keep information clear and to convey your ideas and insights effectively.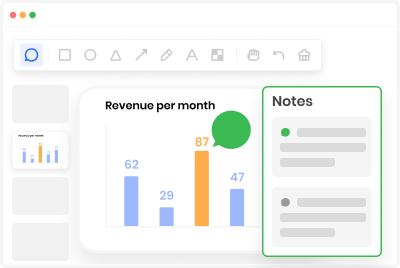 Annotate Images in Batches
Quickly annotate a batch of images online at a time and preview the images in a slide view.
• Time-saving: You can annotate a group of images at once. This is especially feasible when you are annotating a large number of images.
• Convenient for management: Batch annotation helps better preview, manage, and save the images with annotations, ensuring that all images are annotated in a timely and efficient manner.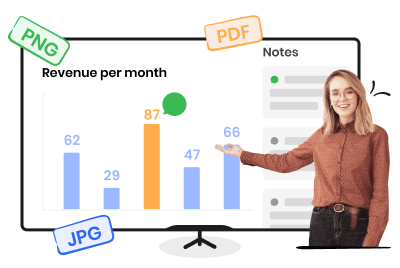 Export Images with Notes
Add notes to the images easily and export and download your images with notes in PNG, JPG, or PDF format.
• Learning: Exporting images with notes helps you consolidate your study materials and make them easier to access and keep track of.
• Workflows: Boost your work productivity by organizing these images with notes. You can create visual workflow notes that you can refer to whenever you need to.
FAQs About Annotating Images Online
Does Gemoo's image annotation tool secure?
Yes, the tool is 100% clean and safe. Gemoo uses Amazon Web Services (AWS) data centers for hosting and all your data is private and secure. In addition, after you clear your browser cache and cookie, the image history will be deleted too.
What is annotate in screenshot?
Annotating a screenshot means adding notes, comments, or other types of information to a screenshot image. This can be done using various tools - text boxes, arrows, lines, and highlighters to provide additional context explanation, or interpretation of the picture's content.
What is an image markup and annotation tool?
Image markup and annotation tools are used to add special annotations and descriptions to provide additional information about an image. You can also use the image markup and annotation tool to add comments, notes, or highlights to the image to provide additional context or explanation.
Why is image annotation important?
Annotating is an essential way for marketers, designers, scholars, researchers, customer service staff, students, and others to clarify the meaning and highlight the significance of an image. By adding shapes, highlighters, comments and notes, you can make your images more informative and attractive.
How to annotate an image online for free?
1. Choose an online annotation tool: Among free image annotation tools online, you can start with the Gemoo Image Annotation tool.
2. Upload the picture: Upload the image you want to annotate from your computer.
3. Add annotations: Use the annotation tools provided by the tool to add texts, shapes, arrows, notes, and other elements to the image.
4. Save and share: Save the image with annotations and share it with others.
Are there any best practices for annotating images online?
• Keep it simple: Don't overload your image with too many annotations, as this can be overwhelming and confusing.
• Use contrasting colors: Make sure your annotations stand out from the background of the image by using contrasting colors.
• Be consistent: Use the same style and format for all your annotations to create a cohesive look.
• Test it out: Before sharing your annotated image, make sure to test it out on different devices and screen sizes to ensure it's legible and effective.