Steps to Resize LinkedIn Image Online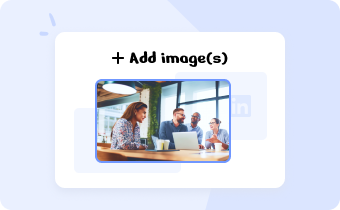 1. Upload an Image
Upload, copy and paste or drop image(s) from your computer to resize for LinkedIn.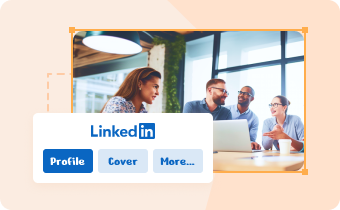 2. Resize LinkedIn Image
Choose an image size to resize for LinkedIn. You can resize it as a profile, cover and other LinkedIn image.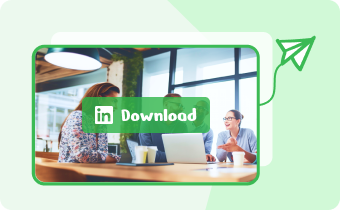 3. Download & Share
After resizing your LinkedIn image, download, save and share the resized image on LinkedIn.
Why Use Gemoo's LinkedIn Image Resizer?
Easy to Resize LinkedIn Images
It simplifies the process of resizing photo for LinkedIn. Simply upload your image, and let the tool automatically adjust the dimensions to meet LinkedIn platform's requirements. This saves you time and effort, eliminating the need for manual resizing.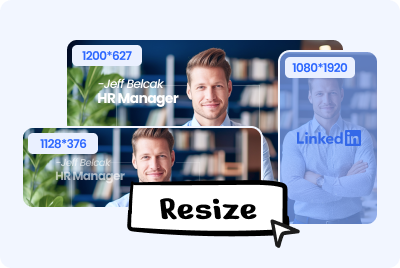 All-in-one Linkedin Image Resizer
We cover a wide range of LinkedIn image resizing options. You can choose to resize your image for LinkedIn background, profile, cover and other types of LinkedIn images.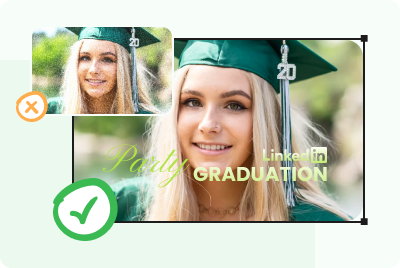 High-quality Image Output
Maintain the original quality of your photo when resizing for LinkedIn. Our advanced algorithm preserves the clarity and vibrancy of your profile picture, ensuring it looks great even after resizing.
FAQs About LinkedIn Image Resizer
Gemoo's free Online LinkedIn Image Resizer's limitations
• Image Upload: You could import up to 10 images except folders at a time.
• Batch Resize Images: When batch resizing a group of images, save your current editings before switching to the next image.
• Retention Time: After saving the images, they will be kept for 7 days on the cloud.
• Save & Share: After resizing your photo for LinkedIn, you should tap on the 'Copy Link' button to share with others, instead of copying and pasting the browser URL.
What Is an Online LinkedIn Image Resizer?
An online LinkedIn image resizer is a tool that allows users to resize your images to fit the specific dimensions required for LinkedIn. Having a properly sized and formatted image on your LinkedIn profile is important as it helps create a professional and polished appearance
Will I Lose Quality When Resizing Photo for LinkedIn?
There are some factors that can impact the image quality when resizing photo for LinkedIn. These include the original image resolution, file format, and the software used for resizing. Starting with a high-resolution image and using Gemoo Online LinkedIn Image Resizer can minimize noticeable loss of quality.
Does LinkedIn Crop Images?
LinkedIn does automatically crop profile pictures to fit within the circular frame displayed on user profiles. This cropping process ensures that the image is centered and fits the required dimensions. However, it is important to note that LinkedIn's cropping algorithm may potentially cutting off important parts of the image.
What is the standard size for LinkedIn image?
Here, we list all 8 standard sizes for LinkedIn images:
• LinkedIn profile picture: 400 x 400px
• LinkedIn logo: 300 x 300px
• LinkedIn life tab image: 1128 x 376px
• LinkedIn background photo: 1584 x 396px
• LinkedIn link post: 1200 x 627px
• LinkedIn portrait post: 1080 x 1350px
• LinkedIn stories: 1080 x 1920px
• LinkedIn square post: 1200 x 1200px
Tips to resize images for LinkedIn
To minimize the potential loss of quality when resizing photo for LinkedIn, consider the following tips:
• Start with a high-resolution image: Upload a high-resolution photo for resizing without significant quality loss.
• Use a professional LinkedIn Image Resizer: Tool like Gemoo LinkedIn Image Resizer offers advanced resizing algorithm that preserves more details and sharpness.
• Preview the resized image: Preview the resized image before uploading it to LinkedIn. This allows you to spot noticeable quality issues and adjust it if necessary.