Steps to Take Notes on YouTube Videos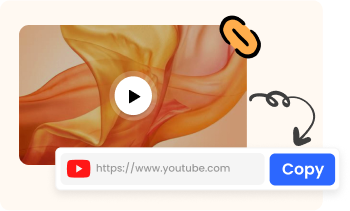 STEP 1
Type in or copy/paste the YouTube link that you want to take notes on.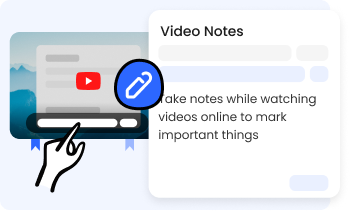 STEP 2
Take time-stamped notes on a YouTube video by simply adding notes to the timeline.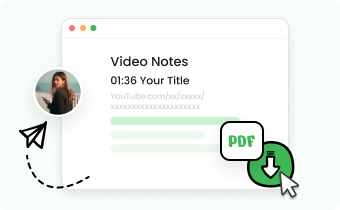 STEP 3
Export your video with notes to PDF or Gemoo Docs, or copy the link to share.
Why Use Gemoo's YouTube Video Notes Maker?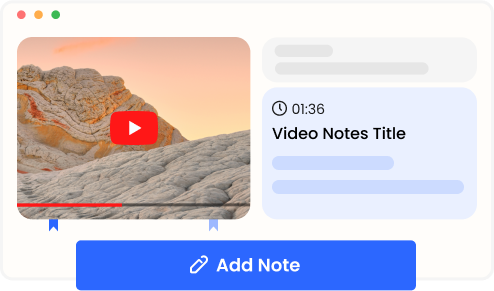 Take Time-Stamped Notes
You can take video notes with time stamps, and click on the notes to directly navigate to the corresponding position in the video. The video will pause while you take notes, no worry about missing important information.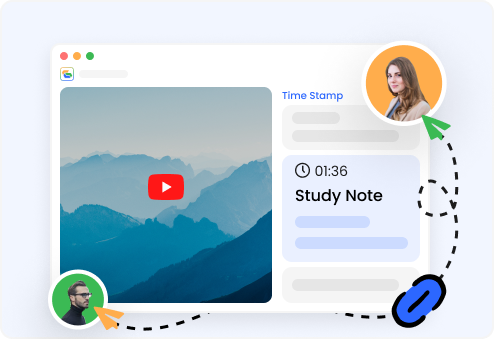 Learn, Analyze & Feedback
Analyse videos for learning, provide specific and actionable feedback, or share important moments with the team members for better collaboration. Send your video notes to others via a shareable link.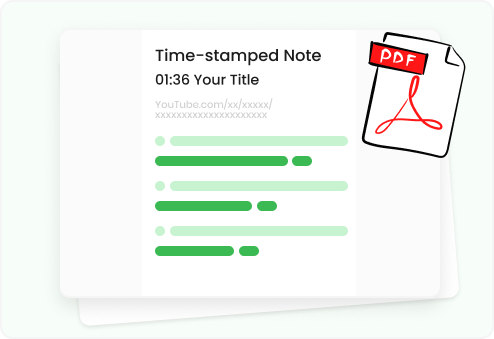 Export Video with Notes
Export your notes as PDF or Gemoo Docs, with the original YouTube video embedded. It is convenient for you to archive and organize the video courses you have learned and your favorite YouTube videos. Better set learning goals or mark memorable moments.
FAQs on Video Note Taking
Does Gemoo's video note-taking tool secure?
Yes, the tool is 100% clean and safe. Gemoo uses Amazon Web Services (AWS) data centers for hosting and all your data is private and secure. In addition, after you clear your browser cache and cookie, the video history will be deleted too.
What is a video note taking app?
A video note taking app is a tool that allows you to take notes while watching videos. It enables you to capture important information from videos and organize it in a way that is easy to access and review later.
How does a video note taking app work?
A video note-taking app allows you to play a YouTube video and take notes simultaneously. You can pause the video at any time to take notes, and it will automatically timestamp the note to the corresponding point in the video. You can also add tags and labels to your notes to make them easier to search and organize.
What are the benefits of using a video note taking app?
• Avoid re-watch videos multiple times, you can take notes while watching videos to better retain important information.
• Enhance your productivity of study with effective note-taking for online courses.
• Organizing notes with tags and timestamps makes it easier to find and review information later.
Are there any video online notes-making use-case?
• YouTube Course Study: An online video note-taking app that automatically syncs with video to time-mark notes, and allows sharing and exporting notes.
• Video Quality Feedback: Feedback and comments on video assignments/creation by taking notes to find out deficiencies in video content.
• Richer Video Content: Attach important books, documents, data, addresses, links, etc. mentioned in your video to your notes.
Is it possible to share notes with others using a video note taking app?
Yes, Gemoo's free online video note-taking tool allows you to share your notes with a shareable link. This can be especially helpful for group projects or collaborative learning environments. It also supports exporting the notes with the original video to Gemoo Docs. It is convenient for you to manage videos and notes.