Steps to Merge Images Online
1
Upload Photos
Upload your photos or drag and drop all of them from your computer at once.
2
Merge Photos Together
Merge two or more photos together, customize the layout, and set display time for each photo.
3
Export and Download
Export and download your combined images as a high-resolution MP4 video on your computer.
Why Use This Online Image Combiner?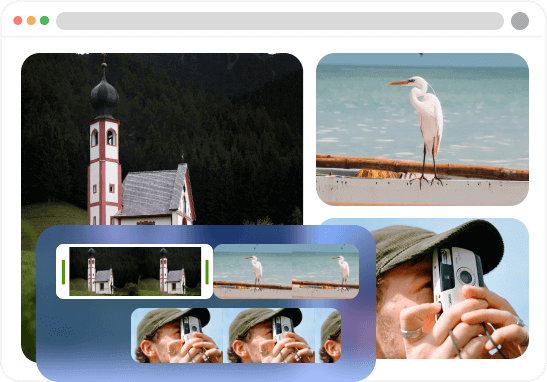 Make Digital Photo Album in Your Browser
Combine images online to create stunning digital photo albums and collages online. No professional skills are required. With user-friendly interfaces, these tools are accessible to everyone. No specialized software is needed—simply unleash your creativity with hassle-free browser-based tools.
Combine Images Now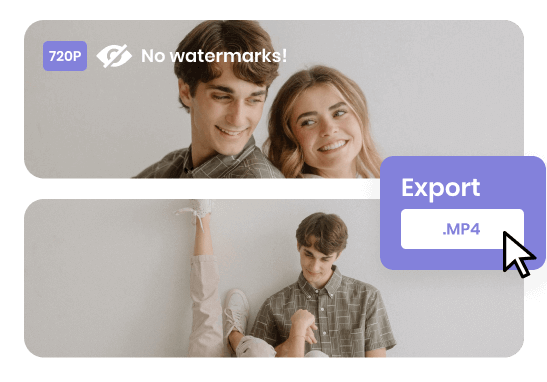 Export Merged Images without Watermark
After merging the images, you can export your photo collection without any watermark (up to 720P) as a MP4 file. Whether you're a beginner or a seasoned enthusiast, by combining images, you can share your product photos and favorite images from different angles in one eye-catching social post and use it to improve your personal image, mood board, and more.
Combine Images Now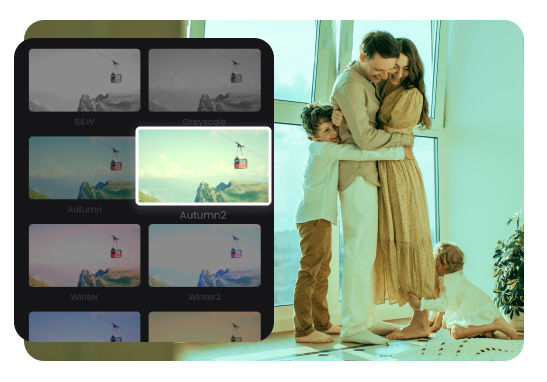 Add More Effects to Your Combined Photos
Effortlessly upload images, customize layouts, and infuse your personal touch. Enhance your image merging with design elements. Perfectly position your images by cropping, scaling, color correcting, or overlaying them. Add backgrounds, transitions, and filters to add depth and creativity to your compositions. Immerse your family scrapbook with a captivating atmosphere.
Combine Images Now
More Video Editing Tools
FAQs on Combine Images Online
Upload and export options for Online Image Combiner:
1. Supported upload formats:
· Video: MP4, MOV, WEBM
· Image: JPG, JPEG, PNG, GIF
· Audio: MP3, WAV, CAF
2. Free export resolutions: 480P / 720P / 1080P / 2K / 4K
3. Export formats: MP3 and MP4
Do I need professional skills to combine images online?
No, you do not need professional skills to combine images online. Clippa is a web-based tool that provide user-friendly interfaces and intuitive features that make the process accessible to beginners and non-professionals.
Can I customize the layout and effects when combining images online?
Yes, our online image combiner offer customization options for layouts, including resizing, rotating, and positioning images. Additionally, it provide effects such as filters, overlays, or text options to enhance your combined images.
Is there any software installation required to combine images online?
No, combining images online eliminates the need for software installation. It is a web-based process that can be done directly in your browser without the hassle of complex installations or specialized software.
Can I combine images for specific purposes like creating photo albums or collages?
Yes, combining images online allows you to create various visual compositions, including digital photo albums, photo collages, mood boards, social media posts, and more. The flexibility of online tools enables you to achieve your desired outcomes.
What is the purpose of merging images or photos?
· Create visual compositions like digital photo albums, collages, mood boards, and social media posts.
· It provides a platform to unleash your creativity and experiment with different layouts, effects, and elements.
· Combined images can be easily shared on social media, websites, blogs, or presentations, enhancing your online presence and engagement.
· It's a convenient and creative solution for personal and professional purposes, allowing you to create visually captivating compositions that reflect your style and vision.
Clippa
Combine Images Online
Easily merge your favorite photos together online to create a stunning digital photo album and elevate your social media presence.
Combine Images Now