Steps to Add Watermark to Video
1
1. Upload a Video
Upload a video from your computer to the Media Library.
2
2. Add Watermark to Video
Add logos, text watermarks, or upload transparent PNG images as watermarks to your video. Adjust the size, duration, transparency, and positioning according to your needs.
3
3. Download & Share
Preview and click the "Export" button to download or share it with a link.
Why Use This Video Watermark Maker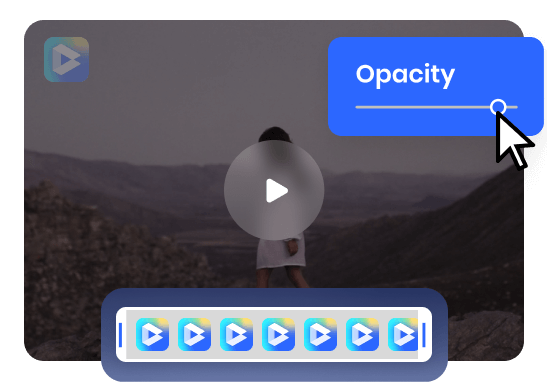 Add Watermark to Video Free Online
Add watermark to videos completely free online. Just upload your video, add text, logos, and image watermarks, and adjust them anywhere on the video frame. Furthermore, you can save the watermark for future use, eliminating the need to upload it each time.
Add Watermark Now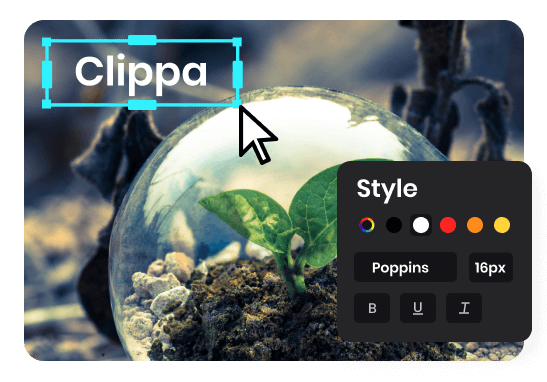 Create a Customized Watermark
You can customize watermarks for your videos for free using custom logos, images, custom fonts, copyright symbols, or any other visual symbols. Adjust the position, size, transparency, and other aspects of the watermark to achieve the desired effect and create your own brand.
Add Watermark Now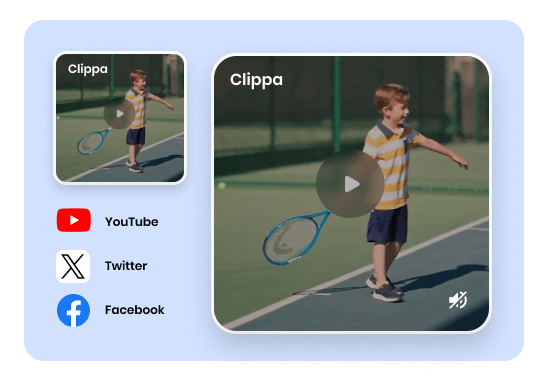 Watermark Videos for Social Media
Add watermarks to your YouTube, Facebook, or Twitter videos using your custom logo. Make sure the watermark appears throughout the entire video, allowing viewers to recognize your brand even when the sound is off. This increases your chances of standing out and enhancing brand visibility.
Add Watermark Now
More Video Editing Tools
FAQs about Adding Watermark to Video
Upload and export options for the Video Watermark Maker
1. Supported upload formats:
· Video: MP4, MOV, WEBM
· Image: JPG, JPEG, PNG, GIF
· Audio: MP3, WAV, CAF
2. Free export resolutions: 480P / 720P / 1080P / 2K / 4K
3. Export formats: MP3 and MP4
What is the watermark on video?
A video watermark is a visible overlay that includes text, logos, or graphics superimposed on video frames. It identifies the video source, protects against unauthorized use, and provides branding. Watermarks are often translucent or semi-transparent to avoid obstructing the video content while remaining identifiable.
Do I need to watermark my videos?
The decision to watermark videos depends on branding goals, content nature, and desired copyright protection. While watermarks establish identity, deter unauthorized use, and provide attribution, they can be seen as intrusive by some viewers. Balancing benefits and drawbacks helps determine if watermarking aligns with your needs and objectives.
Can I add a watermark to a video for free?
Yes, you can add a watermark to a video for free using the Video Watermark Adder. It provides options to customize the watermark's position, size, transparency, and other settings.
Can I add an image watermark to a video online for free?
Yes, you can add an image watermark to a video using the Video Watermark Adder. It supports PNG images, so your watermark can have a transparent background and not cover up too much of your video.
How to quickly add a watermark/logo to a YouTube video?
YouTube allows video creators to directly add watermarks to their uploaded videos. However, the process can be a bit complicated. Here are the specific steps:
• Log in to YouTube and click on the profile icon in the top right corner.
• Click on "Settings" and then "Additional Features".
• Now click on "Branding" in the left pane and select "Add Watermark".
Pro Tip: Instead of going through the hassle of using YouTube's built-in watermark adder, why not use a professional YouTube Watermark Maker to add watermarks directly? Here, you simply upload your YouTube video and proceed to add and customize watermarks. It's much simpler.
Clippa
Add Watermark to Video Online
Add a watermark to your video to give it a recognizable and consistent appearance. With just a few seconds, you can effortlessly add logos, text, and PNG watermarks to your video.
Add Watermark Now