Steps to Edit Video on Chromebook
1
1. Upload an MP3 File
Upload an MP3 or audio file from your computer to the Media Library.
2
2. Trim MP3 Audio
Place the MP3 audio to the audio track and cut the MP3 audio. You can also adjust the audio volume levels of each portion.
3
3. Download & Share
Click the "Export" button to download or upload to share the trimmed MP3 audio.
Why Use This MP3 Cutter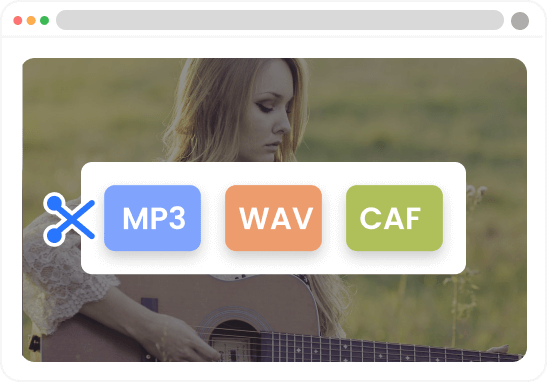 Cut Various Audio File Formats
It enables you to import and cut various audio file formats, including popular ones such as MP3, WAV, and CAF. This broad support for diverse audio formats ensures that you can work with a wide range of audio sources as you want. Whether you have a collection of MP3 files, high-quality WAV recordings, or audio files in the CAF format, This flexibility ensures that you are not limited by the format of your audio files and can trim your preferred audio sources to create unique and captivating audio.
Cut MP3 Audio Now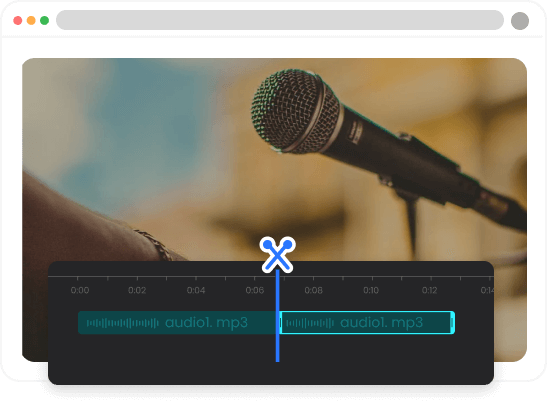 Easy-to-Use Online Mp3 Cutter
It offers a user-friendly interface with intuitive controls and straightforward operations, ensuring that users, regardless of their technical expertise, can quickly and easily perform MP3 cutting or trimming tasks. The simplified interface makes it accessible to beginners and eliminates the need for technical knowledge. With its user-friendly nature, users can navigate the software effortlessly, select desired portions of the audio file, and apply the cutting or trimming operation with ease.
Cut MP3 Audio Now
Cut MP3 File as Ringtong
Once you've cut Mp3 file as ringtone, you have full control over spliting and selecting the precise portion of the audio that will become your ringtone. With this feature, you can easily cut your audio file into different sections and define the exact durations for each section of your ringtone. Whether you want a short snippet from the chorus of a song or a specific segment that captures your favorite melody, it allows you to make these selections with precision and ease.
Cut MP3 Audio Now
Try More Video Editing Tools
FAQs About Cutting MP3 and Audio Online
Upload and export options for Online MP3 Cutter:
1. Supported upload formats:
· Video: MP4, MOV, WEBM
· Image: JPG, JPEG, PNG, GIF
· Audio: MP3, WAV, CAF
2. Free export resolutions: 480P / 720P / 1080P / 2K / 4K
3. Export formats: MP3 and MP4
What is MP3 Cutter online?
MP3 Cutter online is a web-based tool that allows you to editing MP3 audio files directly via a web browser, primarily focusing on cutting or trimming specific sections of the audio.
How does MP3 Cutter work?
Here's a general overview of how an MP3 Cutter typically works:
1. File Upload: Upload the MP3 audio file that you want to cut.
2. Select Start and End Points: Select and split the desired start and end points for the section you want to cut or trim.
3. Playback and Preview: Listen to the cut section of the audio to verify that it meets your requirements.
4. Save or Download: Once you're satisfied with the cut audio, save and download the trimmed section as a separate MP3 file.
What is the difference between trim and cut audio?
Trimming Audio: Trimming audio is the process of selectively removing unwanted sections from an audio file while retaining the desired portions.
Cutting Audio: Cutting audio involves the act of dividing or splitting an audio file into multiple segments or sections. When you cut audio, you create distinct segments by defining start and end points and separating the audio into separate files or portions.
What is the use of trimming an audio?
Trimming an audio refers to the process of removing or cutting out specific sections of the audio file while retaining the desired portions. Cutting audio online offers various uses:
• Remove Unwanted Content: Trimming allows you to remove sections with mistakes, background noise, pauses, breaths, or any other undesired elements.
• Create Shorter Versions: This can be useful when you extract a specific segment, highlight a key part, or condense the content for a specific purpose.
• Highlight Key Moments: Trimming allows you to emphasize and showcase specific moments or highlights within an audio recording.
• Improve Flow and Timing: Removing any sections that disrupt the natural rhythm, you can create a smoother and more engaging listening experience.
• Reduce File Size: By removing unnecessary sections, you can decrease the overall file size, making it more manageable for storage and sharing.
• Enhance Editing Efficiency: By removing unwanted sections, you can focus on the remaining content, making it easier to edit.
Clippa
Online MP3 Cutter & Audio Trimmer
Cut MP3 and other formats of audio files. Trim the unwanted audio parts while keeping the specific audio portions you need.
Cut MP3 Audio Now