Steps to Add Music to GIF Online
1
Upload GIF & Music
Upload both the GIF and music files from your computer to the Media Library.
2
Add Music to GIF
Place the GIF onto the timeline of the video track, and add the music to GIF. You can also trim it or adjust it to the desired point within the GIF.
3
Preview & Export
Preview and download the GIF with sound. Afterwards, you can easily share your GIF on various social platforms.
Why Use This to Add Audio to GIF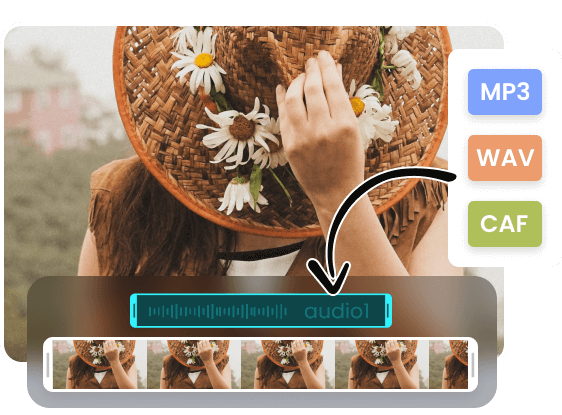 Surpport Various Audio Formats
It supports popular audio file formats including MP3, WAV, and CAF. With the support of various audio formats, you can easily incorporate audio tracks into your GIFs without the need for extensive conversion or file format adjustments.
Add Music to GIF Now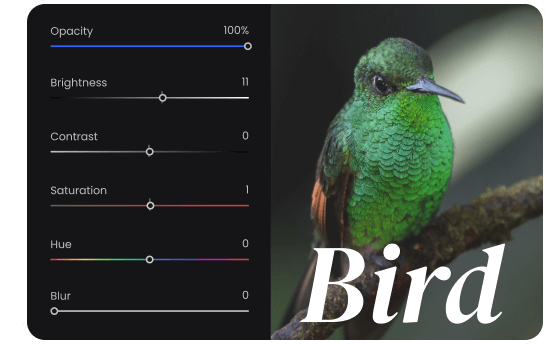 Amplify GIF with Visual Elements
Except for adding audio to GIF, it also allows you to customize the appearance of your GIF. You can incorporate text to your GIF to further convey messages and enhance its storytelling aspect. You can also change GIF colors to make your animated content more captivating and memorable.
Add Music to GIF Now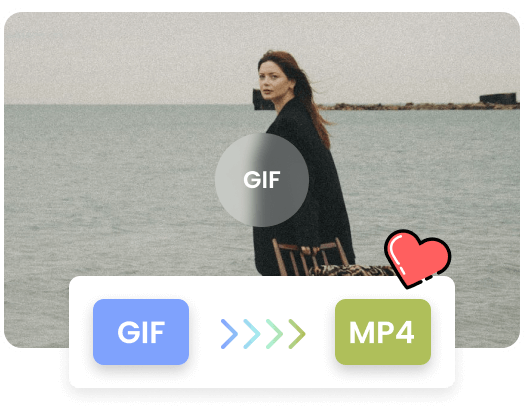 Convert GIF to MP4
When exporting your GIF, you can convert your GIF to an MP4 video file. As MP4 is a widely supported video format, converting your GIF to MP4 ensures compatibility, allowing you to share your sound-enabled content on social media, websites, or any platform that supports video playback.
Add Music to GIF Now
More Video Editing Tools
FAQs About Adding Music to GIF
Upload and export options for this tool:
1. Supported upload formats:
· Video: MP4, MOV, WEBM
· Image: JPG, JPEG, PNG, GIF
· Audio: MP3, WAV, CAF
2. Free export resolutions: 480P / 720P / 1080P / 2K / 4K
3. Export formats: MP3 and MP4
What are GIFs with sound called?
GIFs with sound are commonly referred to as "GIFs with audio" or "sound-enabled GIFs." They are essentially GIF animations that include synchronized audio tracks, adding an auditory element to the visual experience.
Why do some GIFs have no sound?
GIFs are designed to be short, looping animations that convey a message or express a moment without relying on sound. Unlike video formats, which typically include audio tracks, GIFs are limited to visual content only. Therefore, the lack of sound in GIFs is a fundamental characteristic of the format.
Are GIF files editable?
GIF files, by their nature, are typically not easily editable in their original form. Once created, a GIF file is a compressed image format that stores a series of frames and timing information to create an animated sequence. However, Tools such as Clippa allows you to edit certain aspects of GIF files. You can resize or crop the GIF, change its color, add a filter, add music to individual frames.
Can you send GIFs with sound?
Not all platforms or formats support audio attachments. However, there are alternative solution to send GIFs with sound. One common approach is to convert the GIF into a video format, such as MP4, that supports both video and audio. By converting the GIF to a video file, you can then include the desired audio track and send it as a video file with sound.
How do you send GIFs with sound on WhatsApp?
To send GIFs with sound on WhatsApp:
1. Open WhatsApp and navigate to an individual or group chat.
2. Locate and tap on the Emoji icon to access the emoji and GIF selector.
3. Browse through the available GIFs or use the search bar to find a specific GIF
4. Enter keywords or phrases related to the GIF you want to send
5. Scroll through the results and tap on the GIF you wish to send.
Clippa
Add Music to GIF
Add sound to GIF and enhance the overall viewing experience and make your GIF more engaging and attractive.
Add Music to GIF Now