Steps to Upload Your Videos Online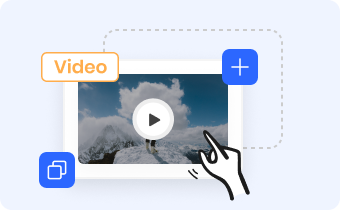 1. Upload a Video
Drag and drop, or upload a video from your computer.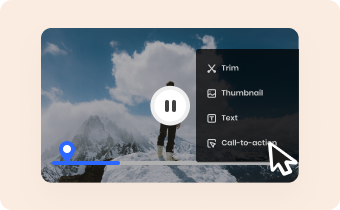 2. Edit the Video
Trim the video, add thumbnails, text, call to action and time-stamped notes for videos.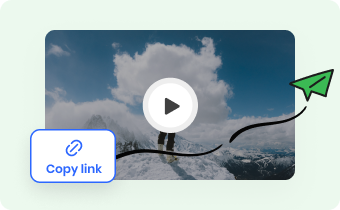 3. Share Video Link
Just copy the URL to share your video.
Why Use Gemoo's Online Video Uplaoder?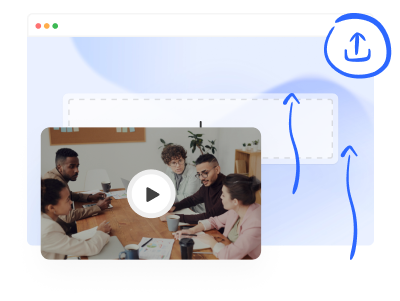 Directly Upload Video Online
Select and upload a video from your computer. You can also use Online Screen Recorder to instantly create a video and upload it.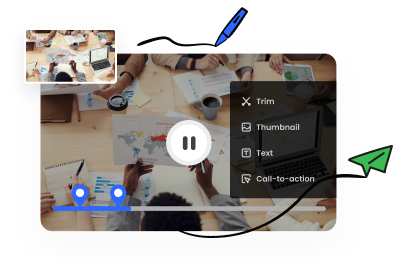 Quickly Edit Video Online
Edit your videos before sharing them. You can trim the video, add thumbnails, text, and call to action for videos. You can also make time-stamped notes while playing the video.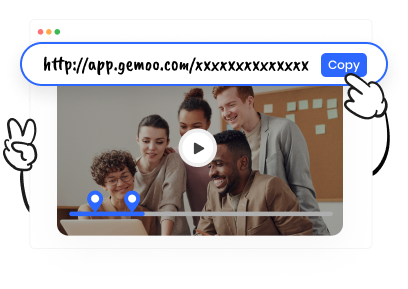 Share Video Simply
Share your video with others just by copying the link. Your viewers can watch your videos on the browser without downloading them.
FAQs About Uploading Video Online
Does Gemoo's online video uploader secure?
Yes, the tool is 100% clean and safe. Gemoo uses Amazon Web Services (AWS) data centers for hosting and all your data is private and secure. In addition, after you clear your browser cache and cookie, the history will be deleted too.
What are video upload sites?
Video upload sites are websites where users can upload and share videos with others. These sites allow users to upload videos in various formats and share them with a wide audience. Many of these sites also offer features such as video editing tools, analytics, and monetization options for content creators.
Where can I upload videos online for free?
Gemoo's online video uploader is a totally free video upload platform. You can upload a video and share it with a shareable link.
Can I delete my video after uploading it?
Yes, you can delete your video after uploading it. However, the uploaded videos can be kept for 7 days. You can also manually delete uploaded video recordings.
What's the meaning of hosting video online?
Hosting a video online means uploading a video file to a website or platform that allows it to be viewed and shared over the internet. The video file is stored on a server and can be accessed by anyone with an internet connection. Hosting videos online is a popular way to share content, such as movies, TV shows, educational videos, and marketing materials, with a large audience.
Are there any best practices for uploading videos and sharing them with a link?
• Share video online: You can share your favorite movies, TV shows, and learning videos that are stored on your computer with your family and friends easily.
• Play Video on the Browser: Without downloading videos or additional software, your viewers can watch your video on the browser directly.
• Emotional empathy and collaboration: After uploading a video, you can add notes with time stamps to share interesting moments and your ideas in the video with the viewers.
What formats of video can I upload?
Supported file types: MP4 and WEBM. The maximum video size you can upload is 1 GB (for a single video).