Get Started with Gemoo Recorder
Gemoo Recorder is a recording tool. It supports 4 recording modes. Refer to this guide to get set up and record. 

1 min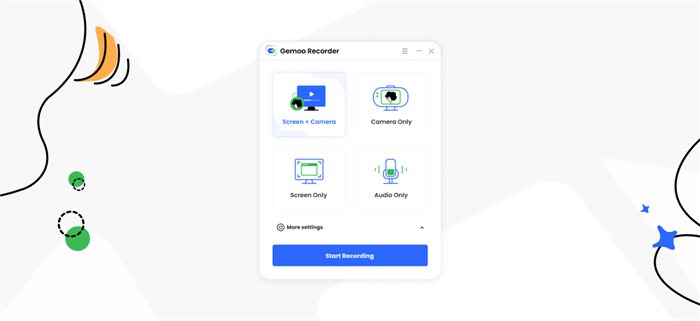 Sign in Account
Before creating your recordings, you need to sign in to your Gemoo account. You have two sign-in options.
Here are the sign-in (or sign-up, for new users) methods available to you:
• Email address – Always simple sign-in solution.
• Sign in with Google – Easy access, with 2FA authentication.
Recording Settings.
To ensure the recording elements are displayed as you prefer, you can configure the settings before the recording starts.
1. Click the menu tab "≡" and "Preferences" buttons to configure the annotation, countdown, and toolbar settings.
2. Hit the "More Settings" button to select camera & microphone, customize the recording dimension and set the resolution for the recording.
When the camera recording function is on, you can change the camera size, upload camera photos, hide the camera, and set camera effects.
Select Recording Mode.
Gemoo Recorder supports 4 recording modes. You can choose to record "Screen & Camera", "Camera Only", "Screen Only" and "Audio Only".
Annotate Recording Screen.
You can annotate the screen by using the left-sidebar tool during the recording process.
Questions, comments, concerns? Contact us here.
Happy recording!