Steps to Gemoo's Screenshot Annotation Tool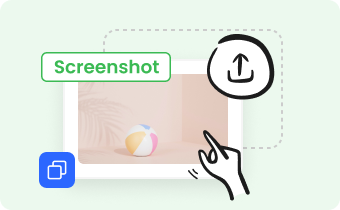 1. Upload Screenshot
Upload, drag and drop a screenshot in PNG or JPG format from your computer.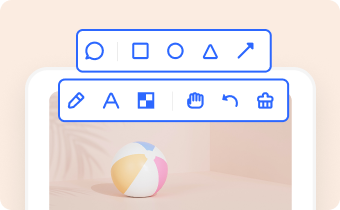 2. Annotate Screenshot
Add annotations to the screenshot online with editing tools. Additionally, you can note the screenshot.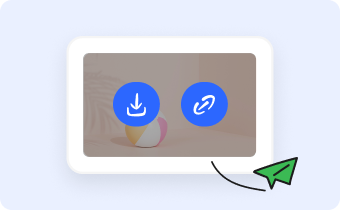 3. Share or Download
Click the "Download" button to save your screenshot in multiple file formats or click "Copy Link" button to share it.
Why Use Gemoo's Screenshot Annotation Tool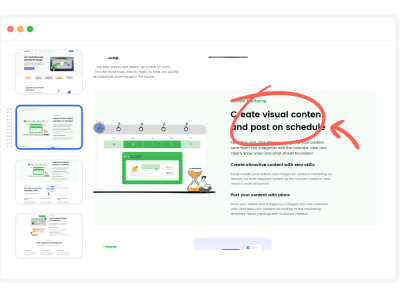 Batch Screenshots Annotation
Batch annotation enables you to annotate multiple screenshots simultaneously, and preview them in a slide view format. By utilizing batch annotation, you can manage and save the annotated screenshots more effectively, resulting in a more organized and streamlined workflow.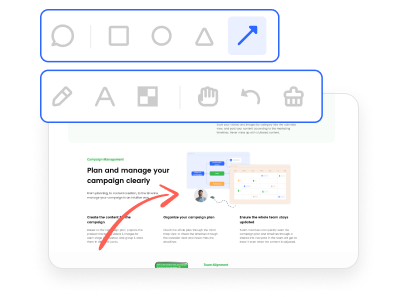 Versatile Annotation Tools
With a variety of tools such as arrows, brushes, text, lines, and more, you can annotate and highlight any screenshot to keep your message clear and effectively communicate your ideas and insights. Whether you need to emphasize specific details, or draw attention to certain areas, the flexible annotation options make it easy to customize your annotations and suit your needs.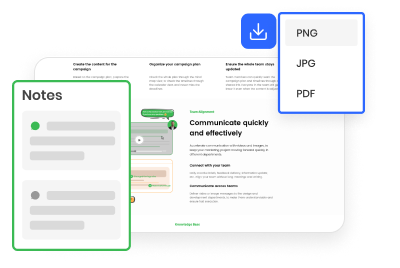 Annotate Screenshots with Notes
Adding notes to screenshots is a breeze with the option to export and download them in PNG, JPG, or PDF formats. This feature simplifies the task of consolidating your work materials, making them more accessible and easier to track, ultimately improving your work experience.
FAQs About Screenshot Mark up
1. Does Gemoo's screenshot annotation tool secure?
Yes, the tool is 100% clean and safe. Gemoo uses Amazon Web Services (AWS) data centers for hosting and all your data is private and secure.
2. How to annotate screenshots?
Using Gemoo's screenshot markup tool, you can upload your screenshot and drag and drop it into the editing area. Next, click on the 'Elements' tool in the top toolbar, and use a wide range of tools to mark up your screenshot. Once you're done, you can download your screenshot in multiple file formats.
3. What does annotate mean on screenshot?
To annotate means to add notes, graphics, and comments directly on top of an image. You can do things like point to or circle something, give your opinion (yay or yuck), highlight the important stuff, and block out the unimportant stuff.
4. Is there an app for marking up screenshots?
Yes, there are several apps available for marking up screenshots. Gemoo's screenshot annotation tool is one of them. Gemoo allows users to add text, arrows, shapes, and other annotations to screenshots, making it easy to highlight important information or provide feedback on a screenshot.
5. Can I add text, icons, and elements to my image?
Yes, you can fully customize an image by adding text, icons, photos, elements, illustrations, mockups, etc.
6. Can I annotate screeshot online for free?
Yes, with Gemoo's screenshot annotation tool you don't need any third-party tools. You can annotate and add notes to your screenshot online for free directly
Try More Tools