Steps to Record Your Screen Online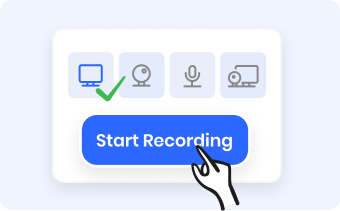 1. Select a Recording Mode
Click on Start Recording. Choose a recording mode - Screen Only or Screen + Webcam and tap on the Start Recording button.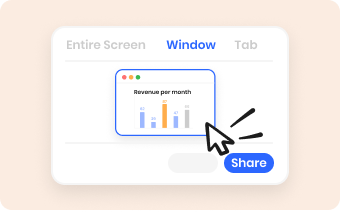 2. Choose Recording Area
Select the entire screen, a separate window, or a browser tab, such as a Chrome, Firefox, Microsoft Edge or Safari tab to record.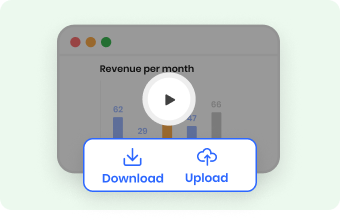 3. Download or Upload
When you stop recording, click on the button to download or upload the recorded video.
Why Use Gemoo's Online Screen Recorder?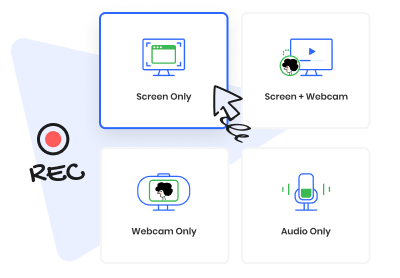 Record Screen Flexiblely
Record your screen, audio and webcam together or separately. Besides, you can record the entire screen, a specific window, or a browser tab, such as Chrome, Firefox, Microsoft Edge, and Safari.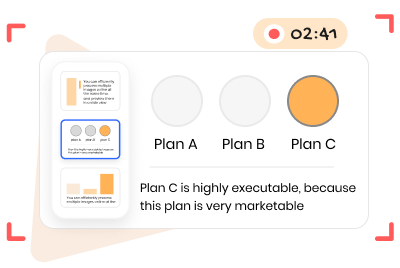 Record Anything on Screen
Capture anything on your screen. No matter if you are a content creator, a teacher, a designer, or a business owner, you can easily create a video tutorial, a presentation, a product demo, or other visual content as you want.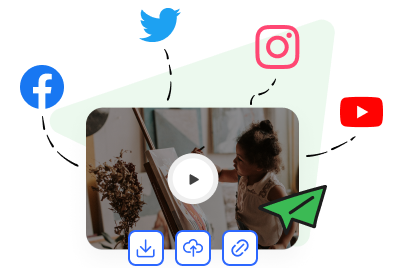 Download or Upload Simply
Download or upload your recording. You can also share your recorded video via a link on various platforms to increase views and shares.
FAQs About Recording Screen Online
Does Gemoo's free online screen recorder secure?
Yes, the tool is 100% clean and safe. Gemoo uses Amazon Web Services (AWS) data centers for hosting and all your data is private and secure.
Gemoo's Free Online Screen Recorder's recording limitations
• Recording Length: You can record a video for up to 1 hour.
• Upload & Download: If you record a video of less than 1 GB, you can upload it to the cloud or download it to local space; For a recording that is more than 1 GB, you can only download it to local space.
• Retention time: The uploaded recordings will be kept for 7 days on the cloud.
What is an online screen recorder?
Online screen recorder is a tool that allows you to record your computer screen and audio in real-time. It is a popular tool used by many professionals, educators, and content creators to create video tutorials, presentations, and online courses.
Can someone/website tell if you screen record their page?
No. When you screen record someone's page, they cannot tell that you are recording their screen. This is because screen recording is a one-way process that does not involve any interaction with the website or the person whose page you are recording.
Is screen recording a video copyright?
• This depends on the content being recorded and how it is being used. If the content being recorded is protected by copyright, then recording it without permission could be copyright infringement.
• However, there are exceptions, such as fair use. Fair use is a legal doctrine that allows for the limited use of copyrighted material without permission from the copyright owner. If you are unsure whether your use of copyrighted material is legal, it's best to seek legal advice.
Online Screen Recording Use Cases
• Create video tutorials and how-to videos for your students, trainees or users.
• Demonstrate products and services online to attract potential customers.
• Show how to troubleshoot technical issues.
• Create marketing content and share the content on social media or your website.