Steps to Upload and Share Video Online
1. Upload Your Video
Upload a video to the online video library. Or you can drag and drop a video from the computer.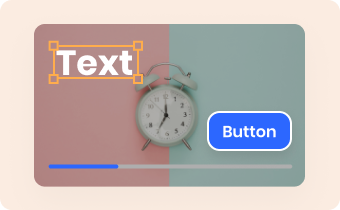 2. Edit Your Video
Cut the video and add thumbnails, text, call to action button and time-stamped notes to your video.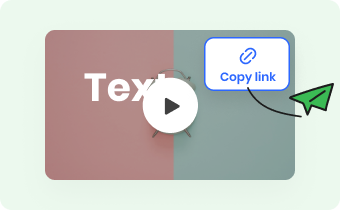 3. Share Your Video Online
Sharing your video with others is as simple as copying the link.
Why Use Gemoo's Online Video Library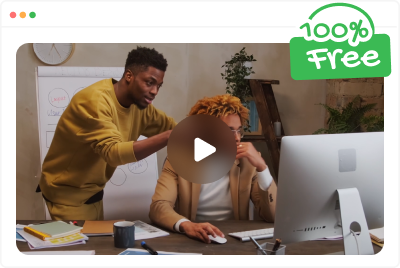 Free, Online and No Account Required
Our Online Video Library is a free, web-based platform that allows you to upload, access, and share your videos online without the need for an account. Since there is no software download required, you can seamlessly upload, edit, and share your video content directly in your browser. Your audience can watch your videos in the browser without sign-ups and downloads.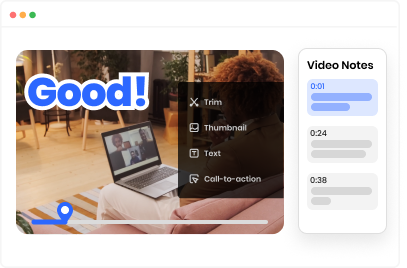 Edit Video before Sharing
Edit your video with our versatile editing features before sharing. You can easily trim your videos, add text, incorporate engaging call-to-action buttons, create eye-catching thumbnails, and even take time-stamped notes on the video. Your friends or colleagues can see the timestamp for each note so they can better understand your video content.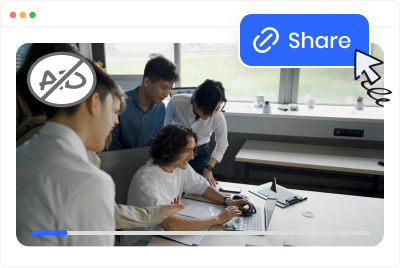 Share Video via a Link, Ads-free
Say goodbye to distractions and interruptions. Our Online Video Library allows you to share your videos without any ads. Easily share your videos using just a link. Your viewers can focus solely on the content you've shared, enhancing their engagement and enjoyment.
FAQs About Online Video Library
Are there any limitations to using an online video library?
•Gemoo's video hosting platform supports only MP4 and WEBM video formats.
•The maximum upload size for a single video is 1 GB.
•The uploaded videos are kept for 7 days.
What is an online video library?
An online video library is a digital platform that allows users to store, organize, and access their video content remotely over the internet.
How does an online video library work?
An online video library works by providing users with a secure online storage space where they can upload and store their videos. These videos can be organized into folders or categories, making it easy to manage and retrieve specific content when needed.
What are the benefits of using an online video library?
Using an online video library offers several advantages. It provides a centralized and accessible location for storing your video content, eliminating the need for physical storage devices. It allows for easy organization and retrieval of videos, saving time and effort. Additionally, some online video libraries offer advanced features such as video transcoding, streaming capabilities, and user access controls, enhancing the overall video management experience.
Can I share videos from an online video library with others?
Yes, sharing videos from an online video library is usually possible. Gemoo's Online Video Libraray offers the ability to generate shareable links that can be used to share videos with others via email, social media, or websites.