Steps to Resize Image Online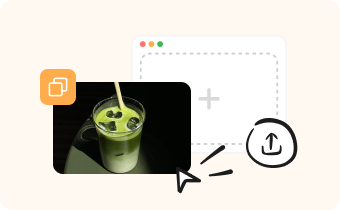 1. Upload Images
Drag and drop, copy and paste, or upload an image from your computer.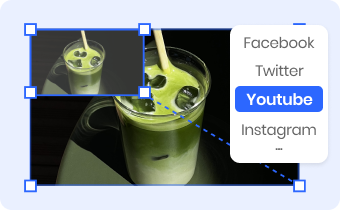 2. Resize Images
Type in your desired width and height in pixels, crop the image or select the most suitable social media preset.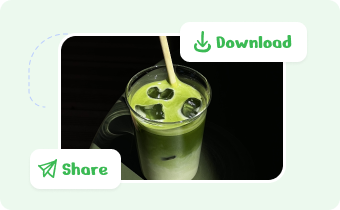 3. Download or Share
Download your images in JPG, PNG or PDF, or share them with others via a link.
Why Use Gemoo's Online Image Resizer?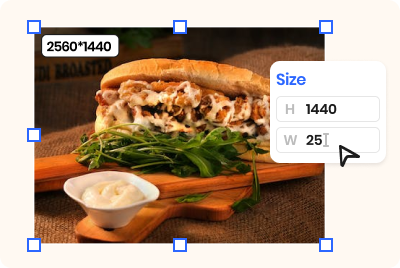 Resize Image without Cropping
It offers a fast and simple solution to resize images without cropping. You can easily resize images by pixel dimensions - just upload your image, enter your desired width or height in pixels, and the image resizer will automatically resize your image, saving you time and effort.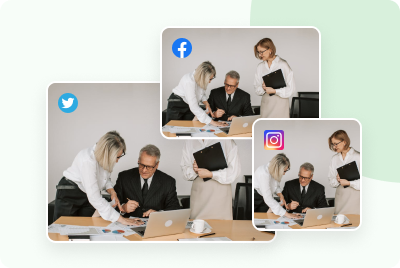 Resize Image for Social Media
This tool offers various preset dimensions for multiple social media platforms such as Facebook, LinkedIn, and Twitter, which automatically adjust image sizes to be perfect for each platform. Customizing pixel dimensions is also simple, allowing for precise adjustments to meet your needs.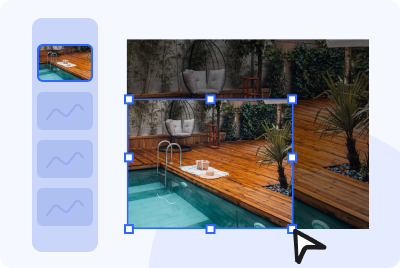 Resize Image in Batch
Simply upload your images in bulk and view them as a slideshow, making it easy to resize them all one by one. This provides a one-stop solution for all picture needs, whether it's for social media account creation or event campaign releases.
FAQs About Resizing Image Online
Gemoo's free Online Image Resizer limitations
• Upload Limitation: You could import up to 10 images except for folders at a time.
• Retention Time: After saving the images and clicking the "Copy Link" button, the images will be kept for 7 days on the cloud.
• Edit and Save: When batch resizing a group of images, save your current editings before switching to the next image.
• Supportted Image Formats: It supports JPEG/JPG (common file format for digital cameras), BMP, and PNG file formats.
Can I resize a photo for social media platforms?
Yes, absolutely, you can. There are so many social media image resizing tools available. Gemoo's Online Image Resizer is one of them, which offers various preset dimensions for multiple social media platforms such as Facebook, LinkedIn, and Twitter. It automatically adjusts image sizes to be perfect for each platform.
Why should you resize your images?
Resizing images can improve website loading times, save storage space, ensure consistency, guarantee compatibility with different devices/platforms, and ensure images print correctly.
What is the aspect ratio of an image?
The aspect ratio of an image is the proportional relationship between its width and height. In other words, it is the ratio of the image's width to its height. The aspect ratio is usually expressed as two numbers separated by a colon, such as 4:3 or 16:9. It is an important consideration when resizing or cropping images, as changing the aspect ratio can affect the composition and quality of the image.
What's the difference between resizing an image and cropping an image?
Resizing an image changes the dimensions of the entire image, either making it larger or smaller, while maintaining the same aspect ratio. Cropping an image, on the other hand, involves selecting a specific part of the image and removing the rest, resulting in a smaller image with different proportions. In short, resizing changes the size of the entire image, while cropping removes part of the image to change its composition.