How to Screen Record on ThinkPad
Lenovo laptops are prevalent, with around one out of every ten people having one. While utilizing the Lenovo PC, you might want to record an online course for subsequent study or produce an instructional video lecture for others. At that point, an excellent Lenovo laptop screen recorder is essential. Screen recorders can be particularly useful when you want to either sell your product/service to audiences from your computer screen or save something to playback in the future.
This allows the user to record whatever is on the screen – Screen casting, presentations, tutorials, training in simple words; you see it, you want it, so record it. However, if you don't know how to record a screen and what the best software for screen recording on Lenovo ThinkPad is, you're at the right spot. In this article, you'll discover how to screen record on ThinkPad and the finest tools for screen recording. Let's get going!
Screen Record on ThinkPad with Inbuilt Screen Recorder
If you don't wish to download or install third-party tools, you may capture your Lenovo ThinkPad using the integrated screen recorder – Game Bar.
Game Bar is a straightforward screen recording tool for Lenovo Windows laptops with several capabilities for capturing high-quality film. However, it can only fulfill minimum recording requirements and can only be opened and utilized on Windows 10.
You may record a portion of the screen or the whole screen using Game Bar, and you can accomplish the recording process in a few easy steps. Furthermore, it can be used as a snapshot tool for taking screenshots.
To record the screen using Lenovo ThinkPad, follow these steps:
Step 1: Launch the Start menu by hitting the Start button. After that, press Win + G to launch the Xbox Game Bar on your Lenovo ThinkPad.
Step 2: Now, choose Captures on the left of the Game Bar screen to customize further if you need to.
Note: You can customize the maximum account duration, edit audio video resolution settings, and allow for screen recording while you're projecting your screen.
Step 3: After customizing the settings, you need to hit the Start Recording button in the Captures overlay to start the recording. Once you're done with the recording, hit the Stop Recording button to stop recording.
Further Reading: Best 15 Linux Screen Recorders >
11 Screen Recorders for ThinkPad
Wondering how to record screen on ThinkPad if you don't have Windows 10? You require third-party tools for that. Since thousands of screen recorders are available, it might be hard to find the finest one. To make the quest easy for you, we discovered ten of the finest screen recorders for Lenovo ThinkPad, which include:

1. Gemoo Recorder
What can you get from Gemoo Recorder? A 4k video recorder? A simple and fun annotation tool? None of these are problems, and even more powerful features you will enjoy once you download Gemoo Recorder.
Gemoo Recorder Key Features
Record anywhere you want. It doesn't matter if you want to record full screen or customize your screen recording. Then you may think you can also record Chrome screen and other app screens and the answer is absolute Yes.
Record tutorials for your users, record bugs for your colleagues, etc. During the recording process, you can annotate your recording while you're at it with the easy and fun annotation tool. Make your videos more vivid and clear!
Beautify your webcam. We offer you the option to change the virtual background and change your avatar.
Recording screen with audio, including system sound, your voice, video sound, etc.
Gemoo Recorder Pros
24/7 great customer support
Real-time annotations.
Even the free version has no time limit for screen recording.
Gemoo Recorder Cons
Not available for mobile phones.
Gemoo Recorder Pricing
2. FoneLab Screen Recorder
The FoneLab Screen Recorder is among the most robust and trustworthy tools available for recording video, audio, computer displays, online lessons, and many more. FoneLab Screen Recorder also allows you to change the resolution of the recording and includes functions such as editing the video that has been captured. This tool is compatible with your Lenovo laptop and the Windows and Mac operating systems you use.
FoneLab Screen Recorder Key Features
It works well with Windows and MacOS.
A built-in editor to edit the recordings.
You can modify the video resolution using this tool.
It lets record the audio and video.
FoneLab Screen Recorder Pros
No time limit
Built-in editor
No watermark
FoneLab Screen Recorder Cons
Quite expensive
The free version has basic features.
Fonelab Screen Recorder Pricing
3. OBS Studio
OBS Studio is amongst the most feature-rich screen recording applications for Lenovo ThinkPad. It brings a large collection of video editing capabilities to the table, which is why it is popular among gamers and professionals familiar with the program. You can view videos in various qualities and formats on popular streaming services. Despite being completely free and open source, OBS does not limit the duration of movies that may be recorded or streamed, unlike several other solutions in the sector.
OBS Studio Key Features
An open-source tool for screen recording
It does not impost any time limits.
An fps rate of up to 60fos to record videos
It comes with a user-friendly interface.
OBS Studio Pros
Easy to use
Advanced features
No watermark
OBS Studio Cons
It can be complicated for newbies
OBS Studio Pricing
4. Share X
Share X is a good option for individuals seeking a free but simple Lenovo laptop screen recorder. Share X, like OBS Studio, is an open-source screen capture application. You may use this free screen recording program to catch any action on your Lenovo computer's screen. Although Share X is one of Windows 10's most popular snapshot tools, many people are unaware that it can also record your screen.
There are no hassles while using this lightweight screen recording tool to capture the screen. When using it, you may select whether or not to include the cursor in the photo, set a timeframe, and even utilize the OCR tool to detect the text on the image.
Share X Key Features
It lets you capture a high-quality screenshot.
An open-source and free tool for screen recording
It does not cause any complications to your PC.
You can set the timeframe for your screenshots.
Share X Pros
Text detection
Timeframe adjustment
Takes screenshot
Share X Cons
No auto audio support
Requires internet connectivity
Share X Pricing
5. Camtasia
Camtasia is an easy-to-use screen recording program with many video editing options. It records video chats, websites, and applications using a drag-and-drop editor that enables you to improve your recording effortlessly. Besides, there's are some awsome elements available to add that additional touch to your film. When you're done, your exported video will readily function with YouTube, further compatibility to make your life easier. Multiple templates are there to help you get started, and you may add unique effects to your recording.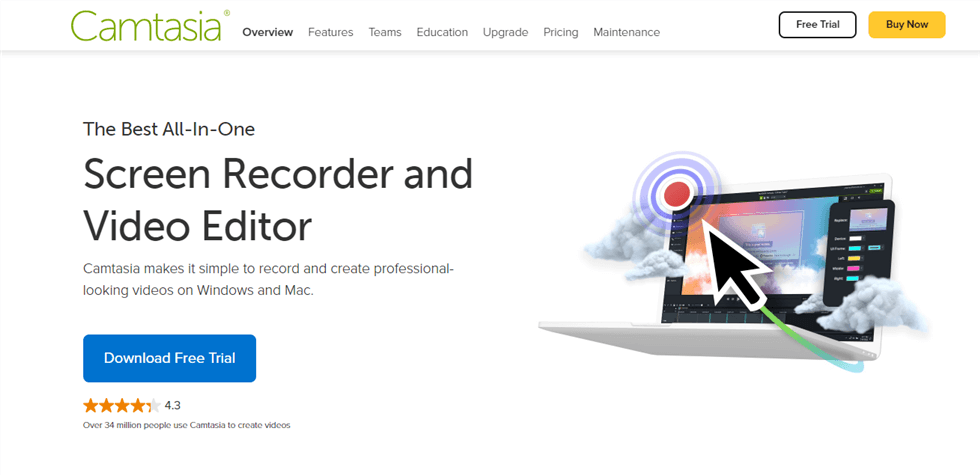 Camtasia Key Features
It lets you edit the recording using a built-in editor.
You can share the videos directly to multiple platforms.
You can add different effects to the recordings.
It helps you add royalty-free elements.
Camtasia Pros
Multiple templates
Easy to use
Camtasia Cons
Limited commands
Buggy animations
Camtasia Pricing
6. Free Cam
Free Cam is one of the most basic screen capturing apps for Lenovo ThinkPad. It's free, doesn't include any advertisements, has a low profile, and works flawlessly. The user interface is tidy, which makes things even better for casual users. You may start recording the screen by selecting a window, full screen, or a selected section. If you need simple screen recording software, Free Cam will suffice. Aside from that, another highlighting feature is that Free Cam has an editor that is quite easy to use.
Free Cam Key Features
It allows you to record the whole or a portion of the screen.
You chop or trim the undesirable elements.
Capable of recording in 720p quality.
It comes with an instruction booklet.
Free Cam Pros
720p resolution
Trims the video
Easy to use
Free Cam Cons
No webcam support
No mp4 support
Free Cam Pricing
7. Loom
Loom was founded in 2015 and is now a screen recording tool utilized by organizations such as HubSpot, Netflix, and Lacoste, with 14 million users and 200 firms using its services. Loom's distinguishing characteristic is that it supports many recording ways, including a screen, camera, microphone, and internal audio.
This software is intended to facilitate cooperation by allowing users to communicate with you through time-stamped remarks and humorous emoji replies. Videos are saved automatically to the cloud for later viewing if necessary.
Loom Keys Features
It lets you collaborate with your team.
It helps you record the audio with a screen.
It stores your data in a cloud storage.
It is being utilized by Netflix.
Loom Pros
Cloud storage
Easy collaboration
Loom Cons
Loom Pricing
8. Screencast-O-Matic
Screencast-O-Matic is a new screen recorder that has gained quite a bit of popularity due to its extensive feature set. It can record the whole screen, a portion window of the screen, the camera, and the audio. In addition, the video can be trimmed using the app's basic editor, and the Settings screen allows you to modify the file format. However, to use Screencast-O-Matic, you will first need to create a free account with them. Moreover, the free edition only permits screen recording for 15 minutes at a time.
Screencast-O-Matic Key Features
It allows you to record 15 minutes for free.
It is compatible with a variety of operating systems.
It includes features such as a green screen and sound effects.
It features a vast number of usable images.
Screencast-O-Matic Pros
Screencast-O-Matic Cons
Screencast-O-Matic Pricing
9. Bandicam
Bandicam is a popular screen recorder for Windows PC that provides many functions while being simple. The tool can record the screen at high bitrates and frames. Even with such a high-quality capture setup, it provides small-size video records because of its built-in compression technology, ensuring no sacrificing quality while providing the least file size.
In reality, it also works well as a screen recorder for Lenovo ThinkPad. You may also capture movies at variable frame rates and in 4K Ultra HD quality. The recordings can be customized for the current window, the whole desktop, or a specific area.
Bandicam Key Features
Let you record in 4K HD resolution.
Capture the recording at different framerate.
It can record the screen at high bitrates.
It provides small-size video records.
Bandicam Pros
Excellent resolution
Modifies the framerate
Bandicam Cons
Bandicam Pricing
Free to $39.95 per license
10. Movavi Screen Recorder
Movavi is a screen recording program with more options than the average video editing app, including movie and music edits, special effects, titles, and presentations. Nonetheless, it manages to be user-friendly and simple enough for even young users to appreciate. It offers an easy-to-use interface that does not compromise the strong editing capabilities required to produce a variety of media.
Movavi Key Features
It enables you to modify videos.
It is a complete video editor to make them appear appealing.
A straightforward, user-friendly interface.
It allows you to scan the document
Movavi Pros.
Excellent output
Document saying
Movavi Cons
Limited features
Slower rendering
Movavi Screen Recorder Pricing
Free to $39.95 per license
11. TinyTake
TinyTake is the screen recording equivalent of MS-Paint. TinyTake is the best solution for Lenovo ThinkPad if you want a simple tool to capture the screen activities that won't mislead you with a sophisticated UI, a plethora of instructions, and hidden utilities. When it comes to recording the screen activities and taking screenshots, the tool is really quick.
TinyTake will allow you to record short films and take screenshots. Moreover, it enables you to edit in the same manner that MS-Paint allows you to conduct simple picture editing activities like cropping and adding a splash of color.
TinyTake Key Features
It will let you record short videos.
Your data will store on 2GB of cloud storage.
You can edit using the built-in editor.
It comes with a user-friendly interface.
TinyTake Pros
Cloud storage
Supports annotation
TinyTake Cons
The free version has time limitations
TinyTake Pricing
Record Screen on ThinkPad with PowerPoint
Microsoft PowerPoint is a great place to start if you want to perform a fast screen recording or screenshot on your computer. Although people are unaware, Microsoft PowerPoint software has a screen recording option.
Step 1: First, open the PowerPoint software and choose an existing presentation or create a new one by selecting the Blank Presentation button.
Step 2: Then, in the menu bar, choose Insert, locate and choose the Screen Recording option under the Media tab.
Step 3: Now, choose the section of your screen you wish to screen record. And you'll see a bar with the option Record button; click on it. The bar will then vanish for a short time.
Step 4: After you've recorded, move your mouse pointer to the top of the screen, and the bar will appear again. Finally, click the Stop symbol to end the recording.

Frequently Asked Questions
How to screen record on Lenovo laptop Windows 10?
To record screen on Lenovo laptop, follow these steps:
Step 1: Press Win + G to launch the Game Bar
Step 2: Pick the Capture option in the left window
Step 3: Now, click on the rounded Start Recording button to start
Step 4: When you're done, hit the Stop button
How to screen record on a Lenovo laptop with sound?
Since the built-in Game Bar method doesn't support recording the audio with the screen, if you wish to record the audio on your Lenovo laptop, record the screen using any third-party tool discussed or use MS PowerPoint.
Is the screen recording tool free?
Some screen recording tools, such as OBS Studio and ShareX, are completely free. However, the rest discussed in this article have a trial version with some basic features. But for the complete screen recording and editing features, you need to buy the premium version.
Final Words
Lenovo ThinkPad is amongst the widely used Lenovo laptops in the market. Since many people use them, it is necessary to know how to screen record on ThinkPad because people do record the screen to convey their idea or message properly. And we hope that you know how to record the screen and have found the best recording tool after reading this article.