Personal Space
Space is used to organize information according to different tasks, projects, or whatever other categories you want. It is to keep all relevant topics together, which adds an extra level of organization and classification so that you can always find what you're looking for! A Personal Space can help you to manage the topics for personal use.

4 min
Here is what Personal Space looks like:
To know more about Topics, please click here to view guides of Topics.
To access Personal Space in your Gemoo, do the following:
1. Scroll to the left of the screen to the Personal Space section.
2. Click on Spaces to expand and see any Spaces created. The Space name will begin with an avatar.
How to Create a New Space
1. Select "Create Space".
Find "Personal Space" button in middle section of Gemoo Sidebar>Click "Create New" button>Tab "Create Space"
2. Name the Space.
Enter a name for the Space (i.e. "Gemoo Guide"). You can also set an avatar. This is where you can get creative. Just select an avatar to represent the Space. Then Click "Confirm".
3. Add/Move Topics to the Space.
After the space has been created, you need to add contents here. You can choose either to create a new topic or move the existing topics under it.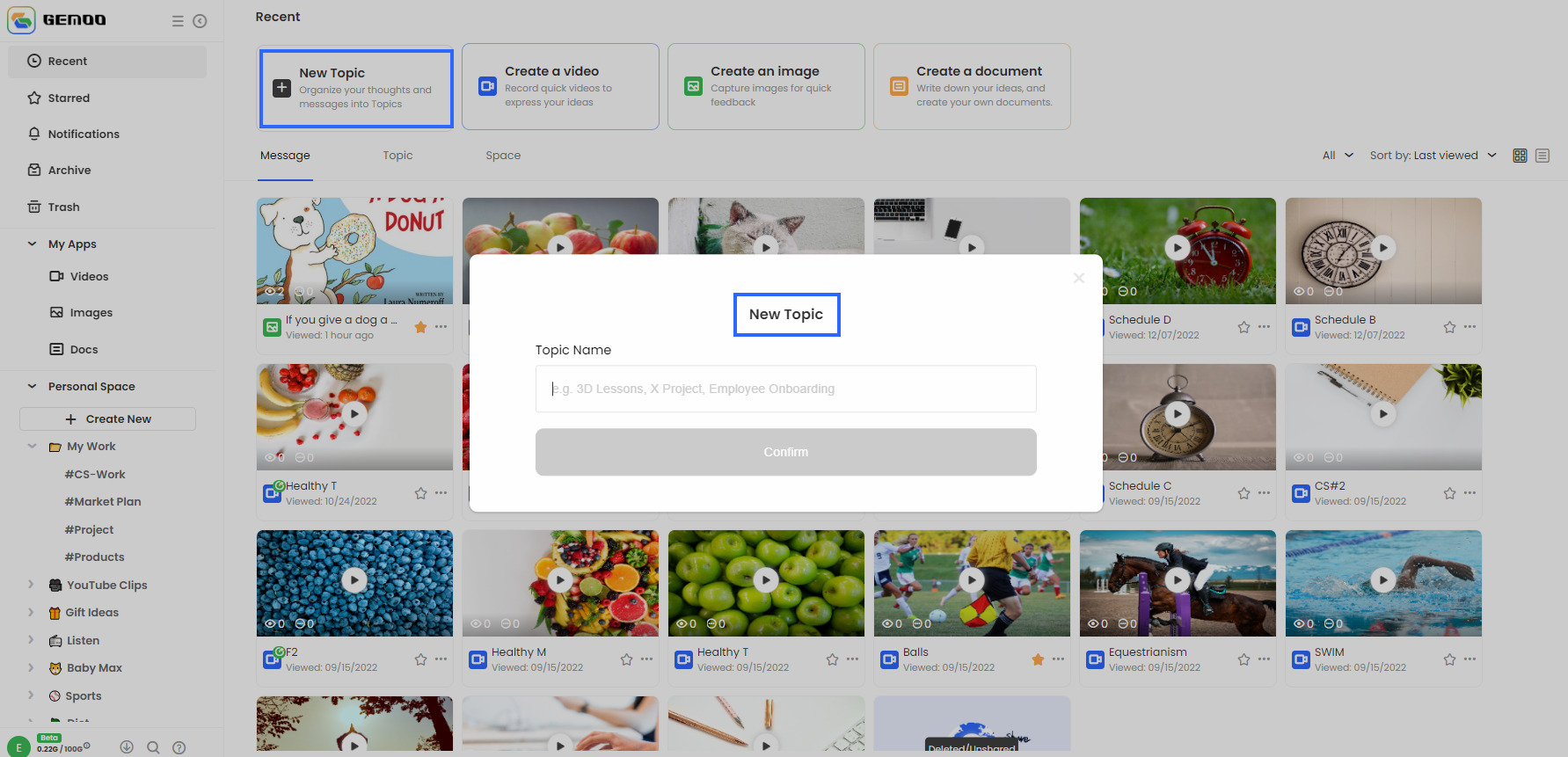 To know more about Topics, please click here to view guides of Topics.
How to Manage Space
Once topics have been grouped under the Space, all the added topics will be displayed under the space.
By clicking "More" button of the Space in the left page, you can:
By right-clicking one Topic or hitting the "…" button, you can:
4
Remove the topic from recent.
To sort the Topic by creating time, edited time or tittle name Alphabet order, please click "Sort" button.
To share the Topic, please click the "Share" button on the top right. Click "Star" to collect the Topic.
1. Gemoo supports to share privately or publicly, please click here to share your Topic.
2. The starred Topic will be saved under Starred section. To manage the starred files, please click here to know more.
Questions, comments, concerns? Contact us here.
Happy Gemooing!