Steps to Generate & Set AI Wallpaper


2. Generate Mac Wallpaper
Enter your prompt or directly try an example to generate a Mac wallpaper.

3. Set Wallpaper Instantly
After the wallpaper generated, the tool will set it as your Mac wallpaper automatically.
Why Use Gemoo's AI Wallpaper Maker?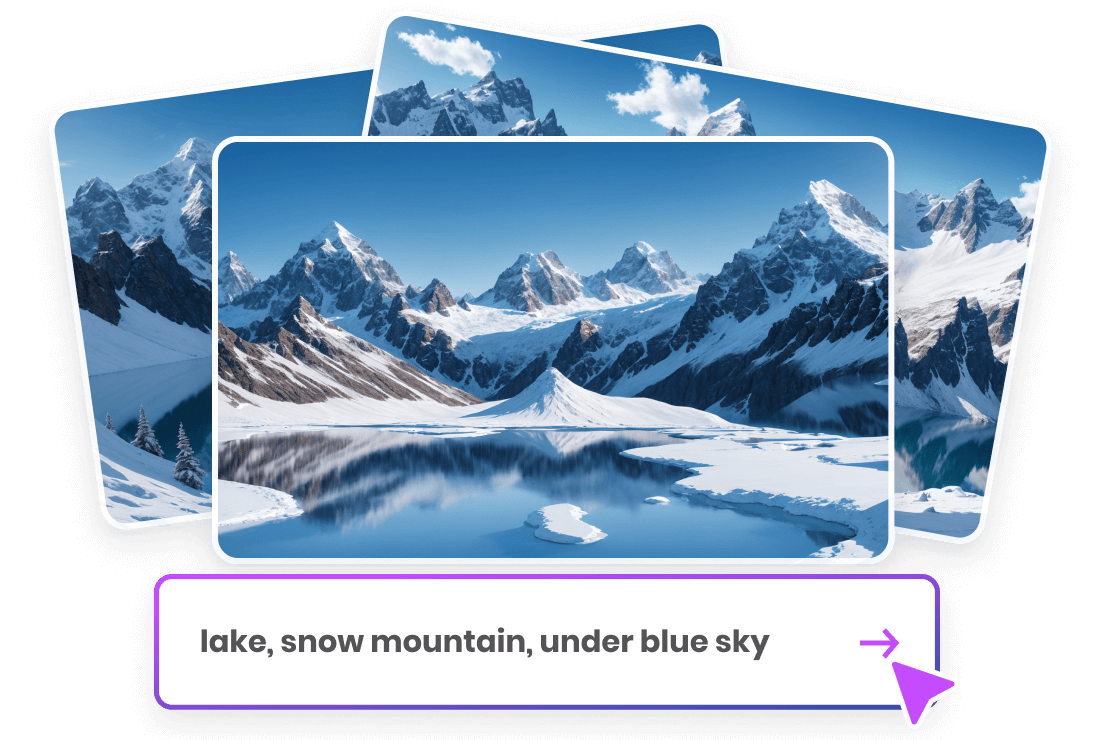 Exceptionally lightweight AI Wallpaper Maker
It is an ultra-lightweight Mac AI Wallpaper Maker. In just 3 simple steps, you can obtain stunning wallpapers that will leave you amazed. It runs in the background, and seamlessly generates and sets the wallpaper without making any changes manully .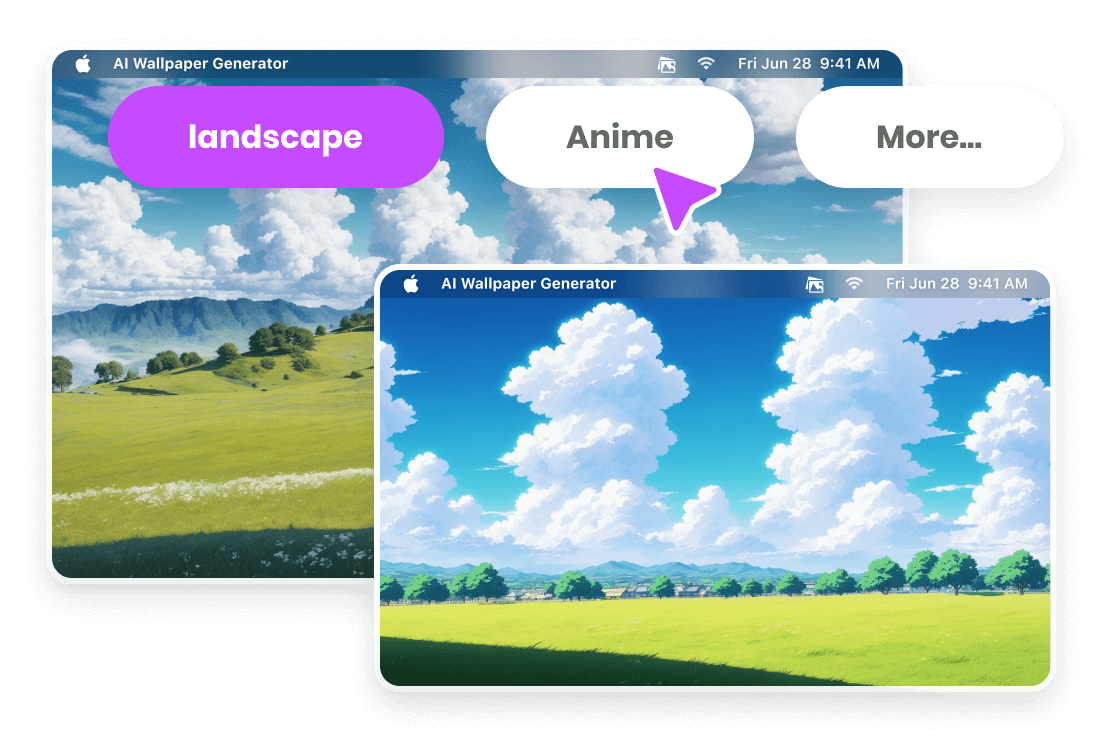 Diverse Wallpaper Styles
It supports multiple styles of wallpaper generation, including Landscape, Anime, Portrait, Painting, and 3D. All wallpapers are inspired by your own creativity, allowing you to easily switch between different styles of wallpapers anytime you want.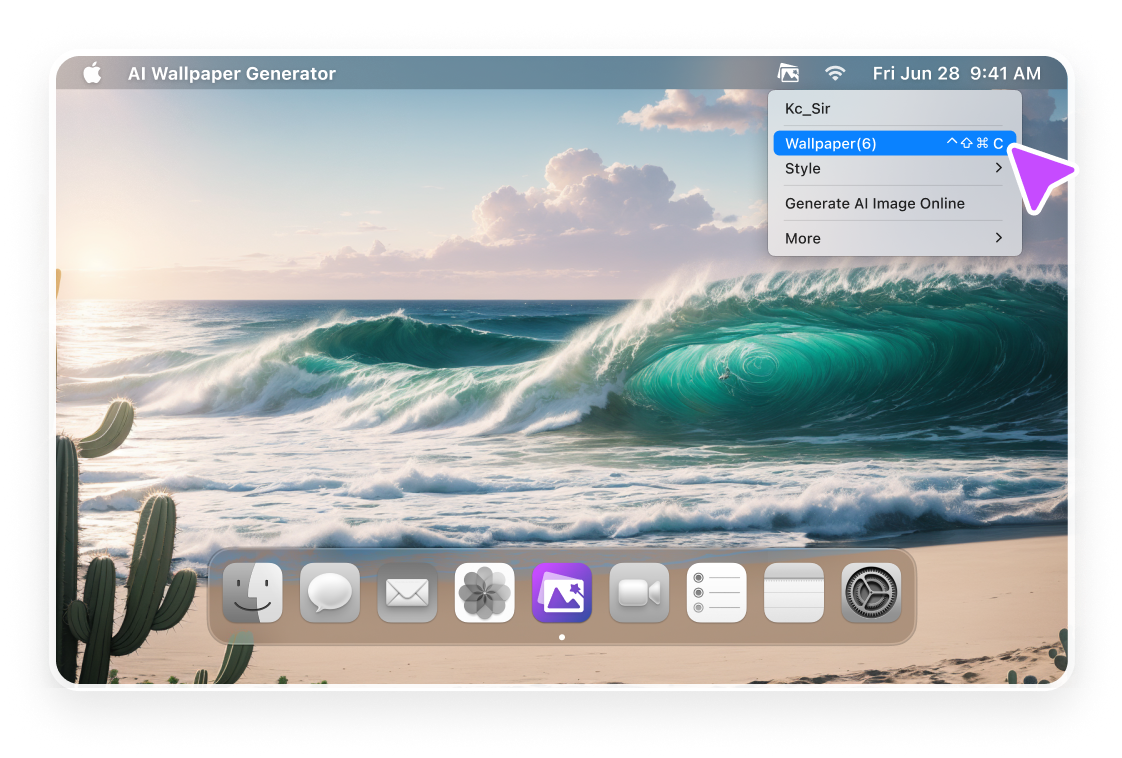 Set up Wallpaper Automatically
How to change and customize the Mac background image? Now you don't need to manually find where and how to change the Mac wallpaper. Just input your prompt, and your wallpaper will be automatically set up.
Explore More AI Wallpapers
Check more free AI wallpapers in Gemoo's Space here >>
Note:
• To download the wallpaper: Right-click your mouse > Click on 'Save as...' > Choose a folder and save the wallpaper > Then set the wallpaper on your computer
• For both Windows and Mac users, you can also generate AI wallpapers easily with the Online Image Generator.
FAQs About AI Wallpaper Generator
Gemoo's AI Wallpaper Generator limitations:
1. You need to log in with a Google Account to use it.
2. Note that the account limitations are associated with our Online AI Image Generator. Therefore, each account can enjoy a total of 10 free wallpaper & image generations daily.
3. You can find the generated wallpaper here on your Mac: /Users/Username/Documents/AIWallPaper.
What is an AI Wallpaper Generator?
An AI Wallpaper Generator is a tool that uses artificial intelligence to automatically create unique and visually appealing wallpapers based on user input or predefined styles. It simplifies the process of generating wallpapers by automating the design process.
How to change or customise Mac wallpaper?
Step 1. Right-click (or Control-click) on the current desktop background.
Step 2. Select "Change Desktop Background" from the context menu.
Step 3. The System Preferences window will open with the "Desktop & Screen Saver" section selected.
Step 4. Choose a pre-installed wallpaper from the options on the left or click the "+" button to add your own image.
Step 5. Adjust the wallpaper settings, such as position and screen display, if desired.
Why can't I change my wallpaper on my Mac?
Possible reasons for being unable to change the wallpaper on your Mac:
• Restricted permissions.
• System restrictions (e.g., work or school device).
• File format or size limitations.
• Software issues (try restarting or updating your Mac).
Where are the wallpapers on Mac?
The wallpapers on a Mac are typically located in the "Desktop Pictures" folder. Here's how you can find it:
• Open Finder > Click on Go > While holding the Option/Alt key, click on Library > Navigate to "Desktop Pictures" or "Wallpapers."
• Open System Preferences > System Preferences > Click on Desktop & Screen Saver > Click on the "+" button to add your own images or browse through the available options.