Kanban vs Scrum – Which Project Management Way is Better?
For decades, managers are seeking working systems that can guarantee higher efficiency and reduce the risks inherent in their business. Numerous approaches were tried, with some showing more promise than others. As it turned out, one shared aspect of the most successful project management methods is flexibility, which is especially valuable when complexity reaches a certain threshold.
Kanban and Scrum are two of the most flexible and customizable concepts that were proven to be very useful across a wide spectrum of industries. Both can be impressively effective when they are properly applied to a project while taking its specific nature into account. However, depending on the type of organization/project, time and budget constraints, size and composition of the team, and other factors either of these methods could be the right solution for the task at hand.
This comprehensive Kanban vs. Scrum comparison aims to clarify the confusion surrounding these somewhat similar methodologies and provide explanations of their most important traits, as well as main limitations.
What is Kanban
Kanban is a managerial concept that originated in large Japanese factories, in particular Toyota, way back in the 1950s. It was inspired by traditional paper cards used in manufacturing facilities, although today it has been much developed and fully migrated to the digital space. The main characteristic of this system is the possibility to directly connect production levels to supply and demand, and to ensure that all the requisite parts and processes are adequately aligned.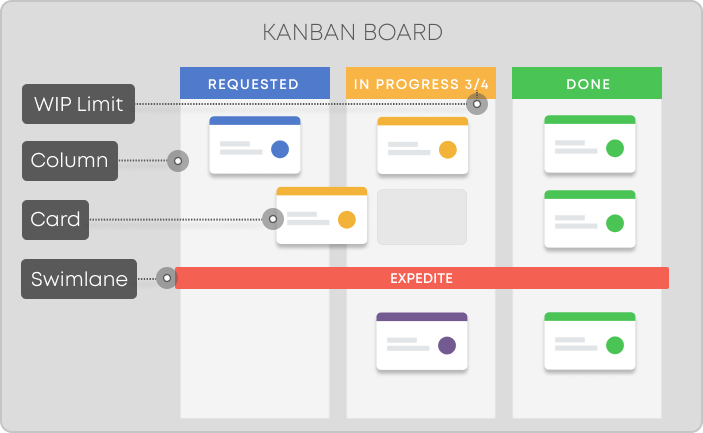 This method is widely accepted as a smart way to keep track of complex projects, and is used even in industries that are completely unrelated to manufacturing. Many project management software suites allow users to organize their activities through Kanban boards, where virtual cards can be arranged and mutually linked in any way that suits the purpose. Here are some of the main features of this management system:
High level of customizability through different card arrangements
Visual clarity that helps manage complexity
Optimization of resource expenditures
Prevention of organizational bottlenecks and logistics issues
Avoiding budget overruns and missed deadlines
Strong focus on the most pressing issues
Improved productivity per unit
What is Scrum?
By contrast, the roots of Scrum are in the software development field, where this interesting framework was repeatedly proven to be a great catalyst for creative work. Its name is borrowed from rugby, where it denotes an element of the game that is essentially organized chaos with all players fighting for the ball. By analogy, in the Scrum methodology, there are no fixed roles and everyone is free to pursue their ideas as they feel necessary, but only in close collaboration with other team members.
Scrum-based projects require managers (also called 'scrum masters') who are comfortable thinking outside of the box and adept at solving problems on the fly. Key roles are played by the product owner, who is responsible for defining key parameters of the process as well as the final objectives, as well as other stakeholders within the organization. The most significant traits of this project management approach include the following:
Best suited for projects aimed at innovation
Grants unprecedented freedom to work in creative ways
Accelerates new project development and testing
Activities are organized as a series of Sprints
Short, 15-minute meetings are used to coordinate team efforts
Facilitates proactive participation
Increases operational agility and organizational readiness
Kanban vs. Scrum: Similarities and Differences
Despite the fact they were originally created with a very specific type of business organization in mind, both Scrum and Kanban showed an amazing level of universality and longevity. Both of those models introduce ways to reduce complexity and reliably control key variables, and their benefits are transferrable across national economies and business niches. Here is the list of main similarities between Scrum and Kanban management techniques:
Processes are broken down into simple elements
Individual team members are responsible for specific tasks
The synergy between different roles and skills is increased
Transparency and reusability are treated as priorities
The lean organizational model and cost-effective product development
Focus on the visual representation of key business processes
Dynamic scheduling based on accurate estimations
However, there are also considerable differences between Kanban and Scrum that may lead some companies to choose one over the other. Here a brief summary of the most relevant distinctions between these two concepts.
Kanban
Scrum
Scalability: 

Well-suited for managing multiple teams within large business systems.

Scalability:

Works best for smaller teams of up to 10 people.

Centralization: 

Highly centralized decision-making and resource allocation.

Centralization:

Independent work on specific tasks coordinated by the Scrum master.

Objectives:

Optimizing the balance between supply and demand, rational use of resources.

Objectives:

Quickly testing new ideas and developing innovative products.

Mindset:

Corporate and well-structured with clear instructions to follow.

Mindset:

Freedom to improvise and try out different possibilities.

Core industries:

Product development, manufacturing and distribution.

Core industries:

Software development and testing, creative work.
Frequently Asked Questions
Is Kanban or Scrum a better methodology for remote teams?
Since both methods can be easily applied to the virtual workspaces, they are readily used by distributed teams to keep all activities coordinated. However, in case Scrum is the chosen approach it's necessary to ensure constant, direct communication between team members on a daily level, which is less of a point of emphasis in the more centralized Kanban concept.
Which of these methods is harder for an organization to adopt?
Scrum is less formal and thus applicable to a wide range of situations, but it typically requires an adjustment period. On the other hand, Kanban-based projects might be easier to implement with inexperienced teams, but they depend on flawless planning and great understanding of the processes that must be maintained in order for the desired outcome to be achieved.
Are there software tools available for Kanban and Scrum methodologies?
Almost every major project management suite supports a Kanban boards view, supporting the team's decision to use this methodology. The same is true for Scrum to an extent, with Jira in particular known as software intended specifically for this approach. Of course, teams are free to use any combination of tools that meets their requirements, regardless of whether they were built for the specific method.
Final Words
Business are facing the requirement to be leaner and more agile, and the best way to attain these qualities is to embrace management techniques designed to create them. Kanban is a proven method that can ensure all resources are used rationally and the output meets the demand at every moment, while its visual approach is quite easy to follow. On the other hand, Scrum can be a great framework to quickly test new ideas and turn them into commercially viable products or services. Each team should pick the methodology that best suits its ethos as well as its objectives, and learn how to apply it consistently. Some organizations might even use both of them with success for different projects.