10 Best OKR software for your Team 2023
OKR software aids businesses and people in establishing and clarifying objectives, aligning efforts toward those objectives, carrying them out, and evaluating achievement. To assess progress, identify areas for development, and motivate employees, measuring performance is crucial for every business or team.
And technological solutions like OKR software have made it simple to track progress, get everyone on the same page, and achieve goals. However, if you're unaware of the best OKR software for your business, we've got you covered. In this article, we've listed the finest OKR tools available in the market. Let's get going!
What is OKR software?
OKR (Objectives and Key Results) software is a tool used to help organizations set and track their goals, objectives, and key performance indicators. OKR software provides a centralized platform for defining, monitoring, and reporting objectives and their associated key results, enabling teams to align their efforts with the organization's overall strategy and vision. The software typically includes goal setting, performance tracking, team collaboration, and data visualization.
List of 10 Best OKR Software in 2023
Want the best OKR software for your business? The following tools can help:
Businesses can track their progress with Coda OKR and ensure everyone is working toward the same goals simultaneously. It provides an easily understood model through which companies and individuals can track their progress and success. It's a series of files, spreadsheets, and applications that work together to help you plan and keep everyone in the loop.
Key features
Provides real-time data visualization, including dashboards and reports.
Offers pre-built templates to help teams get started quickly, or you can build templates to fit your specific needs.
Teams can work together in real-time, sharing ideas and feedback on goals, objectives, and key results.
Drawbacks
Integration is not ideal.
Pricing: Free to use
Customer ratings:
Inspire Software is a platform that partners with Paul Niven, a best-selling author, global consultant, and founder of OKRsTraining.com. It provides training and support for Objectives and Key Results (OKRs) by offering a combination of expert guidance and software capabilities. To help align and focus leaders, supervisors, and frontline workers, the platform integrates goals and OKRs with ongoing quality monitoring, complete recognition and review capabilities, learning, and leadership training.
Key features
Effective goal-driven 1:1 conversations that address real needs in real-time.
Offers learning and leadership development opportunities to enhance professional growth.
Provides a centralized location for teams to plan, stay focused on what's important, and celebrate their success.
It has goal-focused conversations and execution feature that allows for clear and effective goal management.
Drawbacks
Pricing: Free to $5 per month
Customer ratings:
Profit.co is a performance management software that provides organizations with tools to set and track Objectives and Key Results (OKRs). The platform offers features such as goal-setting, performance tracking, progress monitoring, and team alignment. The software integrates with other tools and provides real-time data and insights to help organizations optimize their performance and reach their goals.
Alt: Profit.co Interface
Key features
Provides advanced reporting and analytics to provide organizations with valuable insights and data to drive performance.
Provides a clear understanding of progress and enables organizations to prioritize their goals.
Offers customizable templates and workflows, allowing organizations to tailor their experience to their specific needs.
Drawbacks
Provides average insights.
Pricing: Free to $7 per month
Customer ratings:
Weekdone is another performance management software designed to help businesses improve their productivity and achieve their goals. The platform provides a toolset for setting and tracking Objectives and Key Results (OKRs) and helps organizations focus on what's most important.
Key features
Helps your managers plan for the next quarter by outlining goals and important metrics they want to achieve.
Makes it easier to prepare for the week ahead by setting up plans.
Creates dashboards to track progress toward the objective and generates weekly action plans for everyone involved.
Drawbacks
Complicated to set up a team
Pricing: Free to $8.40/user per month
Customer ratings:
If you wish to complete moonshot goals in record time, Peoplebox, a next-generation OKR tool, is your best bet. Peoplebox is a centralized hub that integrates seamlessly with your existing technologies to ensure that your organization's strategic objectives, goals, and projects are constantly aligned and up to date.
Key features
Review dashboards are generated automatically, with room for narratives, action items, and root cause analysis.
For continuous performance management of teams, it synchronizes objective data with one-on-one meetings, check-ins, and reviews.
It can integrate with Asana, Google Sheets, and other apps.
Drawbacks
No anonymous feedback features.
Pricing: Free to $15 per month
Customer ratings: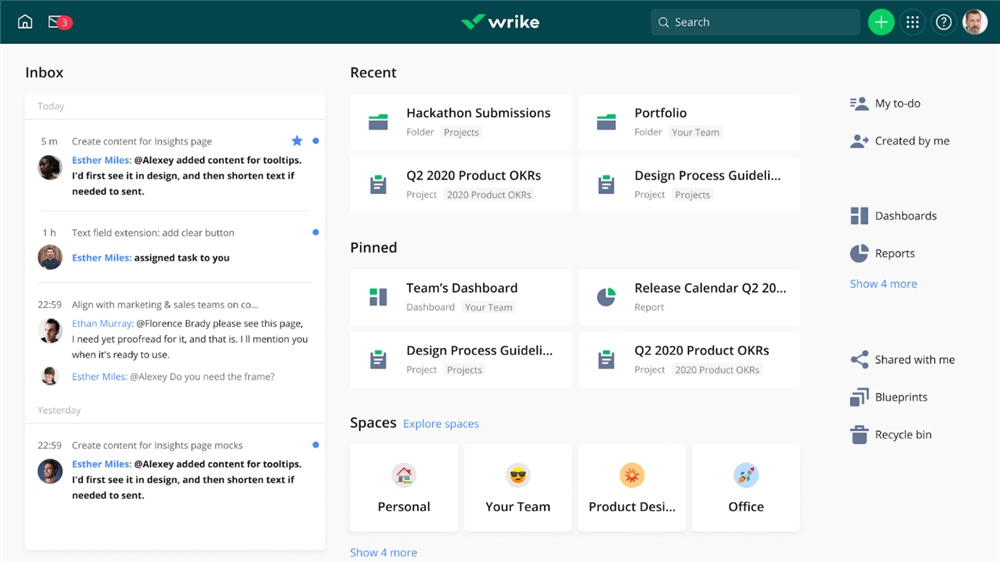 Wrike, an OKR tool, allows teams and project managers to see how each member's objectives align with the company's overall mission and vision. OKR templates are available in Wrike to assist teams in setting objectives compatible with and progressive towards an overall aim.
Key features
Allows organizations to monitor and optimize their resources, ensuring projects are completed on time and within budget.
Provides secure file sharing and storage, allowing teams to access and share files and information from anywhere.
Real-time notifications and updates ensure that teams are always informed about the latest developments.
Drawbacks
Complicated to understand the percentage of project completion.
Pricing: Free to $9.80 per month
Customer ratings:
When it comes to facilitating high-performance-driven growth, Synergita is the go-to provider of OKR solutions, as well as tools for agile personnel performance management and staff engagement. Organizations can immediately implement OKRs at the team or enterprise level with Synergita's results-focused OKR solution.
Key features
Provides learning and development tools to help employees grow and develop their skills.
Helps organizations plan and ensure a smooth transition of responsibilities for the future.
Offers advanced analytics and reporting capabilities that provide organizations with valuable insights.
Drawbacks
Pricing: Free to $2 per month
Customer ratings:
15Five is a performance management program known for its High Five feature and one-on-one meetings. Its user-friendly analytical tools and evidence-based evaluation enable you to transform insights into practical results for employee engagement.
Key features
Customizable workflows and templates allow organizations to tailor the platform to their needs and requirements.
Provides tools for continuous performance improvement, such as real-time data and insights, progress tracking, and more.
Includes features for providing and receiving feedback, such as regular check-ins, pulse surveys, etc.
Drawbacks
Limited dashboard control
Pricing: Free to $4 per month
Customer ratings:
Users can easily manage and keep tabs on any process with the help of monday.com's Work OS system, adaptable data dashboards, and in-built visualization capabilities. This platform has 200+ templates and an OKR template that can be tailored to your company's requirements.
Key features
Offers a mobile app that provides teams with on-the-go access to their projects and tasks.
Each task could have a person or group assigned to it, a due date, and a priority level assigned.
Deadline mode is a helpful display that flags tasks that are behind time.
Drawbacks
Pricing: Free to $8 per month
Customer ratings:
Lattice helps you develop faster by letting you link your OKRs and corporate goals for growth. It integrates the OKRs and objectives into each employee's everyday activities to achieve success and reach the top. Setting, tracking, and evaluating objectives is easy on Lattice's frictionless, fast interface.
Key features
Provides powerful data analysis capabilities, including the ability to perform complex calculations, filters, and pivots.
It has security features such as user access controls, data encryption, and audit logs to ensure the safety and privacy of data.
Enables users to share and collaborate on data insights with others within their organization.
Drawbacks
Pricing: Free to $11 per month
Customer ratings:
Frequently Asked Questions
Does Google use OKR?
Yes, Google is still using Objectives and Key Results (OKRs). OKRs have been a staple of Google's management system since the company's early days, and they continue to be an important part of how the company sets and tracks its goals and objectives.
What is the difference between OKR and KPI?
An OKR is a goal-setting framework that involves setting specific, measurable, and time-bound objectives, along with a set of key results that indicate progress toward those objectives. On the other hand, KPIs are specific metrics used to measure the performance of a business, a department, or an individual.
Final Words
OKR software is essential for businesses looking to set and track goals effectively. Since your company's goals and objectives depend on OKR, it is essential to find a good one. And we hope you've found the Best OKR Software after reading this article. Moreover, if you have any personal experiences or recommendations regarding this topic, please share and leave a comment below.