Top 15 Free or Paid Small Business Management Software
Advanced software tools simplify project and task management and make it easy to stay in control of the business regardless of its scope and field of specialization. However, the most widely used software products for businesses can be prohibitively expensive or difficult to monetize with a small team. That's why many up and coming companies have to seek free or affordable alternatives that offer similar functionalities.
To make matters more complicated, there are several categories of business management software and small business owners may be confused regarding the actual necessity of each tool. There are some overlapping features between those software suites, while compatibility with the existing systems could cloud the picture even more.
We will try to present the most important categories of small business management software and provide clear guidance for small business owners by pointing out the most relevant features and the most glaring deficiencies of each solution.
Why Do We Need Small Business Tools?
All businesses have undergone digitalization in some form and shape over the past several decades, and much of the work is now conducted using specialized software. At the same time, new communication platforms based on cloud computing opened some possibilities for direct collaboration that never existed before. In light of all this, one of the first priorities for any small business owner is to secure access to high-quality tools that can streamline internal communication, facilitate more efficient teamwork, and allow for better control of the performance of each individual worker.
Some of the best business management suites can fulfill multiple functions at once and bring tangible improvements across the entire company.
Most importantly, these tools impact the following aspects of business operations:
Productivity and revenues, two of the most important facets of any business.
Ensuring that all workers are giving their best effortand all tasks are completed on schedule
Software tools of the latest generation empower the company to deal with many different types of challenges
Allow businesses to react to market opportunities in a decisive manner.
List of 15 Small Business Management Software
Since there are many different types of software that can help a small business achieve its goals, we will present a few good choices from each category. The main focus is on software products that either have free versions worth using, or can be acquired for a reasonable sum of money.
Type 1. Productivity Software
Trello is one of the apps that have attracted a lot of attention lately as numerous organizations adopted it to manage distributed teams. This highly customizable software makes it easy for teams to share ideas and work together on complex tasks despite being in different locations. Most importantly, workers simply love using Trello on a daily basis.
Important features:
Trello offers tools such as boards, lists, and cards for organizing tasks within a project
Cards can include labels, comments, due dates, attachments, or other elements
The innovative Butler feature lets users automate key functions
Everything in Trello works based on the drag-and-drop principle
Primary drawbacks:
Limited cloud storage capacity
Automation can be tricky to implement
Pricing: free version is available for teams, full version costs $5 per user per month
Customer ratings:
Focusing on the most important tasks is halfway to being efficient, and Todoist allows individuals and teams to keep their priorities straight. This app can be accessed from any device, and it allows users to track their progress against the timeline. It doesn't take long to get used to its blend of simplicity and punctuality, and to adopt it as a trusted companion.
Important features:
Tasks and subtasks can easily be added to the schedule or moved around as convenient
Includes multiple team communication tools for better task delegation and coordination
Users can set recurring goals or highlight the priority tasks
These is a system of rewards to stimulate productivity
Easy integration with popular third-party apps
Primary drawbacks:
Reminders and automatic backups are not available for free users
Recurring tasks can sometimes overwhelm the user with too many updates
Pricing: free version available, Pro version costs $4 per month
Customer ratings:
This is another software suite with a broad range of functions that scales very well and can create sizable benefits in a large number of industries. In addition to administering tasks to team members and tracking their completion in real time, nTask can help organizations to meet the deadlines while managing risks.
Important features:
Broad collection of relevant business tools that affect productivity
Users can be assigned different roles and access levels
Task management system with easily shareable to-do lists
Strong team collaboration and video conferencing tools
Primary drawbacks:
Confusing interface that requires some time to adjust
Limited integrations with other business tools
Pricing: Basic version is free, Premium version costs $3 per month
Customer ratings:
Type 2. Project management tools
With this productivity suite, teams of any size can experience significant improvement in many regards. ClickUp was imagined as a one-stop shop for numerous business functions, and different organizations can use it in ways that best suit their internal structure and objectives. It's suitable for managing all phases of a project, from planning to final reporting.
Important features:
Projects can be organized visually with Kanban boards and Gantt charts
It's possible to capture and share images and screen recordings
Excellent workload and timeline management tools are provided
Checklists and reminders ensure that all tasks are completed on schedule
Primary drawbacks:
Automated functions can sometimes glitch
UI can look too busy at times, especially on mobile devices
Pricing: free version available, Unlimited plan costs $5 per month
Customer ratings:
Good project management software allows users to understand the big picture while seeing all the details, and with ActiveCollab that's quite simple to do. It combines precise tracking of co-dependent tasks with the ability to proactively control timelines and budgets. It's a fantastic tool for teams of any size, particularly those that include remote workers and freelancers.
Important features:
Total freedom with creating new tasks and selecting priorities
Project map and calendar view provide a summary of the entire project
Resource allocation and task assignment tools to help managers use their assets effectively
Deadlines and milestones can be selected for each task and tracked in real time
Financial planning and invoicing tools are included
Primary drawbacks:
There is no dedicated mobile app
A task can't be assigned to multiple team members
Pricing: Free version available, Pro version costs $8 per month
Customer ratings:
If you are searching for a comprehensive project management solution than will streamline and simplify your work process, Freedcam deserves a closer look. This suite contains a wide range of useful applications that allow project managers to keep the entire team engaged and optimally utilized. It's very affordable considering the wealth of functions it brings to the table.
Important features:
Project management tool that includes knowledge bases and calendar
Easy overview of the project with Kanban boards
Tasks can be separated into multiple tiers based on importance
CRM functionality and issue tracking are available as premium features
Mobile applications for iOS and Android are available
Primary drawbacks:
Steep learning curve for new users
Individual apps within the suite could be better connected
Pricing: Free version available, Pro version costs $2.49 per month
Customer ratings:
Type 3. Communication tools
This instant messaging solution allows team members to communicate in a variety of ways, from text chat to audio and video calls. Its functions are very smartly designed and easy to understand, so onboarding of new team members is a walk in the park with Troop Messenger. Adopting this software can save a lot of time and create real value for an organization.
Important features:
Supports one-on-one or group conversations
File sharing within the conversation is simple and intuitive
It's possible to search through the contents of all messages
Audio or video conferencing is enabled
Emoji board with plenty of fun emoticons to choose from
Primary drawbacks:
English is the only supported language
There are no screen annotation features
Pricing: 30-day free trial, Premium version costs $2.5 per month
Customer ratings:
The explanation for the rising popularity of this business mail software is very simple – it performs consistently and keeps your data private. It's one of the most widely used open source chat apps, and is trusted by small and large organizations alike. With support for a lot of different languages and a simple UI, Rocket is truly a global solution of the next generation.
Important features:
Lightweight solution that combines chat, e-mail, audio calls and video conferencing
Very secure solution that guarantees that confidential data will be protected
Users can receive notifications about new incoming chat messages
User groups created with Rocket can be exported to other platforms
There is a search function included
Primary drawbacks:
Includes mostly basic communication functionalities
Errors can occur after an update is performed
Pricing: Free version available, Enterprise version costs $7 per month per user
Customer ratings:
Small teams that frequently engage in dynamic projects would be wise to adopt Hibox as their internal communication system. This simple software includes some task management and collaboration features on top of standard communication tools, making it very business-friendly. It works great from a mobile device and integrates well with a variety of software platforms.
Important features:
Single app that lets users communicate, share documents, and track progression of tasks
Clean and streamlined user interface that invites interaction
Audio and video conferencing is possible through this app
Users can manage their conversations and search through message histories
Subtasks and recurring tasks can be created with ease
Primary drawbacks:
Messages can load slowly when the internet connection is bad
The notification system is not always reliable
Pricing: free for up to 10 users
Customer ratings:
Type 4. Online Meeting Tools
Without a doubt, Zoom is the #1 software globally for virtual meetings and video conferencing at the moment. Its rapid expansion has fuelled the transition towards remote work, giving managers a reliable tool to keep distributed teams on the same page. Zoom is very easy to get around and welcoming to new users, which is certainly a big factor driving its growth.
Important features:
Powerful communication platform for online phone calls, video chat, and virtual meetings
Meeting hosts can choose the time and regulate who can attend
Attendees can join an ongoing meeting with a single click
Screen sharing and real-time collaboration tools are included
Very high level of security thanks to end-to-end encryption
Primary drawbacks:
It's necessary to download a desktop or mobile app to access an online meeting
HD video is not available to free users
Pricing: Free version available, Pro version costs $14.99 per host
Customer ratings:
The advantages of this conferencing tool become apparent as soon as you try it. FreeConference was one of the first tools of this kind to appear in the market and it has evolved along with the competition to reach its current form. Accessible from a web browser, this software has very low entry barriers and is readily used even by the most inexperienced team members.
Important features:
Two-way communication or broadcasting using audio or video
Invitations and reminders can be sent automatically
Participants in the chat can share documents or the content of their screen
Users can work collaboratively on whiteboards or raise hands to vote on issues
Meetings can be recorded by all users
Primary drawbacks:
Audio calls can sometimes lag or feature some noise
Important security features are unavailable to free users
Pricing: free for up to 10 video conferencing or 400 audio conferencing participants
Customer ratings:
This is a reliable VoiP and virtual meetings solution that provides a lot of value for diverse, multifunctional teams that operate from multiple locations. Formerly known as UberConference, this tool is widely used to facilitate instant communication and share multimedia presentations with the entire business team.
Important features:
It can be accessed from desktop or mobile app, or from a browser
HD audio calls with the possibility of screen sharing
Users can join a call by clicking on the dedicated link
Can be integrated with a calendar app for easier call scheduling
Primary drawbacks:
The app automatically plays irritating music while a user is on hold
Video conferencing is not supported
Pricing: free trial available, Standard plan costs $15 per month per user
Customer ratings:
Type 5. Time Management Tools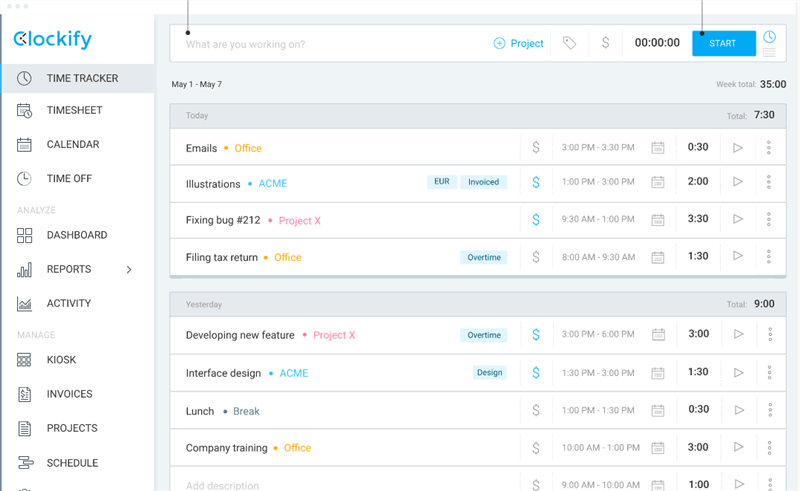 Flexible tracking of team activities is an essential aspect of digital collaboration, and with Clockify this part of the job is readily taken care of. This software lets small businesses keep track of billable hours and monitor their productivity at the same time. It is available from a web interface, so it can be used from practically any smart device.
Important features:
Administrators can specify project duration, hourly rates, priority levels, and other details
Time needed for various tasks can be visually presented
User roles and access levels can be set individually
Timesheets are logical and easy to fill out
Performance measuring, reporting, and analytics tools
Primary drawbacks:
Adding and categorizing tasks and sub-tasks can be laborious
Only basic productivity statistics are available
Pricing: completely free
Customer ratings:
As one of the first time tracking and habit building apps in the market, RescueTime helped set the standards for software of this type. It is full of smartly designed features that allow managers to know exactly what their teams are doing at every moment. Not only does it allow organizations to get the numbers right, but it also helps to improve them over time.
Important features:
Tracks all programs used on a computer and all websites visited
Milestones and progress monitoring help to keep the projects on pace
Weekly summaries or detailed reports present the observed trends and accomplished goals
Access to distracting websites can be blocked
Primary drawbacks:
The level of surveillance enabled by this app may feel too oppressive for some users
Dashboard design looks outdated
Relatively expensive for teams with more than a few members
Pricing: Lite version available for free, full version costs $12 per month
Customer ratings:
This app is ideal for all small businesses that have a need to accurately track their activities and understand how much time is spent performing each task. It provides an objective basis for client billing while also feeding a lot of useful data regarding team productivity. Teams that adopt it can expect a dramatic decrease in lost time and a corresponding spike in revenues.
Important features:
Complete solution for time-tracking, performance measurement, and financial management
Workflow and user role management tools
Billing, invoicing, and electronic payments can be conducted through this app
Administrators can create and enforce rules for team members
Primary drawbacks:
The software makes random screenshots of worker's computers, potentially exposing personal data
Pausing the app to take a break can be difficult
Pricing: $49 per month for 5 users
Customer ratings:
Frequently Asked Questions about Small Business Management Software
How many different software packages small businesses need to thrive?
Each business has different internal processes and performs unique tasks, and optimal software infrastructure should be adjusted to that. Some of the management and productivity suites presented in this article are broad collections of tools and could fulfill complete needs of some organizations. In other cases, adopting a few more narrowly focused tools is necessary.
Is it possible to succeed while using only free software suites?
Small businesses that have moderate requirements can be well served by free software products. Some of the free tools described above can deliver professional-level functionalities and accommodate large and diverse teams. At some point in their development, a company might feel the need to upgrade to premium software.
How much training for the workforce is needed to adopt small business management software?
While most business tools are very user-friendly, some training will be needed before the team can fully utilize the available software system. That's especially true considering that each business might introduce its own procedures and customize the software tools in specific ways.
Is it hard to configure and customize small business management software?
Advanced configurations for some solutions (i.e. setting up an e-mail server) may require some technical expertise, but for the most part business management apps are very simple to personalize and integrate well with native apps the business is using on a daily level.
Final Words
Small business owners should rest assured that plenty of amazing tools are at their disposal. From time tracking solutions that allow for precise control of team activities to project management platforms that enable full view of the endeavor, there are great software products to choose from in several categories. To make things even better, a business can spend only a small amount of money to gain access to serious functionalities that can provide a realistic productivity boost.