Release Note 2023
August
Gemoo 2.1.4 Improvements
1. Cancel the Docs function.
2. Fix some known bugs.
Gemoo 2.1.2 Improvements
1. Homepage Optimization
- Adjust the content of the questionnaire.
- Gemoo Personal homepage optimization.
2. Video Preview Page Optimization
- Client downloads function.
- Re-recording function.
3. Gemoo Docs Delisting Notice
- The Gemoo Docs function will be discontinued on August 31, 2023, please backup your data in time.
4. Video Editing Page Adjustment
June
Gemoo 2.1.0 Improvements
1. Optimize the Video Recording function
- Add an entry for Video creation on the home page, which allows you to record videos quickly.
- Camera, microphone, and resolution quick selection function.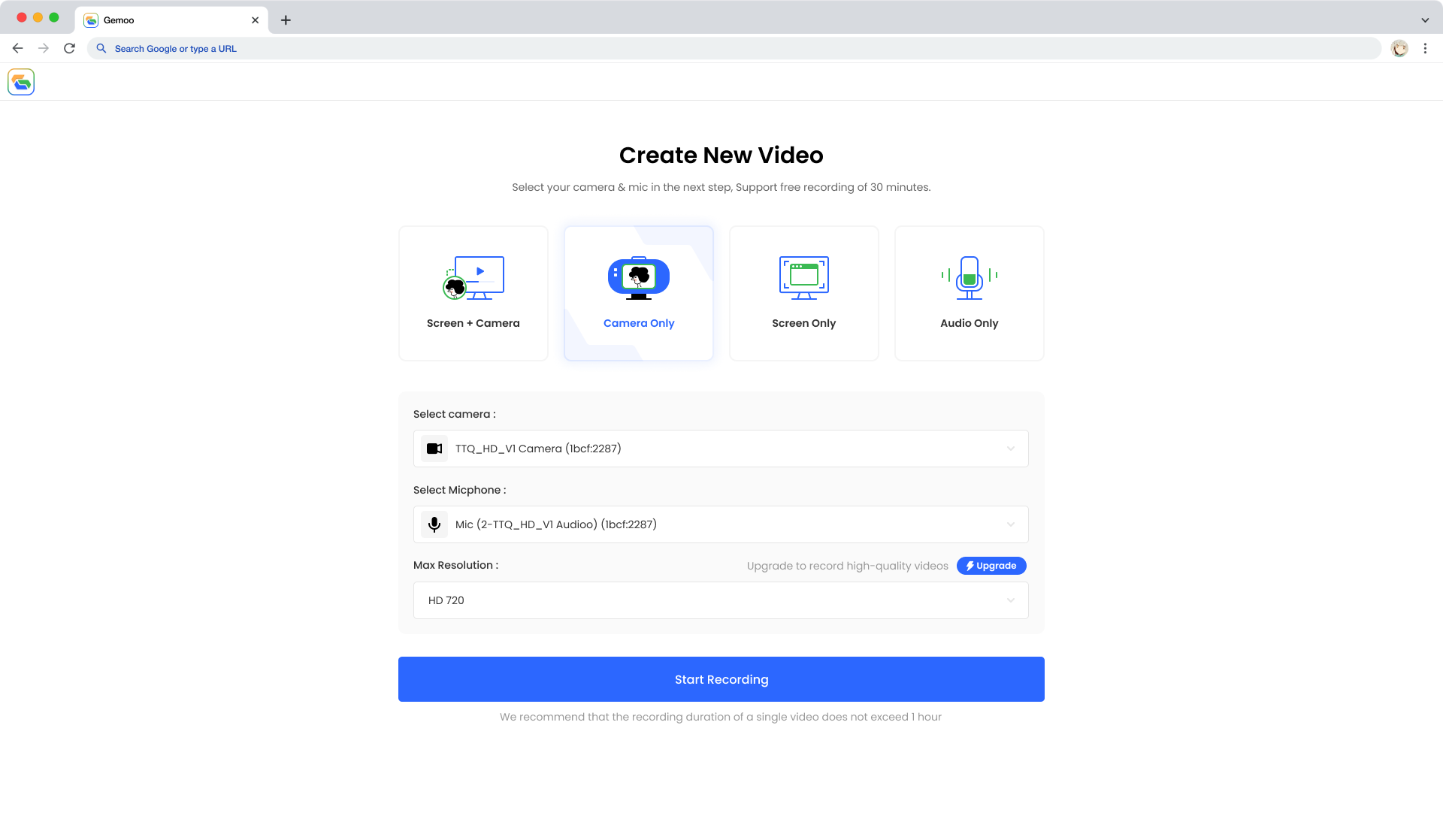 Select Camera Microphone and Resolution
- Video preview function.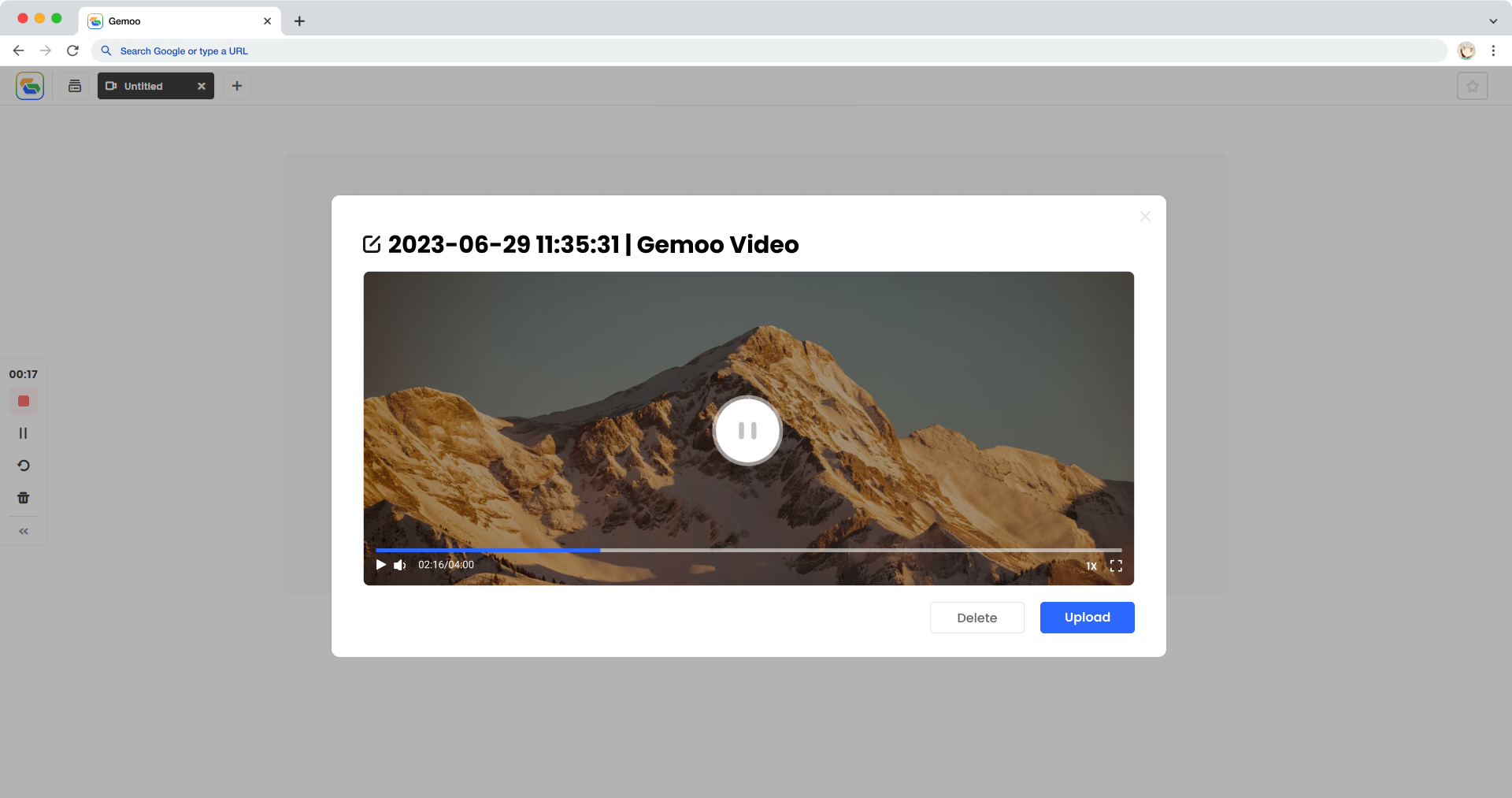 Preview Video
- Optimize video upload speed.
2. New Sharing Section
- Track the data and feedback of shared content in real time.
- View the shared content by other users.
3. New Tutorial Section
- Help you understand Gemoo faster and use the products better.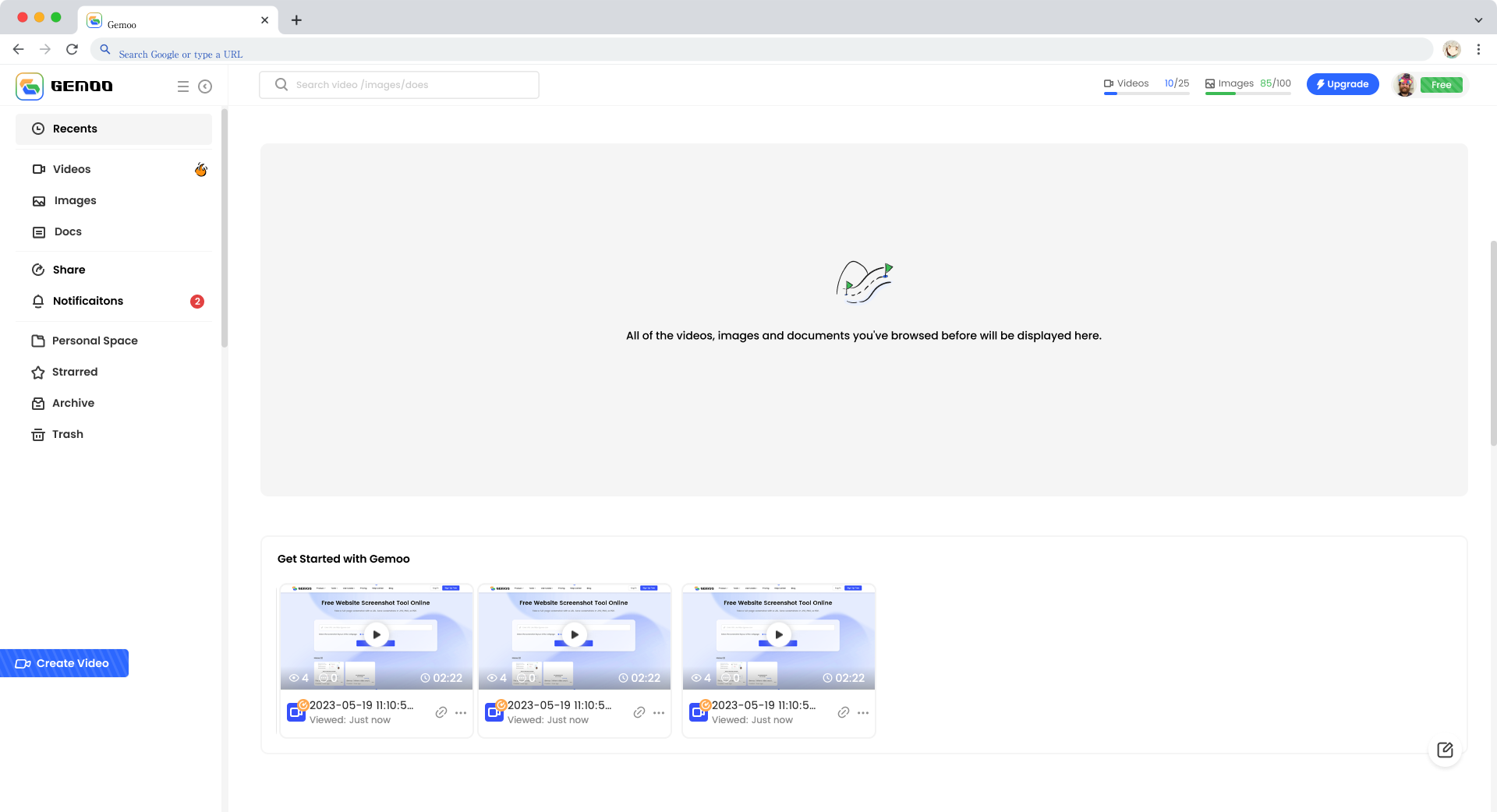 How to Use Gemoo
April
Gemoo 2.0.1 Improvements
Gemoo Docs New Features:
1. Table New Functions
- Text bold, italic, underline, strikethrough, color, hyperlink, comment, merge table.
2. Tables Shortcut Key Operations
- Copy, paste, undo, cut and other shortcut keys.
3. Basic Shortcut Keys and Markdown Shortcut Key
-Basic Shortcut Keys:
Bold: cmd/Ctrl + B
Italics: cmd/Ctrl + I
Underline: cmd/Ctrl + U
Strikethrough: cmd/Ctrl + Shift + S
Add link: cmd/Ctrl + K
Indentation: Tab
Cancel indentation: Shift+Tab
Delete: Backspace and Delete
-Markdown Shortcut Key:
Bold: **x**
Italics: _x_
Strikethrough: ~~x~~
Heading 1: # + Space
Heading 2: ## + Space
Heading 3: ### + Space
Heading 4: #### + Space
Ordered list: 1.+Space
Unordered list: * + Space
Task list: [] + Space
Toggle list: > + Space
Quote: " + Space
Dividing line: ---
Docs Function Optimization
1. Optimize the logic of using the text toolbar.
2. Adjust the text toolbar style.
3. Support copying annotation content.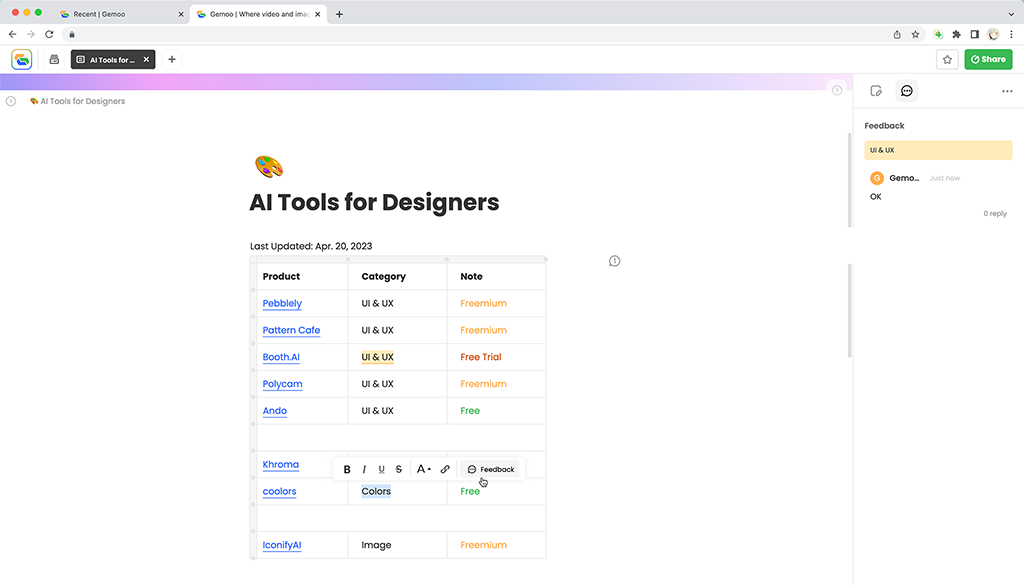 Table New Functions
Gemoo 2.0.0 Official Version:
Since the release of the Beta version on August 11, 2022, Gemoo has carried out more than 40 optimizations and upgrades over 8 months. Finally, we ushered in the official version of Gemoo 2.0.0!
Core Features:
1. Multi-terminal Video and Audio Recording
- Support direct recording of audio and video through the desktop tool Gemoo Recorder and the Gemoo web application.
- The video is recorded and uploaded in slices, quickly generating shareable links and sharing them with others.
- Support Online Editing of videos: Video cropping, Custom cover, Adding text, Embedding brand links, etc.
2. Multi-terminal Image Capturing
- Support quick screenshots of pictures through the desktop tool and browser plug-ins Gemoo Snap.
- The capturing methods include: full screen, special area, custom area, scrolling capture and other common interception methods.
- Image editing includes: comments, beautification, OCR, annotation, drawing, marking, mosaic and other functions.
3. Note & Document Creating
- Quickly create Documents in Gemoo, or embed third-party online content to generate your own notes, documents, or knowledge base.
- Document creation includes: cover, body, outline, comments, tables, page settings, shortcut keys, and other common forms of third-generation online documents.
- Advanced document features: text format setting, embedding media files and third-party links, and interaction with Gemoo video images, etc.
4. Organize Files in the Topic form:
- Integrate video, picture and text information: apply to organize the content created by Gemoo, uploaded local files (audio, video, picture), embedded third-party online videos, and files shared by others.
- Supports Viewing in 4 forms: Custom View, Mind-map View, Calendar View, and Slides View. These four viewing modes represent divergence, structure, time, and content to help better express information.
- The data is interrelated in the four views. You only need to add your content once in any view, and then it can be synchronized to other view modes, which is convenient for management and viewing.
5. Share, Comment and Interaction
- The content can be shared singly or in an organized Topic: Public (visible to anyone who gets the link), Embedded (embedded in any web page or third-party application in the form of Embed Code), Private (visible to designated personnel).
- Support the receiver to interact with the sender in two ways: viewing and commenting. Comment for a certain point or comment for the whole content. Videos can be commented with timestamps, pictures can be commented at any position, and documents can be commented on any module.
- Viewed and commented information will be notified to the owner in Gemoo and email.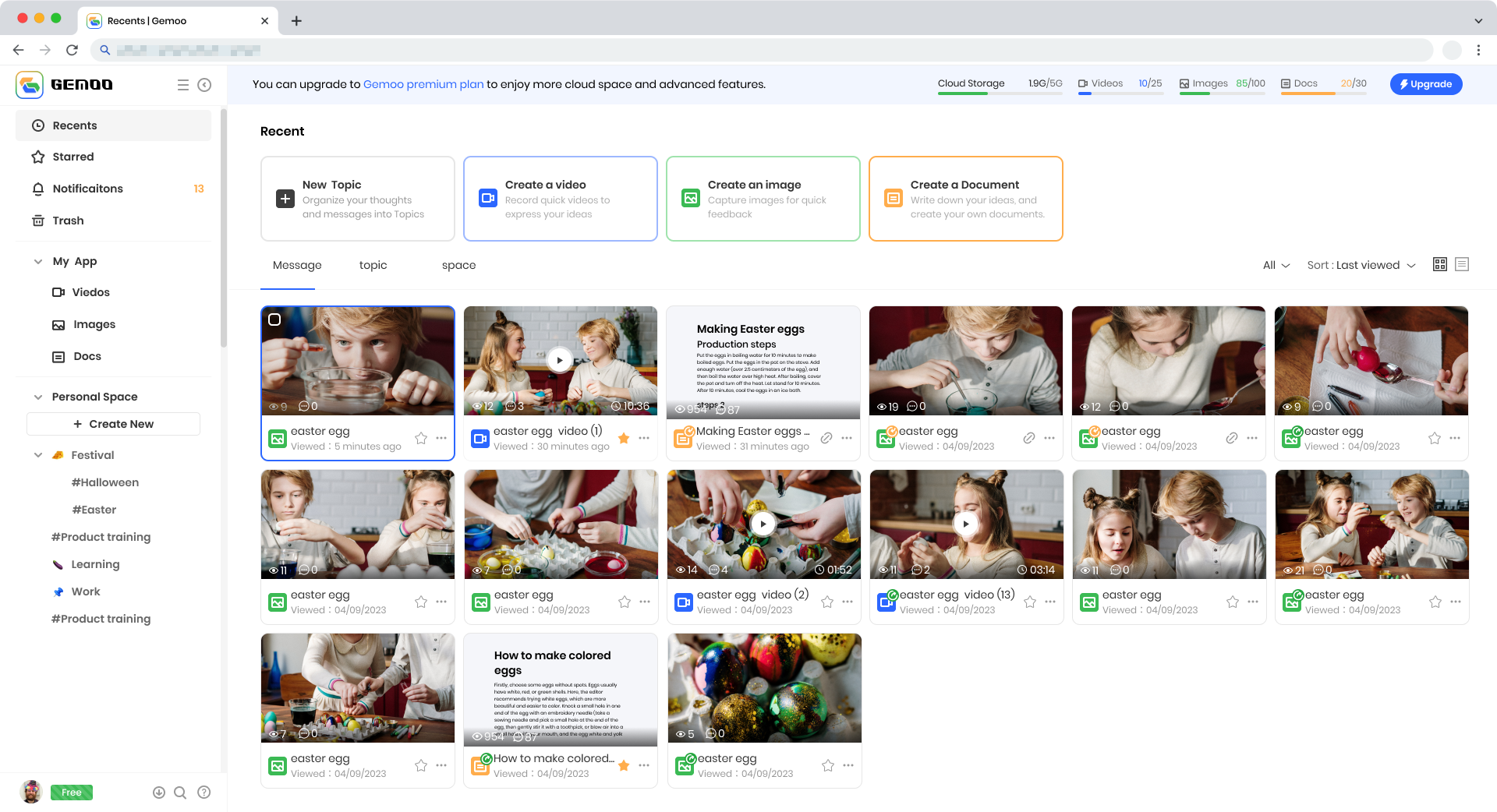 Gemoo Official Version Interface
March
Gemoo Beta 1.6.5 Improvements
Gemoo Docs New Features:
1. Hyperlink Editing Function: copy, edit, delete link.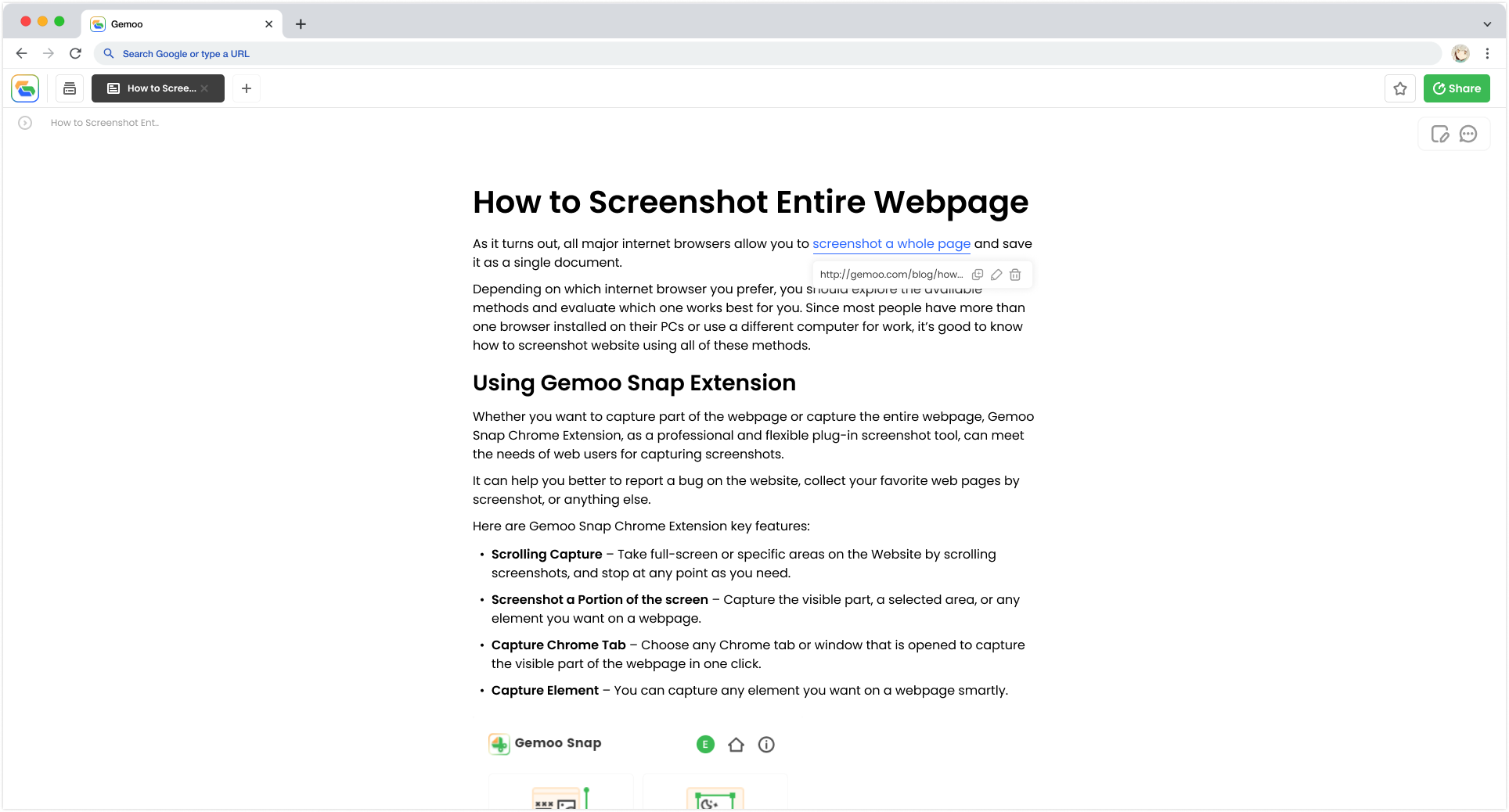 Hyperlink Editing Function
2. Local Cache Function: the file is automatically cached offline, and the content will be synchronized to the cloud after the network is restored.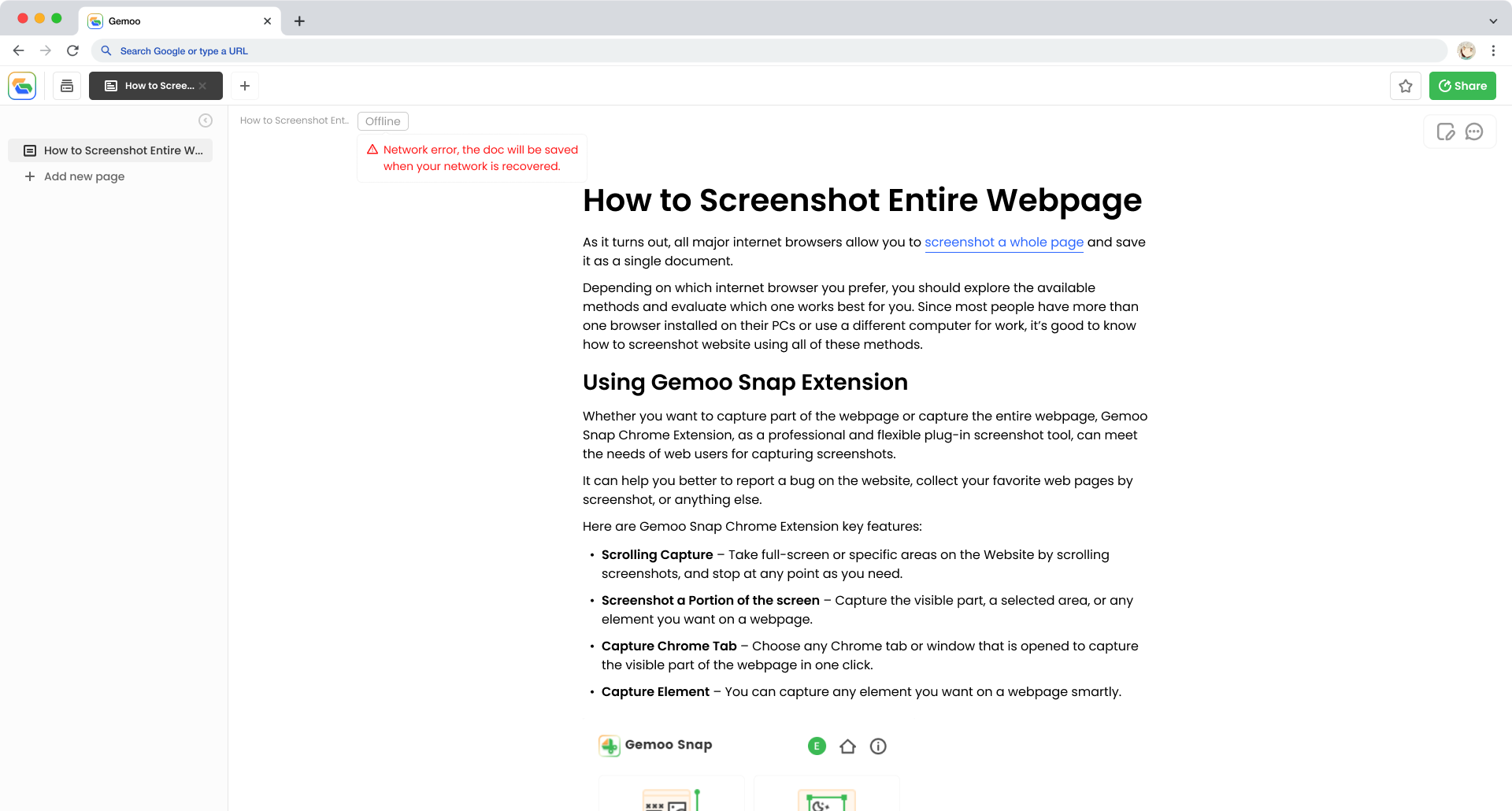 Caching Documents Offline
3. The menu bar supports selection with arrow keys, Enter confirmation and Esc exit.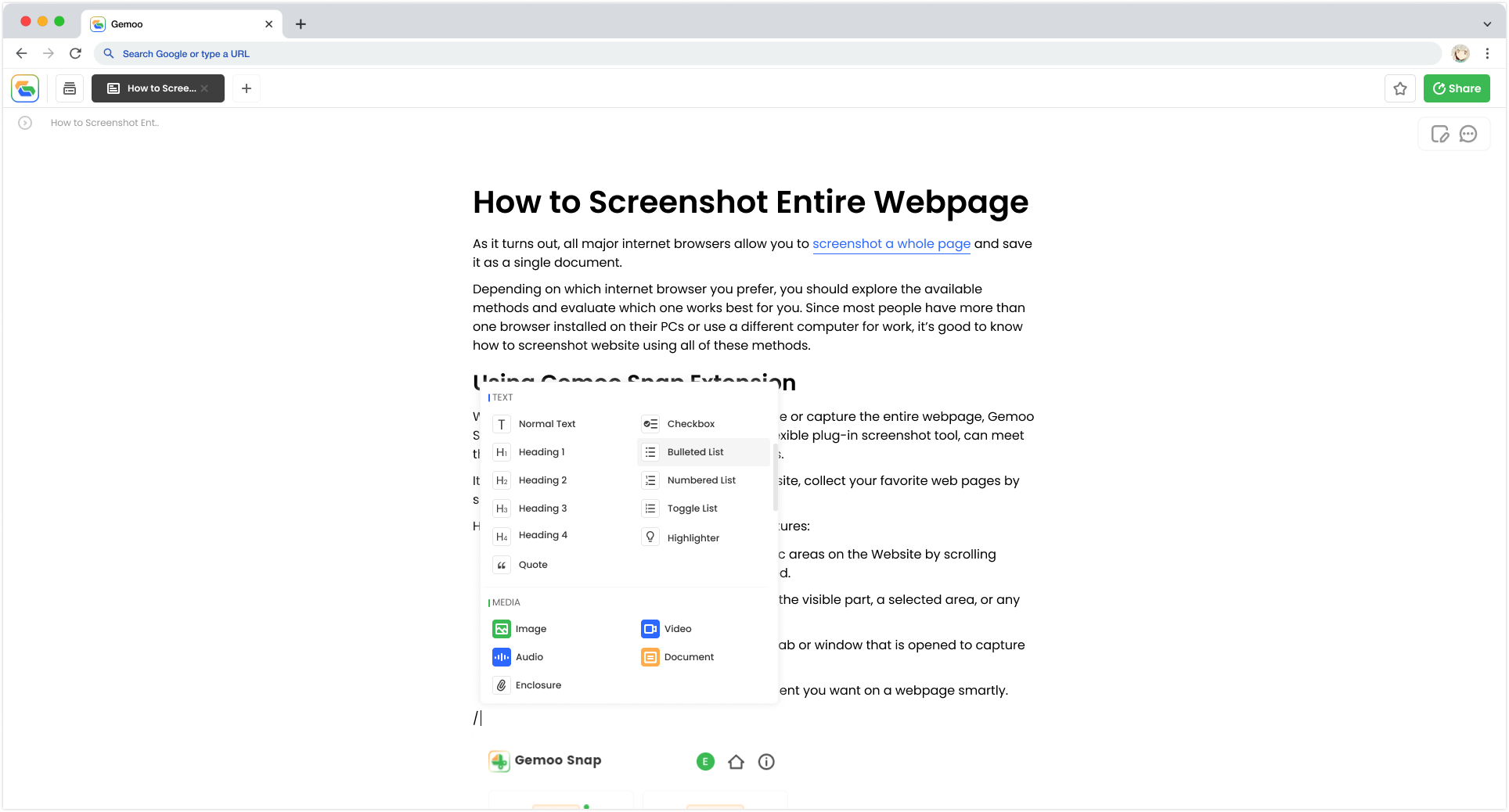 Select Function With Arrow Keys
4. Add comment entry and full-screen function for embedded web pages.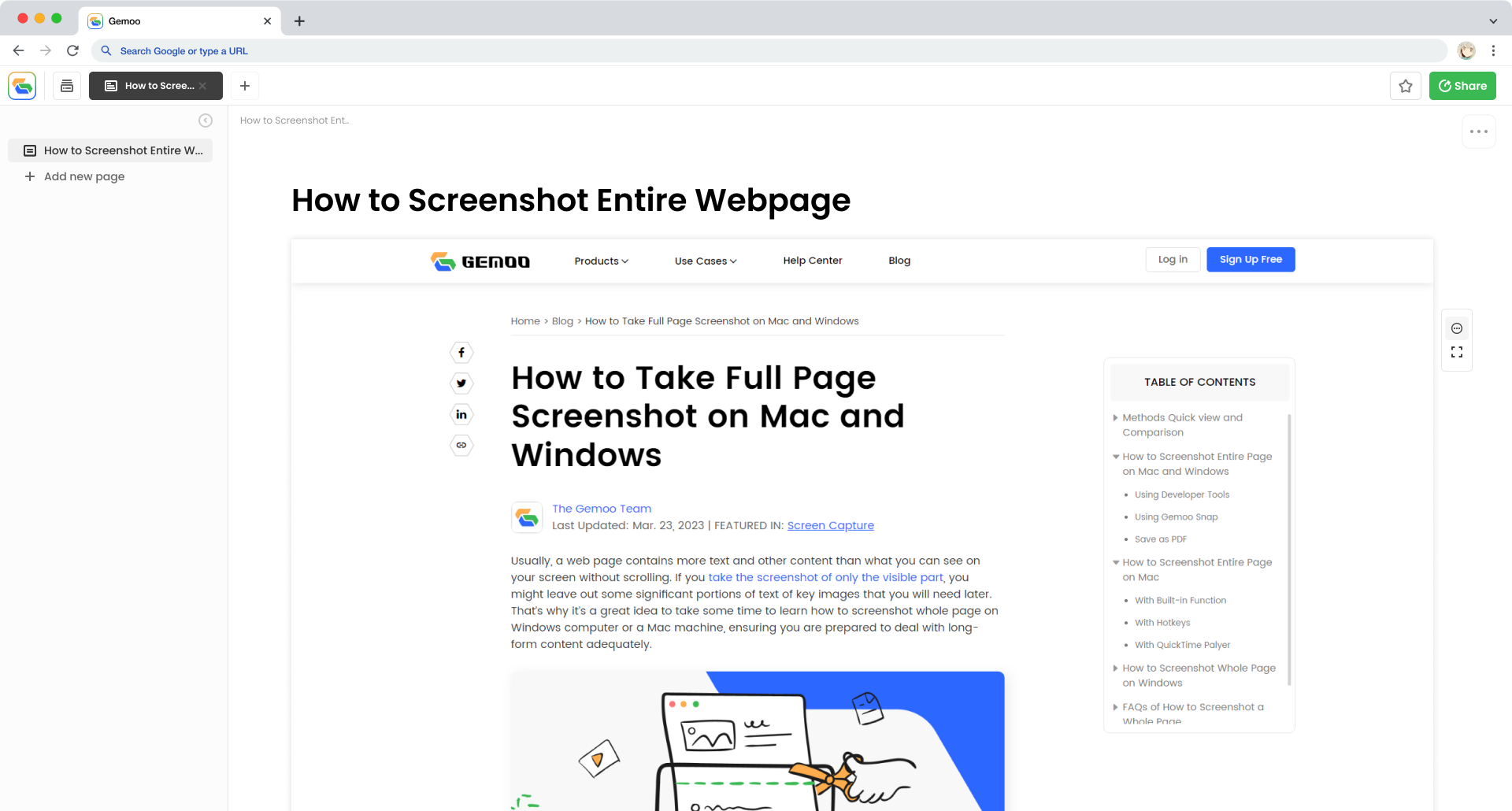 Comment Entry And Full Screen For Embed Webpage
Docs function optimization and Bug fixes:
1. Solve the outline display problem.
2. Comments on the Share page and Document page are displayed synchronously.
3. Optimize Title display.
4. Optimize the Outline display and interaction issues.
Gemoo Beta 1.6.4 Improvements
New Features:
1. Pictures and Videos Download
- You can download pictures and videos on the interface of Message and Library.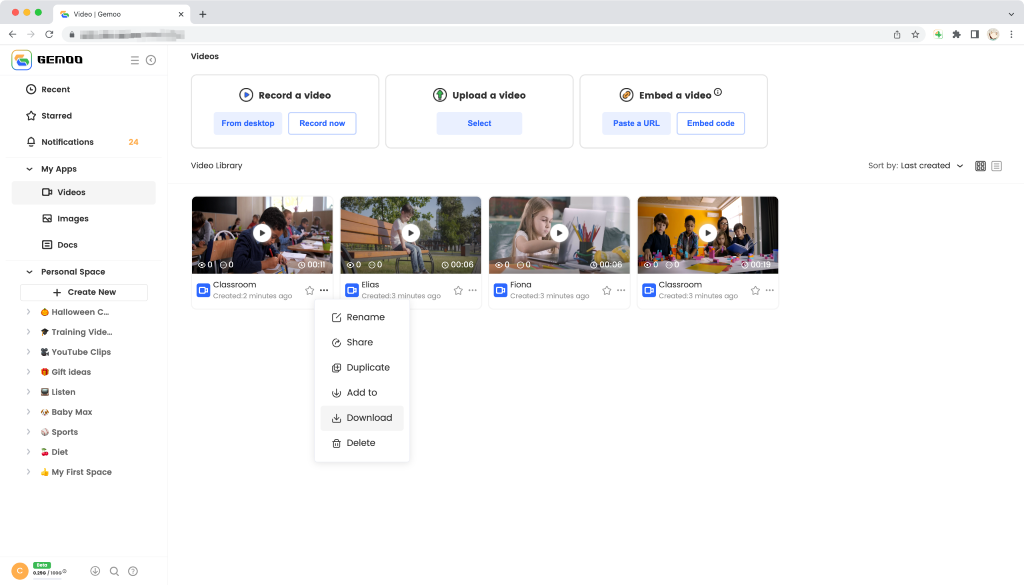 Video Download In Library
- Support batch download of pictures in Image Library.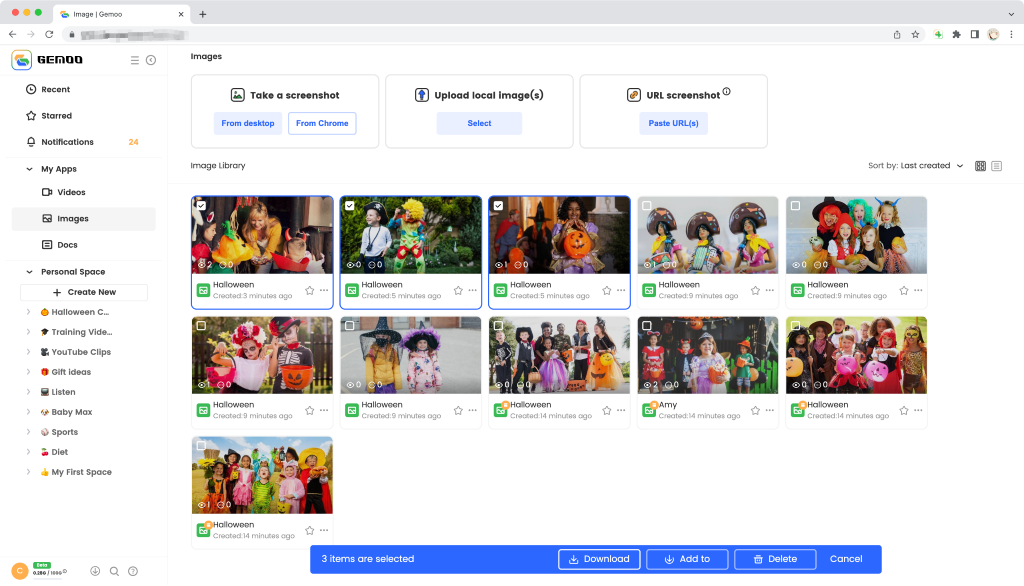 Batch Download Pictures In Library
2. Support Embed Code
- You can choose to share your Message (Image)/Topic/Space through embedding code, and then embed your content on software such as Notion.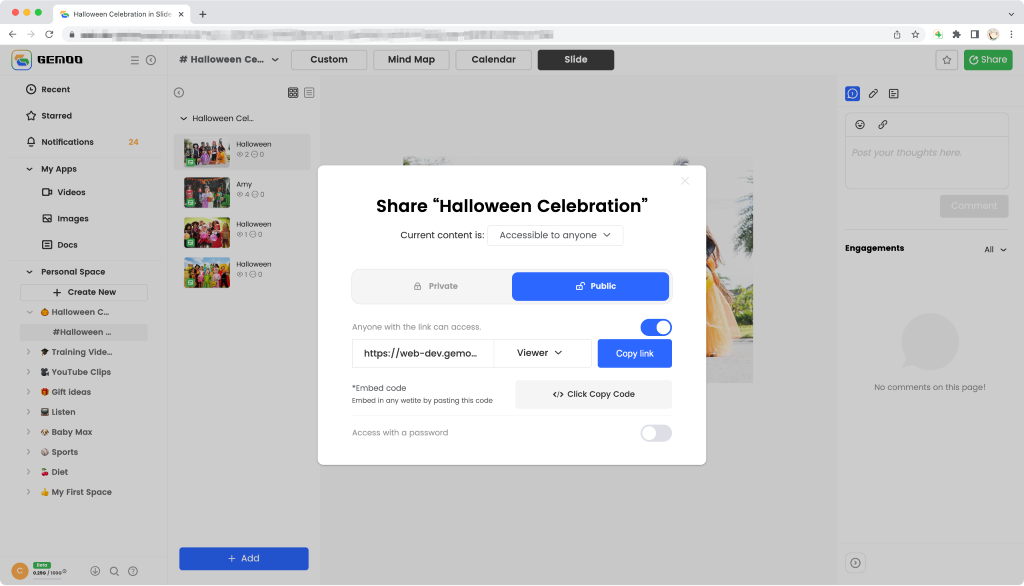 Embed Code
February
Gemoo Beta 1.6.3 Improvements
Gemoo Docs New Features:
Table Feature
- Quickly insert simple and practical tables in the document to help you organize data well.
Slide View New Features:
Add note-taking function in Slide View, which allows you to take notes while watching videos.
1. Capture the Video Screen
- While watching the video, you can quickly capture the screen of the video and generate a clickable timestamp synchronously.
2. Generate Timestamp with One Click
- Click to get the current timestamp, which is convenient for you to mark any position in the video. Click the timestamp to achieve quick positioning in the video.
3. Export the Notes
- Support exporting notes to Document Library to manage your notes in a unified way.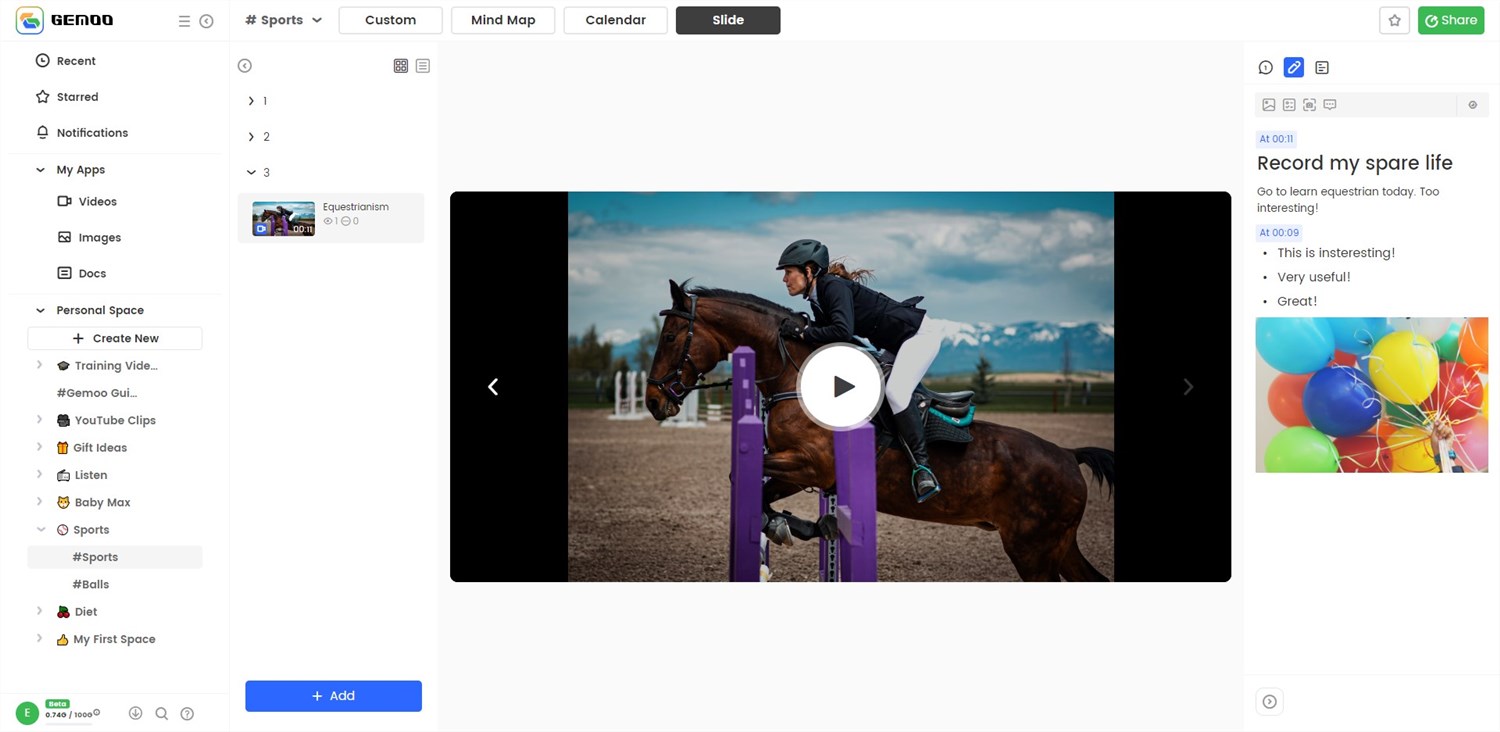 Gemoo Slide View Note Taking
Gemoo Beta 1.6.2 Improvements
Gemoo Docs New Features:
1. Outline Feature
- Quickly find the content you want by locating the headings in the outline.
2. Shortcut Key Feature Improvement
- Support copying and pasting pictures, videos, audio, documents, attachments, texts, and tables.
3. Repair Bug and optimize the user experience.
Gemoo Beta 1.6.1 Improvements
Gemoo Docs New Features:
1. Support the Breadcrumb function.
2. Full-screen preview function of videos and audios.
3. Support Tool Search function.
- Support users to type "/" and enter the tool name to find the corresponding function.
4. User experience optimization and BUG repair.
January
Gemoo Beta 1.6.0 New Features
New Document feature, helping create your own knowledge base.
New Features:
1. Document Cover
- Support to choose pictures from the cover library, local, and picture library as the cover to decorate your document.
2. Text Editing
- Support text editing operations: text title, format, color, alignment, etc. to meet your editing needs.
3. Document Tools
- Support text tools, media content, third-party link embedding, and advanced functions to enrich your document content.
4. Document Setting
- Support setting font style, size, page editing width, cover display setting, document copy and delete, etc.
5. Document Annotation
- Support to annotate all elements in the document, and can quickly respond to the annotator's information.
6. Document Sharing
- Support private and public sharing, and can be viewed or commented on under different permissions.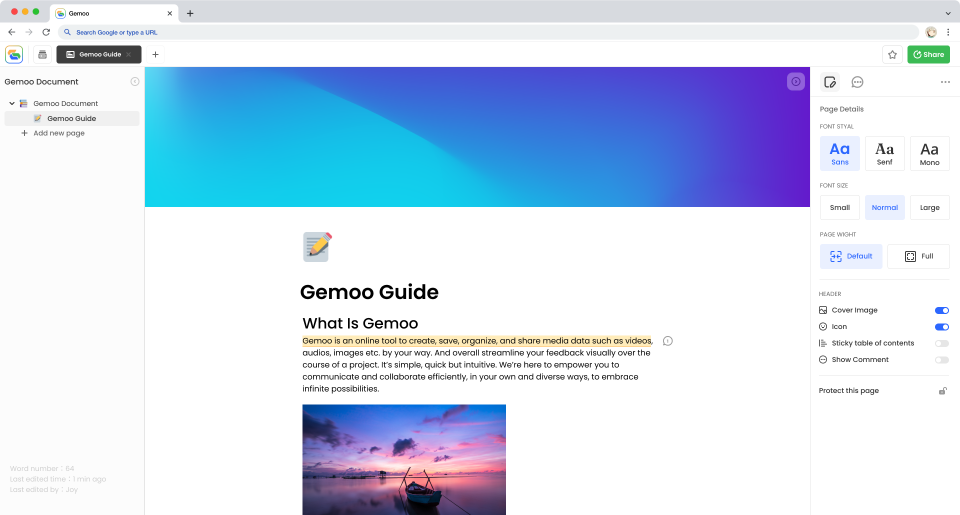 Gemoo Docs Feature
Release Note 2022
December
Gemoo Beta 1.5.0 New Features
New Features:
A new Slide View is added to Topic, which allows you to flip through the content like viewing a PPT, and further provides functions such as annotations to facilitate your communication.
1. In the Slide View, you can quickly view the content through the toggle button, without frequently entering the Message page, which greatly saves your time.
2. In the Slide View, you can quickly comment/Feedback on the Message.
3. In the Slide View, it is supported to view the detailed information of the Message, such as title, description, size, format, etc.
4. In the Slide View, the position of the Message can be dragged, and it supports dragging across Cards.
5. Contents in the Slide View such as Comments, Feedback, and Description are synchronized with the Message Page, as well as with other views.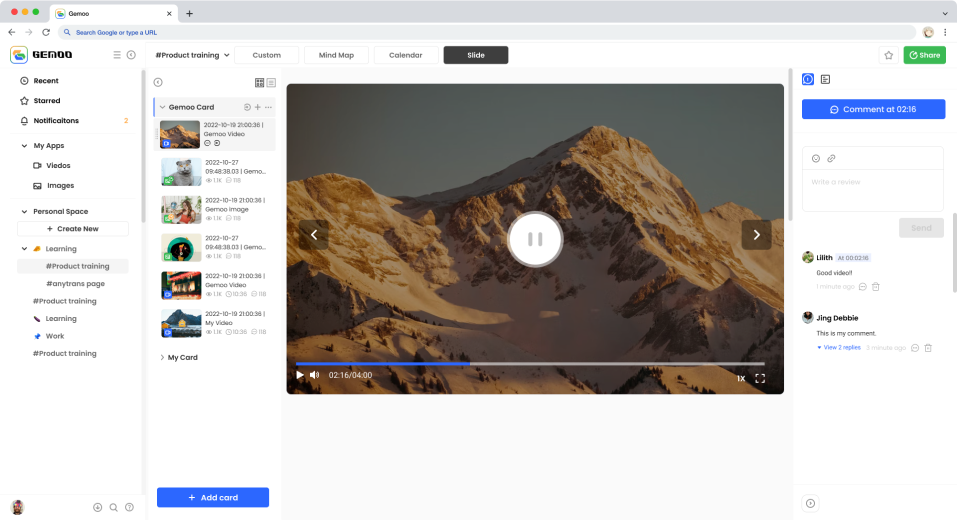 Gemoo Slide View
November
Gemoo Beta 1.4.2 New Features & Improvements:
New Features:
1. Manage Message(s) that shared by others
- Enable you to add and manage Message(s) that are shared by others to the Card.
2. Create a blank Message
- Enable you to create a blank Message first, and add content to it later, which allows you to create events in advance in the calendar view and plan your content in other views.
Improvements:
1. Optimize the display of thumbnails, and support the display of views, comments, and video duration.
2. Display the cover of the embedded video through third-party platforms such as YouTube.
3. Optimize the function of call-to-action. Support embedding your brand name or brand logo in videos.
4. Optimize the user experience when editing and playing videos.
5. Optimize the page viewing experience from mobile.
6. Optimize the problem of the blurred thumbnail display when sharing the content with others.
7. The search function supports match cases and fuzzy search.
8. Optimize the reminder of comments and feedback, no need to worry about missing notifications.
Gemoo Beta 1.4.1 New Features & Improvements:
New Features:
1. Gemoo Snap Chrome extension
-Support scrolling capture, and enable you to accurately capture webpage elements.
2. Thumbnails can be displayed in the Mindmap and Calendar view
- Enable you to quickly preview the content in the Mindmap view through the thumbnails.
- Display thumbnails in the detail page in the Calendar view.
3. Enable you to share the Messages that shared by others
- You can share the content with others by clicking "copy link" or copying the URL in the browser directly.
4. Display thumbnails on the page of Import Message.
Improvements:
1. Delete Message(s) from Recent
- No need to go to the Library anymore, quickly delete Messages from Recent.
2. Move the entry of video & image creation to the top of the App Library, making it easier to create Message(s).
3. The URL will be automatically generated in the description when you embed the video/image.
4. Optimize user experience.
Gemoo Beta 1.4.0 New Features & Improvements:
User Feedback Center:
1. Complete the Q&A online, and make feedback and its solution smoother.
2. Check the issue progress anytime anywhere on different devices, by signing in to your account.
3. Start the chatbox when you have an issue or feedback. Multiple issues can be processed at the same time.
Improvements:
1. Optimize the image upload effect, thumbnail display, etc.
2. Bug fixes of page display.
Gemoo Beta 1.3.1 New Features & Improvements:
1. Support quick sign-in with Apple ID.
2. Add the Mosaic tool for image editing and shortcuts for the brush tool.
3. Optimize the experience of annotations.

October
Gemoo Beta 1.3.0 New Features & Highlight Features
New Features:
1. Image capture
- Capture images by using Gemoo Snap, uploading from local files, and entering URLs.
2. Image edit & annotate
- Edit and annotate images using our toolset: rectangle, round, triangle, arrow, brush, text, mosaic, etc.
3. Comment & Feedback
- Send feedback on specific elements in the image, or directly comment on the image itself.
4. Organize images & videos
- Organize images and videos in Topic with three views.
5. Sharing & Interaction
- Enable you to manage who has access to view and comment. People with permission can comment & reply on the image page through the shared links.
Highlight Features:
1. Automatically synced your content between Gemoo Snap and Gemoo web: Save your time to find, open, and edit captures conveniently as you switch between devices, whether at home, in the office, or on a business trip.
2. Image feedback on Gemoo Snap will be adapted to Gemoo web, and displayed on the right side of the image.
3. The image text recognized on Gemoo Snap will be saved to the description below the image on Gemoo web, helping users reuse it in the future.
Gemoo Beta 1.2.0 New Features & Improvements:
1. Add Calendar view under Topic, to display your content in the way of time and schedule.
2. Provide quick and unique operations in Calendar view: change titles, add descriptions, select time duration, set repeat, etc.
3. Enable you to drag Messages, and change their time and time duration in the Calendar view.
4. The Custom view, Mindmap view, and Calendar view are associated under Topic, you only need to add once, and will be able to freely switch among these three.
5. Other improvements: drag to adjust the placed order of three views, viewers will see the same orders when they check the content.
September
Gemoo Beta 1.1.0 Release Note
1. Add Mindmap view under Topic, to display your content in a more structured way.
2. The Custom view and Mindmap view are associated under Topic, and be able to switch between freely after added.
3. Add the option for camera frame under Video Clips, to make your recording more interesting.
4. Improvements: Enable to search for the content shared with me; Push notifications when there are upgrades.
August
Gemoo Beta 1.0.0 Release Note
Features Introduction:
1. Multi-platform audio/video recording
- Support to record audio, and video content through Gemoo Recorder desktop, Gemoo web, or Video Clips app.
2. Multi-source audio/video information combination
- Support to upload audio/video recorded by Gemoo, from local files, or even embedding third-party videos.
3. Video messages organization
- Organize multi-source videos in the form of topics and spaces, and shared them with others.
4. Share files publicly or privately
- Video messages or organized topics and spaces are visible only to the owner.
- Allow anyone or invite specific people to view or make comments.
5. Communicate and interact through video messages
The video messages shared can be commented on by others at any point in time and back and forth with each other under authorized circumstances.
6. Other features
- The created/uploaded videos can be edited, including screenshots, custom texts, links, covers, etc.
Highlight features:
- Combining video information by Topic allows 3 models: Custom, Mind Map, and Calendar, helping effectively communicate information by expansion, structure, and timeline metrics. (Note: the last 2 modes are coming soon)