Release Note 2023
May
Gemoo Snap Desktop 2.0.0
New Features:
1. Scrolling Screenshot Function supports manual scrolling/automatic scrolling to take screenshots.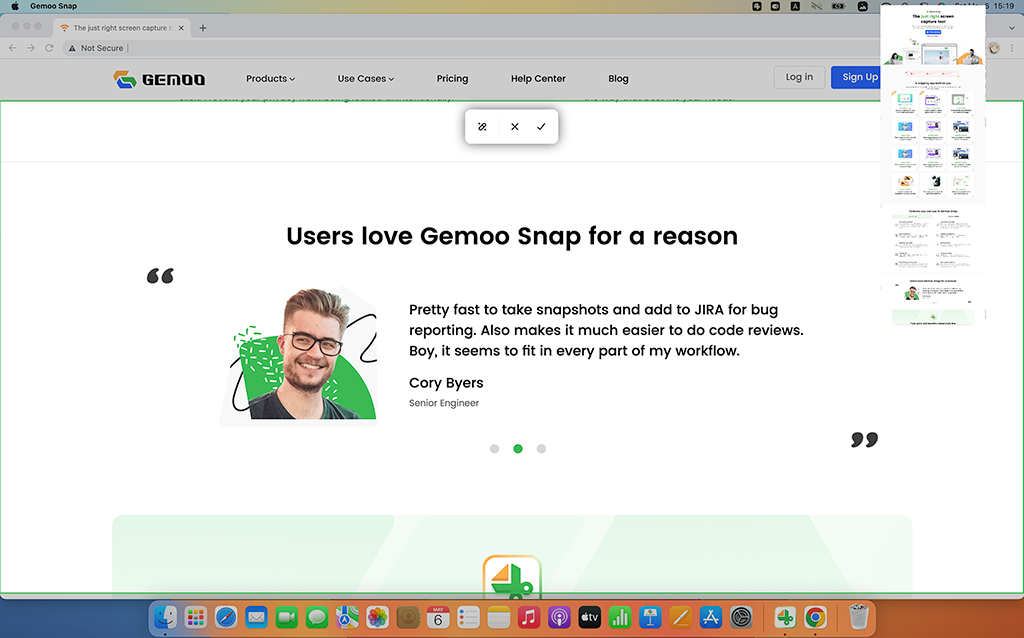 Scrolling Screenshot
2. Brand new Image Beautification:
- Mockups function supports adding browser models to pictures
- Sensitive information automatic hiding function. No longer need to worry about sensitive information being leaked on the network inadvertently.
- The Image Layout function helps you quickly set the position of the picture.
- Picture Shadow and Border setting function.
- The default picture size setting function for mainstream social media helps you post beautiful and perfectly sized pictures on social media.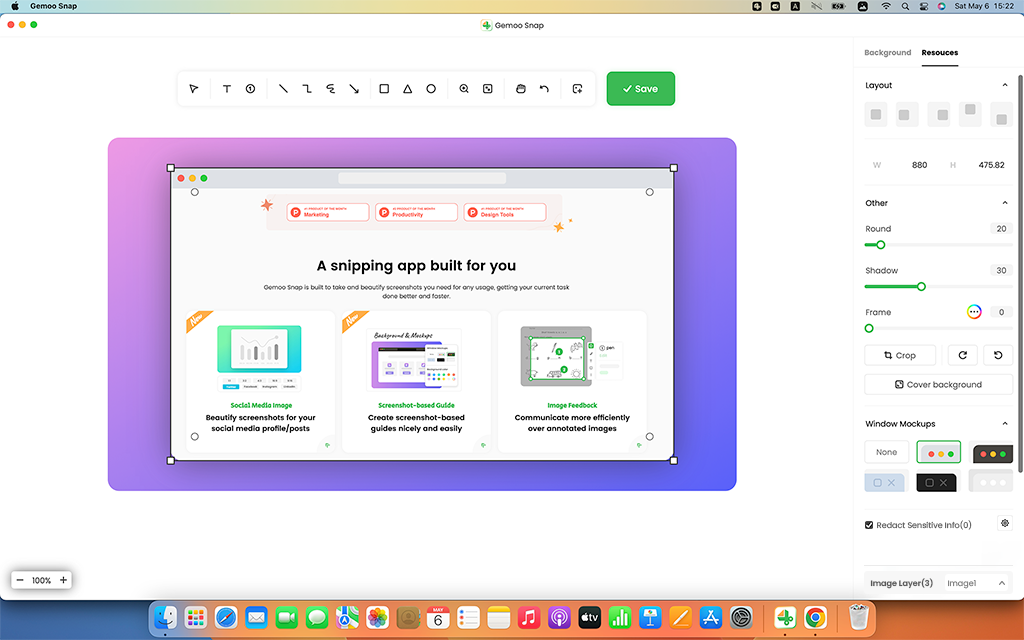 Image Beautify
3. Automatic Start function.
Optimization:
1. Optimize the interaction of the annotation function to improve the operating experience.
2. Optimize shortcut keys for screenshots, support more keys.
3. Optimize the mosaic function and support mosaicing the selected area.
4. Optimize details such as interaction to improve user experience.
January
Gemoo Snap Desktop 1.2.0
1. Add an option to store screenshots locally. The images of each functional block are supported to be stored locally or uploaded to Gemoo Cloud.
2. Optimize the logic of the Screenshot & Beautify function. It makes it easier to select a picture or background for drawing, setting, and other operations.
3. The Screenshot & Beautify function supports multiple picture editing, allowing editing up to 10 pictures. And the picture can be selected in the layer component, and the canvas can be enlarged to 100000px*100000px, etc.
4. Support capture screen area and the frame of the screen area to move at the pixel level according to the direction, meeting the needs of precise screenshots.
5. Optimize the interactive state of the mouse in the process of entering the screenshot, brush drawing state, etc., so that element selection, movement, resizing, and editing are smoother.
6. Improve the screenshot response speed and interactive experience.
Release Note 2022
November
Gemoo Snap Extension 1.0.0
1. Support scrolling to capture long webpages
2. Support capture selected web elements
3. Support capture selected areas, app windows, and more.
Gemoo Snap Desktop 1.0.1
1. Support to sign in or sign up with an Apple ID.
2. Support French and Japanese.
3. Support to custom images export path.
4. Optimize the features and process of [Screenshot Feedback] and [Screenshot & Beautify].
5. Fix bugs.
October
Gemoo Snap Desktop 1.0.0
1. Screenshot & Beautify. Capture any area of the screen, to quickly beautify and generate high-fidelity images in the editor. Applicable for: product guides, product posters, etc.
2. Feedback. Take a screenshot of the place where feedback is needed, enter your feedback, and automatically generate a long image with both the screenshot and feedback. You can directly paste the image, or generate a link to interact with others.
3. Support text recognition in English, German, Spanish, and other languages.
4. Pin multiple images at the same time, to make the information you need always visible.