What Is Iterative Design and Why Use It?
Iterative design is one of the most emerging concepts in design methodology. With its rising awareness and implementation, services and products are delivered with added value to the customers or users of the product/ service. There is no denying that to generate the most viable outcome, focusing on user feedback carries the utmost significance. With the use of iterative design, this is not only made possible but is applied most advantageously.
Let's talk about what iterative design is to make it easy for every reader, just like the waterfall approach and other approaches aimed at increasing your business' progress. Iterative design is here to save your back. But unlike others, It breaks down your creative process in small intervals and integrates your user's feedback. So, the final product isn't what you planned initially but has added the factor of user suggestions. The iterative design addresses risks and problems at the beginning stages and enhances your product skilfully.
What Is Meant By Iterative Design?
Do you want to know what iterative design is? Basically, it is an unconventional methodology around a unique concept. The concept is that your product is a living project, not something static. So your approach towards crafting your product should not be linear. It is an ongoing dynamic process. Simply put, it is an approach that includes planning, ideation, refining, and evaluating your project/ service. It has a trial-and-error method at its core. You walk your user through each step of your product design, and in this way, you can make the most of your time and effort. A prototype is taken in as the center of attention and
4 Reasons To Use An Iterative Design
If you are wondering why you should start using iterative design, we have listed a few benefits among many. This approach is time-friendly, ensures maximum adaptability and user experience, and is easy to apply. Most people have upscaled their business/ product by using this design. What is stopping you from optimizing yours? However, if you are still confused about what is iterative design., keep reading to figure it out. What is stopping you from optimizing yours?
Constant improvement
Iterative design not only provides continuous improvement by constant application of the feedback by the users, but it also hones the product in return. The product is more refined than the previous time and serves its purpose more efficiently. This method eliminates past mistakes and drawbacks and delivers a promising outcome with each iterative cycle. After the team generates the prototype, it is tested and evaluated with the help of its users, followed by revising the process unless the most refined product is made at the end of the iterative cycle.
Makes Collaboration Easy
The Iterative design cycle eases collaboration and enhances communication between team members, stakeholders, and clients. It aids the visibility of the development and progress of your product in a better way. It also makes your business's partners feel included and appreciated by asking for their reviews. It tracks the improvement in the product and ensures high-quality results. All the team members can work together and adapt to the changes easily
Focuses On User Experience
User experience is the key factor in the progress and success of a business or a product, to be precise. When a user's feedback is taken along the entire product formation and design process, it guarantees a higher investment rate. If you are still stumbling upon figuring out the reason behind it? Let us make it easy for you. When you consider your user with each stage of designing, you eradicate their issues and create a product that fulfills their expectations. As a result, people are influenced by your goals and consideration, and more sales are generated.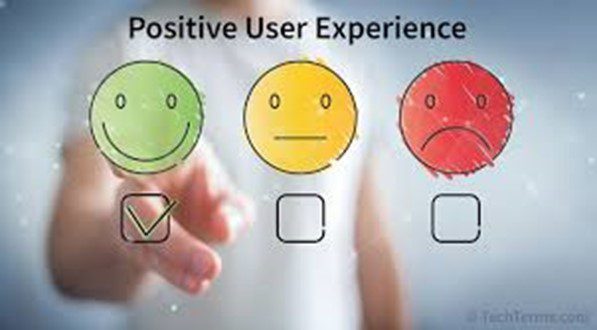 Optimise Time And Resources
With the help of iterative design, you can save much of your precious time and invest it in creating more products to stay ahead of your competitive business. Since you test your product at each iteration stage, it aids you in making changes accordingly, step by step. Although the traditional approaches usually make amendments at the end of product design. That is why it gives you the upper hand over meeting your business aims and targets. You diminish the problem way before your user faces it by asking for their feedback in the entire process of the iterative cycle. In this manner, both your time and resources are saved.
Stages Of Iterative Design
Like any other method of product designing and working, Iterative Design comprises certain stages. Every stage has a different goal to fulfill, and each plays a vital role in iterative designing. After each iterative cycle, your product gets more refined and gets better at its job. Let's talk about them in some detail to give you an insight into how iterative design works and does wonders for you.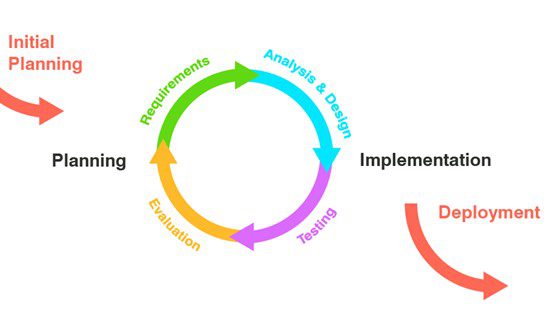 Stage 1: Planning
The first stage begins with determining your project's needs and requirements. And then aligning and coordinating those with your project's objectives. In this stage, previous feedback and review are considered for better foresight. Given past lackings, new planning is done to estimate more beneficial outcomes.
Stage 2: Analysis And Design
The next step is simply overviewing the design which needs to be worked on. A vague or focused list of the tasks is usually carried out. It should be coherent with your business/ product's goals.
Stage 3: Implementation
Now comes the step where we have to implement everything practically planned. The design is made with special attention paid to User experience and business morals. The ideation and all the back working will now be present in a practical form instead of a thought process.
Stage 4: Testing
After all the planning, analysis, design, and implementation, all your efforts will be checked. This is one of the most crucial stages of Iterative Designing, considering how your product will be tested. This process depends on your product. If your product is service-oriented, like a website, you usually go for ab testing. For example, if it is a product or a shampoo, look out for potential buyers and ask for their opinion. There are multiple ways of testing, but the objective is collecting feedback and reviewing.
Stage 5: Evaluation
Last but not least, the final stage concludes everything of iterative design. The feedback is compared with the requirements and expectations of the product. If the product needs improvement and has setbacks, the iterative cycle is repeated to diminish the problems as much as possible.
FAQs
1. What are the drawbacks of using an Iterative Design?
Just like its perks, there are also some disadvantages of using Iterative Design. Some of them are as follows:
It needs to work better for small-scale projects.
Sometimes, there can be misunderstandings due to repetitions, which might cause conflict.
Time is usually not identified since revisions sometimes take extra work. Therefore projects can exceed the timeline.
2. What are the steps of Iterative Design?
The iterative design consists of 5 primary stages. The first is planning and working around figuring out the requirements, followed by Analysis and Design, then implementation, testing, and finally evaluation and repeating the cycle unless the desired outcome is obtained.
3. What kind of industry can benefit from Iterative Design?
Iterative design can be applied to and benefit most industries. From software development, apps, daily usage products, culinary, and tech products, all can apply it and exceed their limitations.
Final Words
Specific techniques should be taken advantage of as we grow and evolve our business. Upgrading your business/ product and optimizing user experience is a challenging task. But with the right strategies and design models, anything is possible. Iterative design is your savior. Remember the robustness it adds to your user experience. It builds your business around your requirements and follows a user-centered approach. It is an efficient design model and ensures quality outcomes. Try on iterative design today and upscale your business like never before.