Hybrid Work – What Benefits and Challenges it Brings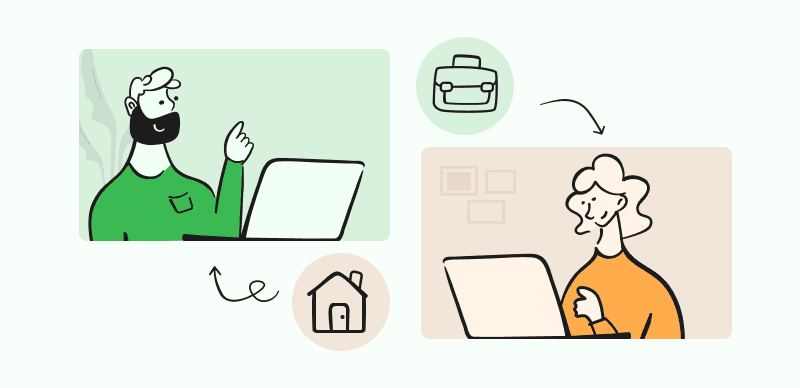 Hi everyone, it's Morgan. 👋
I built my team during Covid-19, so I was forced to take remote work as our work mode. And it made me able to gather talents from all over the world. 🌎🌍🌏
Now, we've grown to a 20-people team, and some of my team members are based overseas, so we're not possible to take the traditional work schedules even though vaccines are rolled out and things start to return to normality.
Thus, I chose the hybrid work model, which brought significant benefits to my team. 🙌
Benefits of a hybrid work model💼
Increased Flexibility 🏠🧘‍♀️
Hybrid work allows my team members to work from home or the office, depending on their preferences and needs. This flexibility enables them to balance their work and personal lives better and enables me to recruit talents without thinking about the limitation of location; all of them led us to a happier and more productive team.
Cost Savings 💰
With hybrid work, we can save a lot of money on office space and related expenses since employees are not in the office every day. Cost management is particularly important for startup teams like us, and learning how to spend money effectively is an essential skill we must have.
On the other hand, my employees are happy to save money on commuting costs, no mention this allows them to sleep a little longer in the morning. ☕️
Increased Productivity 🚀
To be honest, hybrid work brings more benefits than drawbacks to my team's productivity. With hybrid work, my team could have more control over their work environment, which I believe improved their focus and productivity. Furthermore, hybrid work can help team members avoid distractions that may occur in a traditional office setting, like gossip non-sense… 🤫
However, I am not sure if this applies to medium to large companies as I do not have experience in this area. If anyone here works in medium to large companies with a hybrid work model occasionally, please leave a comment and let me know your feelings and opinions on it.
Of course, the hybrid work model also holds risks and challenges. ⚠️
Drawbacks of a Hybrid Work Schedule ⚠️
Communication Challenges 📶💬
With team members working from different locations, communication can be challenging. It's essential to have the right tools and processes in place to ensure effective communication. This was also the original intention for developing Gemoo.
I hope that Gemoo can eliminate the disadvantages of long-distance communication through video messages, image messages, online integration workspace, real-time synchronized files, and asynchronous sharings to achieve this goal. Because we are in this kind of working environment ourselves, we can use it in real-time to refine it more agilely, making the entire creation process faster and smoother.
Blurred Boundaries between Work and Personal Life 🤯👨‍💻
It can't be denied that hybrid work can make it challenging to separate work and personal life, leading to burnout and work-life imbalance. Especially for youngsters who have just entered the workplace, and have not yet formed a healthy work-life balance, they usually are more willing to explore more to enhance their job skills and achieve better performance.
One suitable example of a hybrid work schedule for a small team like us could be that team members work from the office at least 2 days a week and work from home for the rest of the week. Additionally, video meetings with overseas members can be held on these two days so that everyone can participate.
This schedule will allow your team members to have some face-to-face interaction, which can improve collaboration and team bonding, while also providing enough flexibility to work from home. 🤝💻👥
Conclusion 💡
In conclusion, hybrid work can bring many benefits to startup teams, including increased flexibility, cost savings, and increased productivity. However, it's essential to be aware of the potential risks, such as communication challenges and blurred boundaries between work and personal life.
By understanding the benefits and risks of hybrid work, you can create a suitable hybrid work schedule for your team that maximizes their productivity, job satisfaction, and overall happiness.
That's all for today's sharing.
Best wishes to all startup friends! 🚀🌟